Lake Cottage Christmas Tree and Thrifty Tips
Please note that this post contains affiliate links. As an Amazon Associate, Rewards Style influencer and Jane Influencer, we earn from qualifying purchases and any sales made through such links will reward us a small commission – at no extra cost for you.
Possibly this lake cottage Christmas tree might just be my new favorite.
It's always so much fun to see the different ways that everyone decorates their Christmas trees. I'm always amazed at the beauty, creativity and endless ideas that people come up with. Whether your style is traditional, farmhouse, country, cottage or another style – today's hop is for you. I am so excited to share my Lake Cottage Christmas Tree and Thrifty Tips.
Welcome To Our First Annual Christmas Tree Decor Blog Hop!!
We have 40 talented bloggers joining up to share their decorated Christmas Trees with you! So grab a cup of your favorite beverage, settle in and get comfortable because you are going to love the beautiful Christmas Tree Decor shared today! A big thank you to Michelle of Our Crafty Mom for organizing this hop!
Let's Meet The Hosts!
Michelle | Our Crafty Mom | Allison | Upright and Caffeinated
Angela | Simply Beautiful By Angela
| Annie | All Things Big and Small
Brittany | Our Home Made Easy | Chloe | Celebrate and Decorate
Cindy | County Road 407 | Colleen | Life on Kaydeross Creek
Denise | My Thrifty House | Eileen | Sand Dollar Lane
Jaclyn | The Dotted Nest | Jeannee | Centsably Creative
Vicki | 2 Bees In A Pod |Jennifer | Oh Fiddle Dee Dee
Kim | Made In A Day | Kristie | Teadoddles
Marie | The Inspiration Vault | Mary | The Boondocks Blog
Meegan | What Meegan Makes | Meg | Green With Decor
Melissa | Welcome To The Woods | Donna | Modern On Monticello
Morgan | Charleston Crafted | Nancy | Slightly Coastal
Nicole | Madness and Method | Pam | P.S. I Love You Crafts
Shirley | Intelligent Domestications | Stephanie | Abbotts At Home
Yami | The Latina Next Door | Jenn | Loveland Lodge
Christene | Keys To Inspiration | Libbie | A Life Unfolding
Jaclyn | One Thousand Oaks |  Sarah | The Project Pile
To our regular readers, I am so happy that you are here! For those of you that are new visitors today, welcome! Let me briefly tell you that I live in a townhouse in a lake community. My husband and I moved here last year, not expecting it to be a full-time gig. But life has a way of changing things. A lifetime of Christmas decor is in the very back of a storage unit, so I have had to learn how to get creative with my Christmas decor. This lake cottage Christmas tree is in the guest bedroom of our home and I love it!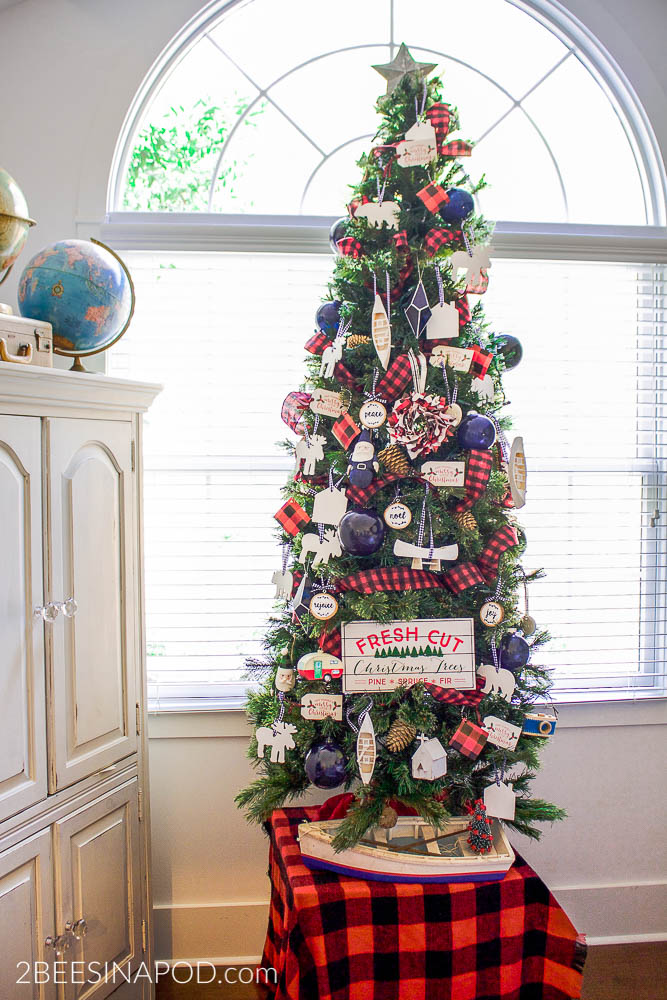 The tree is 7 feet tall and a bit Charlie Brown like. It's super skinny and looked even smaller in the room next to the vaulted ceiling.
Tip #1 Add height to you tree by placing it on top of a sturdy box.
By placing the tree on the box, it made the new height 10 feet. So much more grand 🙂 This cute sign was just $3 from the Target dollar spot. It is a great statement piece on the tree.
Tip #2 save money by Making some of your ornaments.
I made this mini wreath with a mason jar lid ring and buffalo check wrapping paper.
Tip #3 Use Gift tags as Ornaments
These very adorable "Have Yourself a Merry Little Christmas" gift tags were packaged 10 for $3. They matched the tree perfectly and I thought…why not use them as ornaments.
Last year I made these white painted ornaments.
How sweet is this church? I found it at an antique shop a couple of weeks ago for just $1.00. It is signed on the bottom by the person that made it.
Tip #4 Maybe someone can make ornaments for you.
A couple of weeks ago we participated in an ornament exchange. I was the very fortunate recipient of these beautiful wood slice ornaments. Aren't they perfect on my tree?
Last week my Honey Bee surprised me with a trip to New Your City after Thanksgiving. This has been a bucket list trip for me for a very long time. Ever since I was a little girl growing up in south Florida, I always had my nose pressed up next to the television watching the Macy's Day Parade. I was always impressed by how well the city was decorated for the season, how cold it always was (sometimes there was even snow) and then the grand finale with the arrival of Santa Claus. It made such a lasting impression on me. I hoped and dreamed that one day I would be in New York City for the holidays.
I feel so fortunate and blessed to have a husband to make my dreams come true. We went to see the Rockettes Christmas show and I bought ornaments to commemorate our trip.
This is another ornament that I made last year.
Tip #5 Use wrapping paper that coordinates with your tree and cut squares and use as ornaments.
Tip #6 Use Pine Cones as filler in spots of void
Sometimes there are large open spaces in a Christmas tree. Use pinecones. In my area they are plentiful and free! This year I even learned how to bleach pinecones and they turned out beautifully!.
This vintage toy boat is a vintage treasure. I bought it at a flea market several years ago for just $10.
It still has the original oars and ropes.
I added a tree with pom pom ribbon.
Thank you so much for visiting my Lake Cottage Christmas Tree and Thrifty Tips.
Don't forget to Pin this to your favorite Pinterest board!
Now let's check out the rest of the beautiful Christmas Trees!