Homemade Whipped Body Butter
Please note that this post contains affiliate links. As an Amazon Associate, Rewards Style influencer and Jane Influencer, we earn from qualifying purchases and any sales made through such links will reward us a small commission – at no extra cost for you.
The winter months wreak havoc on my skin. Do you suffer from dry skin too? Being that I enjoy making my own beauty products, I decided to create homemade whipped body butter.
Before I go any further with this post, I wanted to mention that this has been another tough week. The blogging community is grieving two of our very dear friends, Paula of Sweet Pea and Michelle from The Painted Hinge. We were fortunate enough to work closely with these fabulous ladies on many blog hops and our monthly Thrifty Style Team posts. They were both amazingly kind, giving and creative. Paula loved to share posts of her family, heirloom pieces, vintage treasures and her sweet pup, Sherman. Michelle gave us insight to her almond farm, farmhouse style and amazing photography. We hold our memories close as we all grieve the loss of these wonderful ladies.
___________________________________________________________________________________________________
You might be wondering if making homemade whipped body butter is worth your time and money. I wholeheartedly think that it is and here is why.
I have used a lot of beauty products in my lifetime. Cheap ones, expensive ones – and even fooled by the promises of the gimmicky ones. When I was in my early 40's, I went to a dermatologist and had a chemical peel. It was deemed "safe" and was the trend of that time. Boy, did I regret doing that. Not only did my face look like I had a major sunburn for 3 days, my skin was never the same.
After this incident, I have strived to do research on chemical-free options for all of my beauty products. When it comes to my skin, this is especially important. For me, as I have aged my skin has become even more dry.
How to make homemade whipped body butter
Now it's time for fun!
This is where the fun really begins. After the oil mixture has fully hardened, set the bowl onto your stand mixer with the whisk beater attached. Beat for a full 9 to 10 minutes. The mixture becomes fluffy, just like frosting.
Homemade Whipped Body Butter
Ingredients
1/2 cup coconut oil
1 cup shea butter
1/2 cup jojoba oil
10 - 30 drops essential oil of your choice **optional**
Instructions
Melt coconut oil and shea butter over low heat. This takes about 10 minutes.
Mix in the jojoba oil and essential oil. Again, essential oil is optional. *
Pour the mixture into the bowl of a stand mixer. Set in the fridge to harden for 1-2 hours.
When solid, whip for about 10 minutes. This makes the body butter fluffy like frosting.
Store in airtight jar or container. Use as you would lotion.
The benefits of using coconut oil for the skin are varied and may include:
moisturizing dry skin, including in people with conditions such as eczema.
reducing inflammation, which may result from UVB rays.
promoting wound healing.
antibacterial, anti-fungal, and antiviral properties.
Here are five of the biggest shea butter benefits for your skin.
It boosts skin moisture.
Its anti-inflammatory properties soothe skin problems. …
It could heal cuts and scrapes. …
It helps fight breakouts. …
Antioxidants may mean anti-aging properties.
How is jojoba oil good for your skin?
it helps control sebum production
boosts and soothes your skins moisture
keeps skin from looking oily
helps prevent acne caused by clogged pores
You do NOT need to use essential oils in this body butter. I love a good citrus fragrance, so I chose to add 10 drops of tangerine essential oil. By the way, citrus fruit fragrance such as oranges, tangerine, grapefruit, limes and lemons are known to be mood-boosters and help quench stress, anxiety, and tension.
Place homemade whipped body butter into airtight containers – preferably glass containers or jars. You may prefer to put all of the whipped body butter into one container, or divide it up into smaller containers.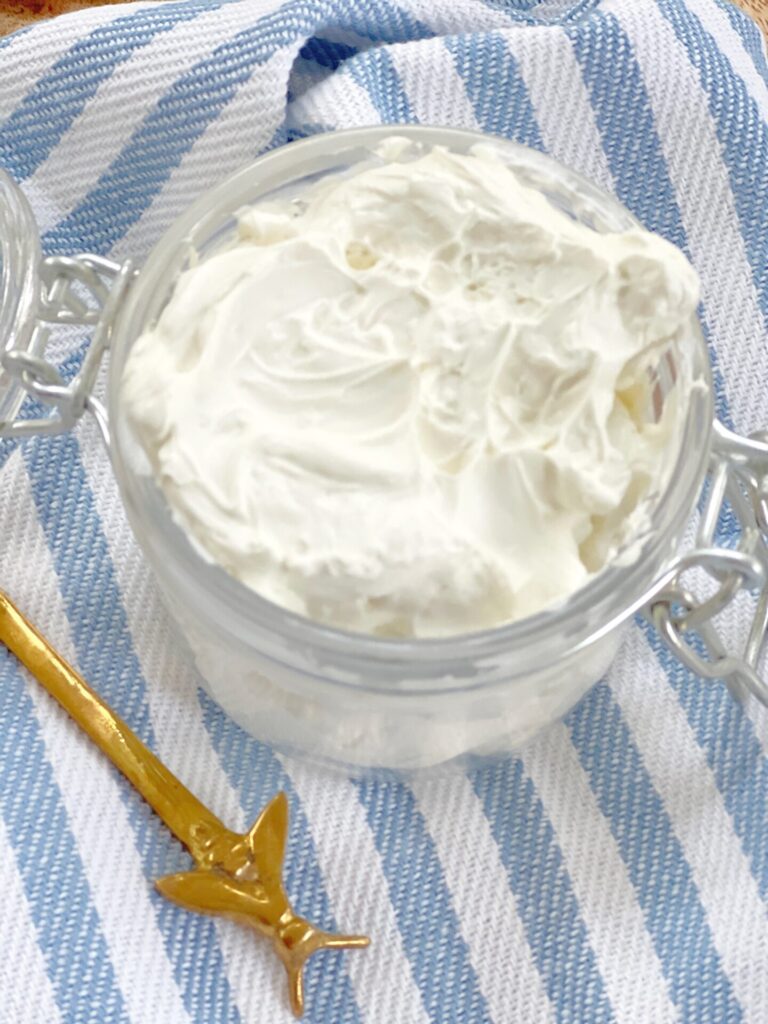 This would also make for a great gift!
What is whipped body butter good for?
Body butters are often used to reduce stretch marks and scars. The components of this natural body butter are all high in nutritious vitamins and fatty acids, which help to nourish and revitalize your skin and improve healthy skin complexion.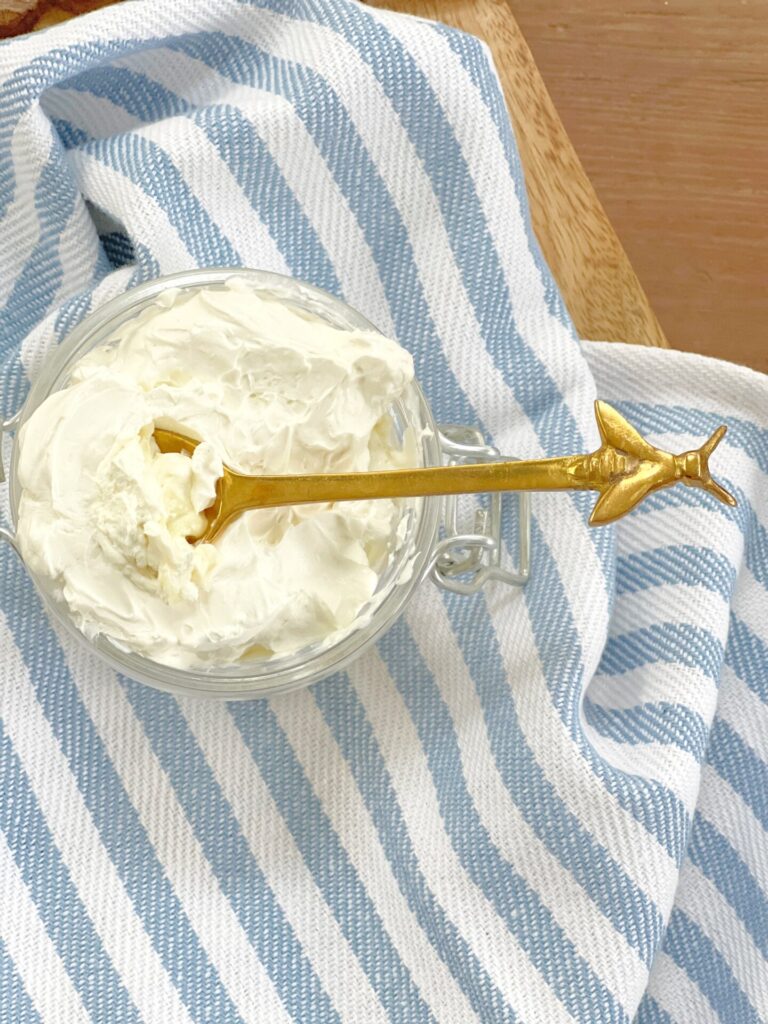 How long does homemade whipped body butter last?
How long does homemade whipped body butter last? This recipe should last 6-8 months if stored properly. Personally, my batch never lasts this long.
I hope that you give this homemade whipped body butter recipe a try. Your skin will thank you!
Don't forget to Pin this to your favorite Pinterest board!