French Country Lamp Makeover – Thrifty Style Team
Please note that this post contains affiliate links. As an Amazon Associate, Rewards Style influencer and Jane Influencer, we earn from qualifying purchases and any sales made through such links will reward us a small commission – at no extra cost for you.
As the saying goes, don't judge a book by its cover. The same holds true for an ugly lamp. It got a new look with a French country lamp makeover.
Welcome to our August installment from our Thrifty Style Team! This is the place where we get together with our talented and creative blogger friends the second Friday of every month. We each display, makeover, repurpose or transform something from our homes or thrift stores. A giant thank you to our friend Julie of Redhead Can Decorate for coordinating this wonderful group! This month I am sharing an easy way to do a French country lamp makeover Thrifty Style Team.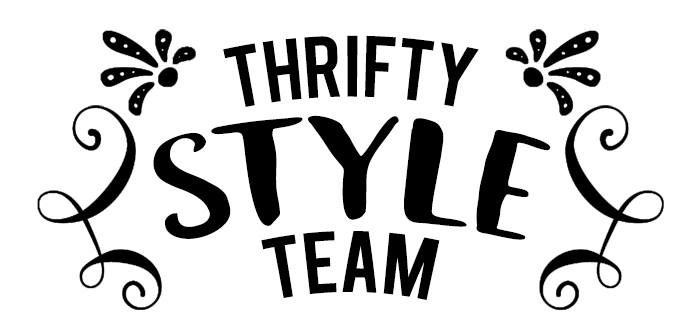 Recently I popped into a Goodwill thrift store to see if there was anything that would spark my creativity. The back of the store always houses the things that I am interested in – furniture, lamps, glassware and more. On the top shelf, I spotted this lamp. I fell in love with the shape and size however, I didn't love the pinkish red color or gold design.
Test the lamp at the thrift store to be sure that it works
I am kicking myself that I didn't take a photo of the lampshade to this lamp. It was metal and of the same design and color as the lamp. Goodwill lets you test out the lamps before you purchase them. Nothing would be more disappointing than getting a lamp home only to discover that it didn't work. Anyway, after just a couple of minutes testing the lamp, the lampshade was blazing hot. Like so hot that you could burn your fingertips. Being that I didn't like the lampshade, I opted to give it back to Goodwill with the warning of burning metal.
The marked price was $8.99, but guess what? Green tickets were 50% that week! 🙌🏻 So this lamp was a grand total of $4.50.
It may seem like there are a lot of steps to this lamp makeover, but I assure you that it is a super simple process. No need for perfection at all.
Fortunately for me, I had all of these supplies in my craft stash. I had previously purchased the wood beads and chalk paint from Hobby Lobby when the were 50% off. You can also sometimes find wood beads and glue at Dollar Tree.
Supplies Needed
ugly lamp
wood beads – I used 2 1/2 packages of 1/2″ beads
glue – you can even use hot glue
chalk type paint
acrylic paint and/or wax for antiquing purposes
lampshade
water
sponge paint brushes
How to do a French country lamp makeover
When I thought up this idea for the lamp makeover, I wanted it to look like it was handmade a century ago. Similar to clay or stone and a weathered finish.
Being that I had all of the supplies on-hand, my only expense was $4.50 for the lamp. The lampshade is from another lamp that I am currently not using.
I don't want to sound braggadocios, but I am pretty proud of this thrifty makeover.
Before and after
Hopefully you are inspired and encouraged to create a French country lamp for your own home! Lamp makeovers are one of my most favorite projects. They are easy to do and can be accomplished in just a little bit of time. Here are lots of other lamp makeovers that I have done over the years: 2 Bees in a Pod Lamps.
Don't forget to Pin this to your favorite Pinterest Board!
Now let's see what our talented friends have created this month!
Redhead Can Decorate – A Look Back at Redhead Can Decorate's Best Affordable DIY Projects
DIY Beautify – Thrifty Vintage Art for Your Walls
2 Bees in a Pod – French Country Lamp Makeover
Our Crafty Mom – Wooden Candle Holders in a Faux Concrete Finish
I Should Be Mopping the Floor – 11 Unique Containers for Flower Arrangements
The How to Home – How to Make a Pom Pom Pillow
Postcards From the Ridge – How to Paint a Glass Vase to Look Like Stoneware
The Tattered Pew – The Secret Tip to Drying Hydrangeas
Cottage on Bunker Hill – How to Make Autumn Leaf Clay Trinket Dishes
Songbird – DIY Hanging Glass Bottles for Tiny Flower Bouquets
Southern Yankee DIY – DIY Faux Concrete Planter: Concrete Decor Ideas
My Family Thyme – Make an Easy and Inexpensive DIY Fall Wreath
Amy Sadler Designs – Wheat and Floral Decor for Fall Decorating