Antique French Egg Cups-Thrifty Style Team Grand Home Decor Giveaway
Please note that this post contains affiliate links. As an Amazon Associate, Rewards Style influencer and Jane Influencer, we earn from qualifying purchases and any sales made through such links will reward us a small commission – at no extra cost for you.
Our good fortune is soon to be your reward. We found these beautiful antique french egg cups on a recent thrifting trip.
Actually we found the antique french egg cups in a home decor consignment shop. We had never visited this particular store before. The shop was filled with furniture, artwork, decorative accessories, kitchen appliances, dishes and other household items. Individuals bring their unwanted wares to the shop to be sold and split a commission with the shop owner. For every 30 days that their items are not sold, the price decreases each month for a total of 6 months. At that time the owner can pick up their unsold item or it is donated to an organization of the store owners choice.
The Thrifty Style Team Grand Home Decor Giveaway
Before we get too far ahead of ourselves, we have a fabulous treat in store for you. Our Thrifty Style Team is shaking things up this month. Not only will you have an opportunity to be gifted our antique french egg cups, you will also have an opportunity to win 11 thrifted home decor items from our thrifty team members!
Our Giveaway Entry
Okay – back to our consignment shop discovery.  These Le Comptoir de Famille "Le Petit DeJeuner" egg cups are from France.
You can see the mark on the bottom.  Imagine our surprise when we were told that the total price for both cups was just $1.00. We ran to the checkout register quicker than you can say ""Ooh La La".
We found THIS recent Ebay listing for just one egg cup. As you can see it sold for $9.99 plus $8.95 shipping. That's a whopping grand total of $18.94 for just one egg cup! Remember, we scored two cups for $1.oo!
We are passing our good fortune onto you.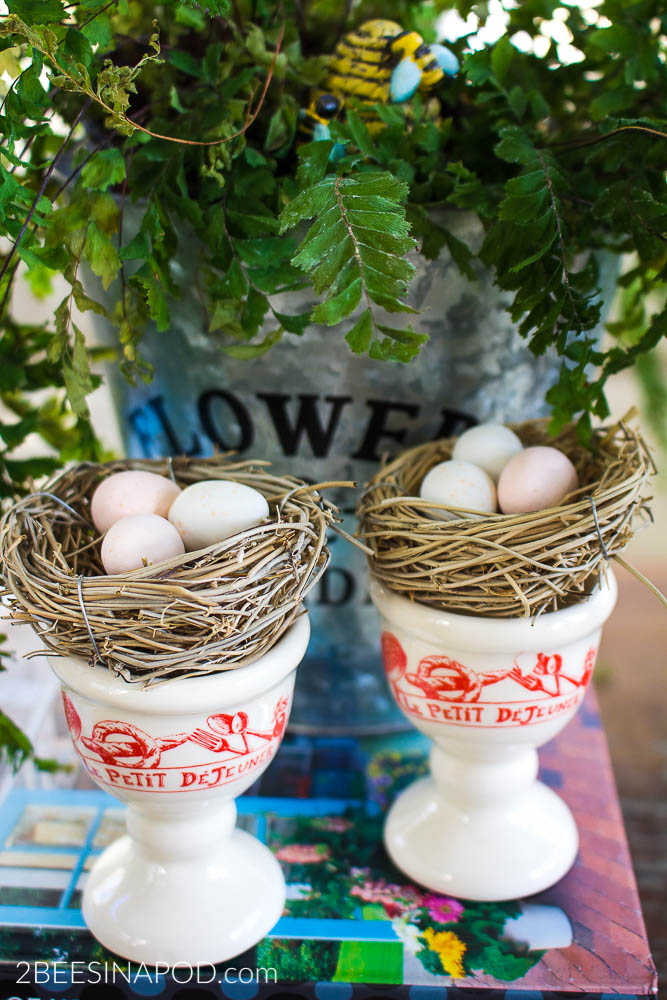 One of you will have the chance to be the proud owner of these beautiful antique french egg cups.
They don't need to be used in just the traditional way at breakfast time. You can use them in a variety of ways in your home decor.
How Do You Win?
Just leave us a blog comment below telling us how you would use them in your home.
Or maybe you are an egg cup collector.
This giveaway is for 2 antique french egg cups. Nests and succulents are not included.
We in turn will enter your name in Google Generator, a program that randomly chooses a winner.
Comments will be collected until midnight Tuesday March 20th, 2018. We will announce the winner for the egg cups on Wednesday March 21st, 2018.
We would love for you to subscribe to 2 Bees in a Pod – but it is totally not necessary to be eligible to win. If you are already a subscriber THANK YOU!
Don't Forget to Pin this to Your Favorite Pinterest Board!
Now visit all of our thrift style team friends and see what goodies they are giving away. Don't forget to enter your chance to win too! Good luck!