Please note that this post contains affiliate links. As an Amazon Associate, Rewards Style influencer and Jane Influencer, we earn from qualifying purchases and any sales made through such links will reward us a small commission – at no extra cost for you.
Hey y'all…I've been moving around furniture and artwork in the house this week. Do you do that too? I like to refresh the house a bit in the Wintertime. I change out lamps from one room to another for a different look. I move the furniture around too – especially tables. You'd be surprised at what a difference it makes with just a few tweaks.
I changed out tables in the foyer. There was previously a large drop-leaf table that I changed out for a smaller antique harp game table. I also wanted a new lamp for this space. I didn't want anything too large or bulky. I was shopping around for a skinny, candlestick type lamp. I've been drawn to gold and brass of late and started the hunt. I found a couple of very pretty lamps but I wasn't willing to pay the high price tag.
I'm not one to take defeat easily 🙂 and then I remembered that I had this lamp in the basement…
It would be perfect and easy to do a makeover with this lamp! Do you know that I never noticed that the graphics on the lampshade were upside down until I did this post. How do you like the beaded trim and faux palm tree limbs?
Luckily for me with a couple of twists these snapped right off…
I used pliers to tamp down any sharp edges.
I bagged and taped off the the cording and the top of the lamp so as not to get spray paint on them. I used Krylon® metallic spray paint in Gold Leaf.
Here's another lucky purchase. Last year after Christmas, Lowe's had these lampshades on holiday clearance in their lighting department for $5 each! We all know that good lampshades can be very expensive! The only problem is this festive red, green and gold trim wouldn't work with my blue and green decor.
Not to worry…I pulled this pretty cobalt blue Greek Key grosgrain ribbon from my stash.
I just hot-glued this ribbon on top of the holiday ribbon and it worked out perfectly fine.
Have I told y'all how much I heart this antique mirror?
Can you believe this is the same lamp? It is so much more updated and stylish now.
This brass bull is my newest obsession. I'm a Taurus and when I saw this in Target I just had to have it. Truth be told, I bought two of them…Jenn is a Taurus too!
This small ornate frame was purchased at Marshall's some time ago on clearance for $3! How cute is that baby? I wonder who it is LOL.
The transformation is like night and day. By just using what I already had in the house, this was a free to me project.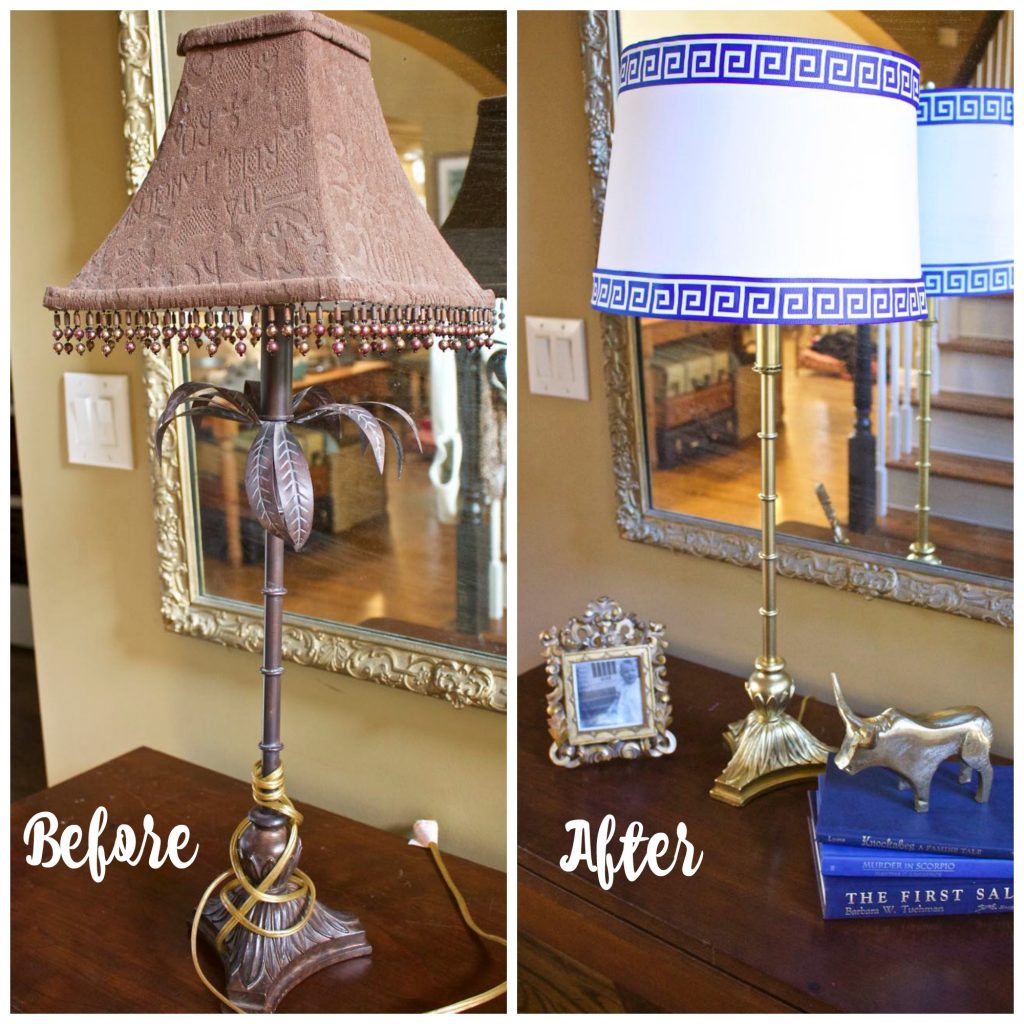 I'm so happy that I remembered that I had this lamp and the lampshade in the basement. I'm even happier that I didn't spend the money on a new lamp. Even though I am a DIYer this lamp makeover was a great reminder to myself to shop my own home first.
The entire project took just 20 minutes to complete – beginning to end. The paint was very quick drying too! In just a short amount of time I created a new look for my foyer and I love how it turned out. I don't know why I'm always amazed at the power of paint…it does make a big difference.
Have you done any easy lamp makeovers? We would love to hear about!
Until tomorrow,
XO~Vicki and Jenn