DIY Picture Frame – Great Gift Idea
Please note that this post contains affiliate links. As an Amazon Associate, Rewards Style influencer and Jane Influencer, we earn from qualifying purchases and any sales made through such links will reward us a small commission – at no extra cost for you.
We are in the final stretch for Christmas preparation. How are y'all holding up? Full disclosure…I'm just a tad behind with my Christmas shopping, which stresses me out. There are only a couple of more gifts to purchase, but my word they seem to be the hardest ones to find! You probably know me well enough by now to know that I love to make gifts as well as purchase them. To me this is so much more personal. Today I am sharing my DIY Picture Frame – it's a great gift idea too!
Recently I attended a craft show with a friend and I was inspired to create these picture frames. The inspiration frames were drink-coaster size and they were magnetic to hang on the refrigerator. I wanted my frames to be larger and to be meaningful gifts. Not to sound like a braggart, but I absolutely love how they turned out.
Best part? They didn't take that long to make and my only expense was the acrylic photo frames. But wait…I'm getting ahead of myself. This is how they came together:
How to make frames:
Gather scrap wood pieces

Paint base color of your choice

Use a stencil pattern of your choice

Paint using a stencil in the topcoat color of your choice

Using a toothbrush, flick watered-down paint in companion colors of your choice

Hot glue clear, acrylic flat frames onto your painted wood. These frames were less that $1.00 each at Walmart.
Truth time (being that Santa is watching) I am probably keeping this frame.
It is almost like I subliminally had that thought in mind before I even began making the frame.
You know I love cobalt blue, right?
Personally, I prefer black and white photos when the picture frame is multi-colored. How cute is this vintage photo of my mother on a horse when she was a little girl?
Also…Jenn, start working on your surprised face now for when you open this frame Christmas morning 🙂
This frame was painted with a honeycomb stencil in these pretty colors of gray and golden yellow.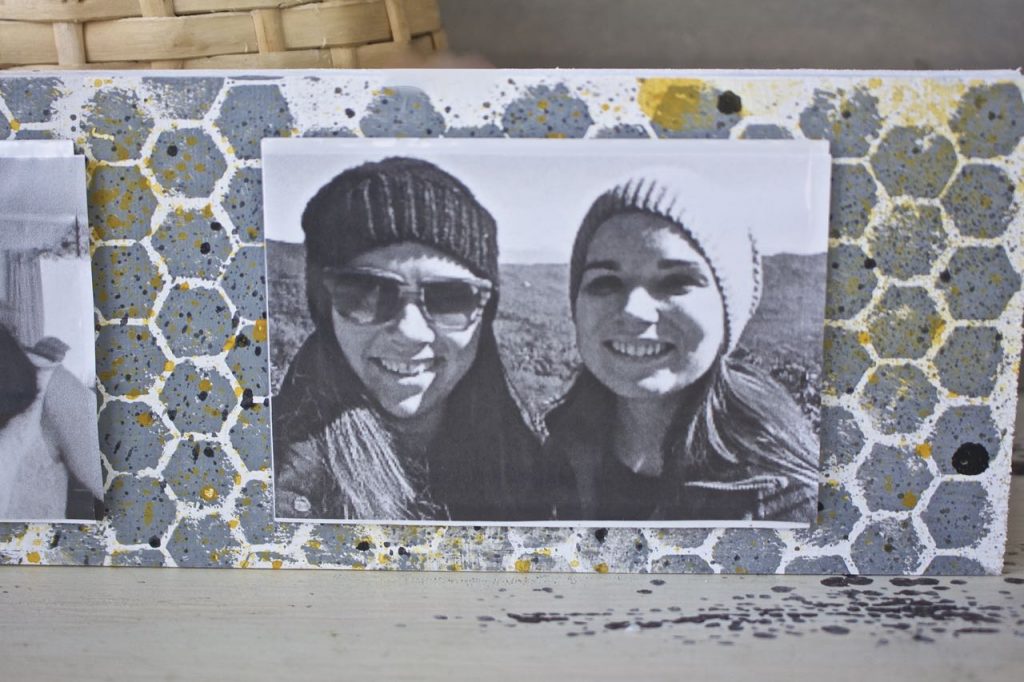 The scrap piece of wood that I used was a bit narrow.  Two 2×3 frames were perfect additions. How adorable are these cuties?
Right about now some of us need this reminder in the hurridness of the holidays 🙂
Remember, these frames only took a few minutes to make. My only expense was the acrylic frames which were less than $1.00 each! I will be in Santa's workshop making a few more of these!
Have a wonderful weekend and we will see you back here on Monday. We will be sharing holiday party ideas for Christmas and the New Year!
Until Monday…
XO~Vicki