DIY Handwritten Recipe Tea Towel…
Please note that this post contains affiliate links. As an Amazon Associate, Rewards Style influencer and Jane Influencer, we earn from qualifying purchases and any sales made through such links will reward us a small commission – at no extra cost for you.
Hey there…we are so excited to see you here today! As promised, we are going to show you how we created our DIY Handwritten Recipe Tea Towels. Yesterday we participated in a Family Recipe Swap with four other bloggers. We commemorated our day of celebrating my mom – Jennifer's Granny – by creating pretty tea towels. The tea towels are printed with Barbara Jean's recipe in her handwriting.
These tea towels will make great gifts for Mother's Day, Birthday's or any celebration! The handwriting is very easy to create and print. If you have some sewing skills, that's an extra bonus because you can add trim to the bottom of your towel!
Okay…lets get started!
We purchased these Heat-n-Bond sheets at our local craft store. Depending on how large your recipe is, you can get multiple copies on one sheet.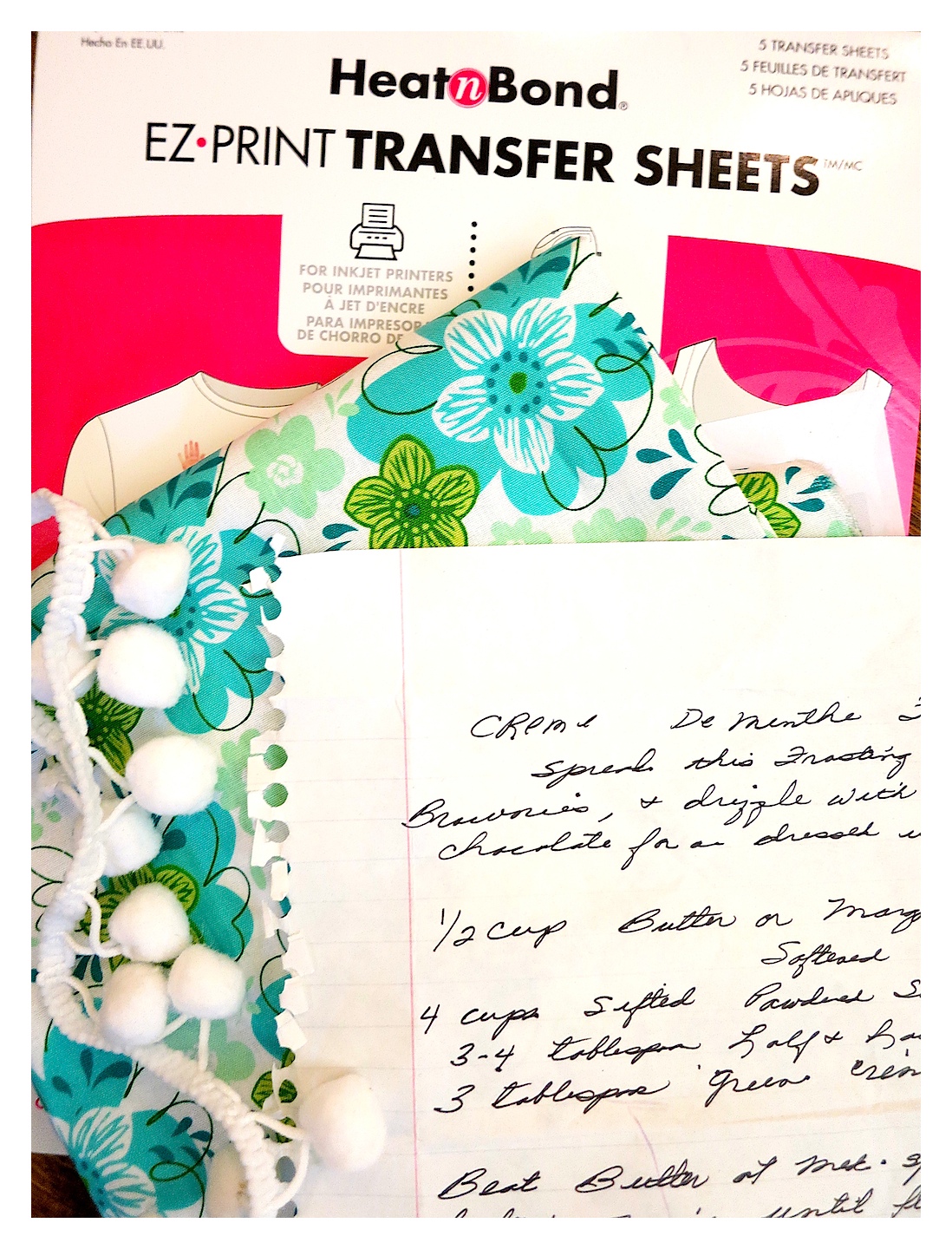 We gathered pretty fabric, white Pom Pom trim and of course the cherished recipe.
These flour sacks were perfect for this project. Can you believe the price. We purchased a few of these sets at Tuesday Morning. Basically each flour sack towel is about .41 cents – you just can't beat that!
Here's what we did next:
Scanned the recipe

Inserted one Heat-n-Bond sheet into the printer
Printed in mirror image – it might be called something else for your printer. Basically printing the wording backwards on your sheet.
This is how it looks directly out of the printer:
We trimmed off all of the excess…
Now the fun begins! We ironed each flour sack and then guessed as to where we wanted the wording placement to be. We laid the printed sheet face-down on the towel.
We then ironed the paper. It's important that all water is removed from your iron so that there is no steam used. Make sure your iron is very hot and set on the "cotton" setting.
Begin ironing the paper into place – pressure is your friend. Press down the iron – don't rub back and forth as this may smear your print. Just keep pressing the iron down on the paper for 30 seconds and then move on to the next section.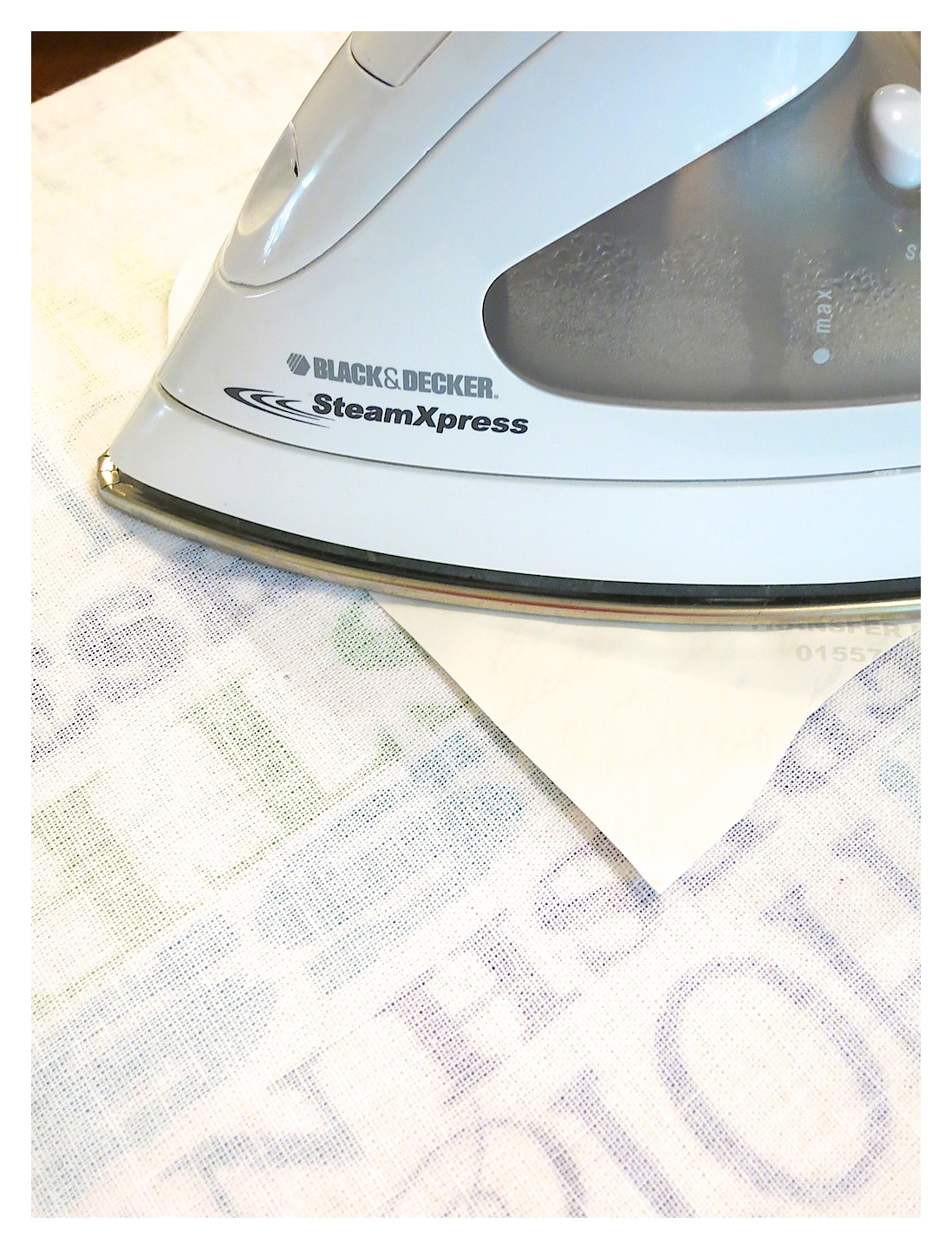 Let the paper cool of about a minute. Begin lifting the paper backing and watch the magic happen!
And here's the towel after all of the backing is pulled off. Isn't this great?! We were so excited!
We sewed the fabric and Pom Pom trim in one easy straight line.
We think these turned out great! This was such a fun day and time to celebrate my mom and Jennifer's grandmother. We cherish our memories and her recipes so very much. Now, each time we look at our towels we will remember the fun day we spent crafting and cooking in the kitchen.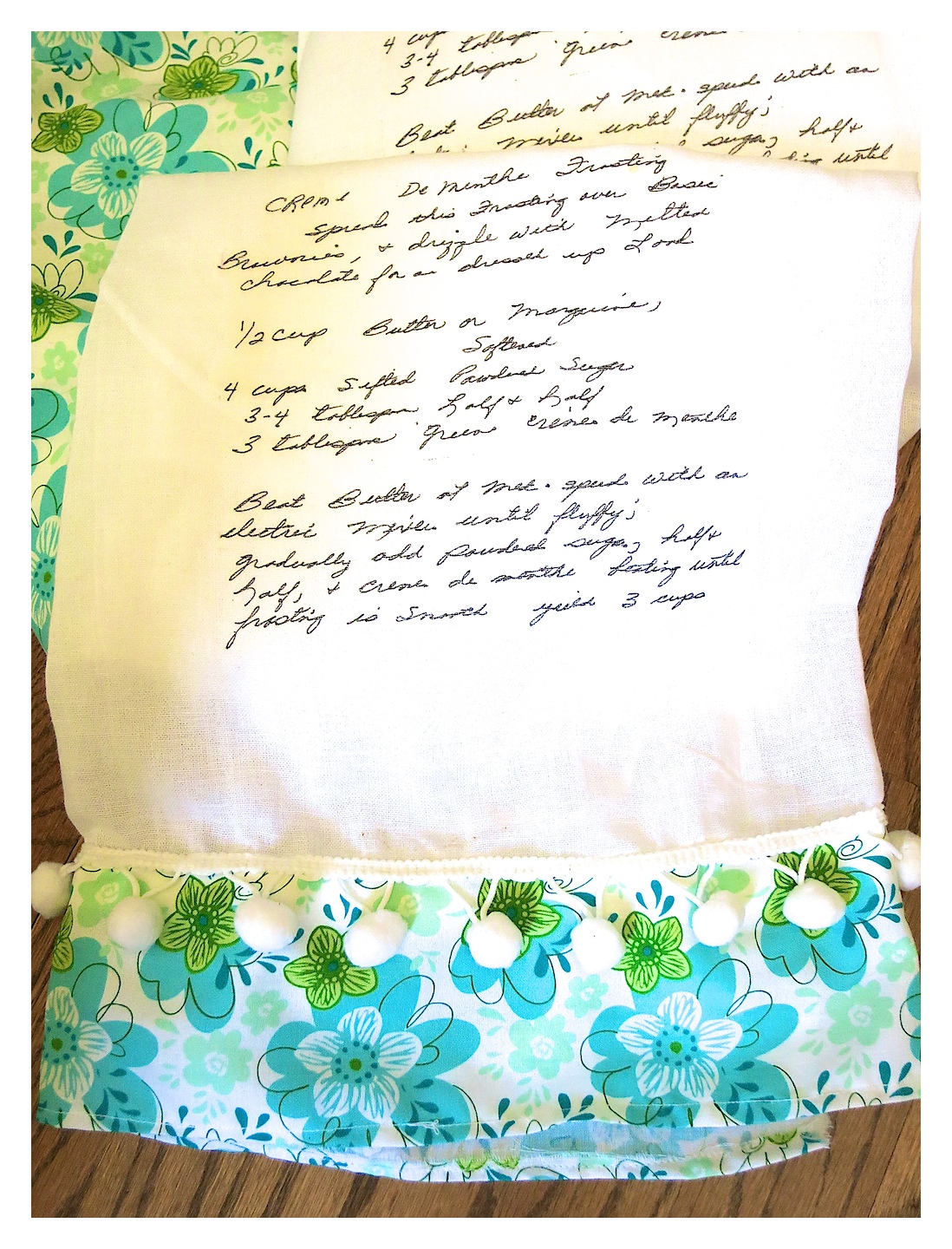 Thanks so much for stopping by 🙂 We hope you give this craft a try. It's a lot of fun and you can create your own memories by making your own DIY Handwritten Recipe Tea Towel!
XO~Vicki and Jennifer
We've linked up to: