Decorating With Thrifted Pitchers
Please note that this post contains affiliate links. As an Amazon Associate, Rewards Style influencer and Jane Influencer, we earn from qualifying purchases and any sales made through such links will reward us a small commission – at no extra cost for you.
Home decor should be an expression of your creativity and personality to reflect your sense of style. Decorating with thrifted pitchers may not seem like an obvious design choice, but we hope to change your mind.
Whenever we each have visitors in our homes, aside from hoping the house is clean, we want it to look pretty. Most of us feel this way, don't we? Artwork, framed photos, painted furniture, glassware, cute throw pillows and objects of sentiment or meaning are collected and curated to create a home of comfort and individual taste. These collections don't come together overnight, but rather over time while only purchasing items we truly love. This is how decorating with thrifted pitchers came about.
That's so cute
As folks walk through our homes we invariably get asked "Where did you get that"? Approximately 8 times out of 10 our answer is either the thrift store, a yard sale or an antique shop. Some of our most favorite purchases come from the thrift stores. This is because we typically find unique items that are vintage for a great price. If you read our post last week Latest Thrifted Finds and What They Can Be Worth we shared just how valuable some of our treasures can be.  This is our latest installment with our Thrifty Style Team. Please be sure to check out the fabulous style of our design friends at the end of the post.
We've taken liberties with the word pitcher LOL. This post will also include creamers and a gravy boat.
This gorgeous pitcher is from the late 1800's. When we spotted it at the thrift store we couldn't believe our luck. Especially after seeing that the price tag was only $3.00!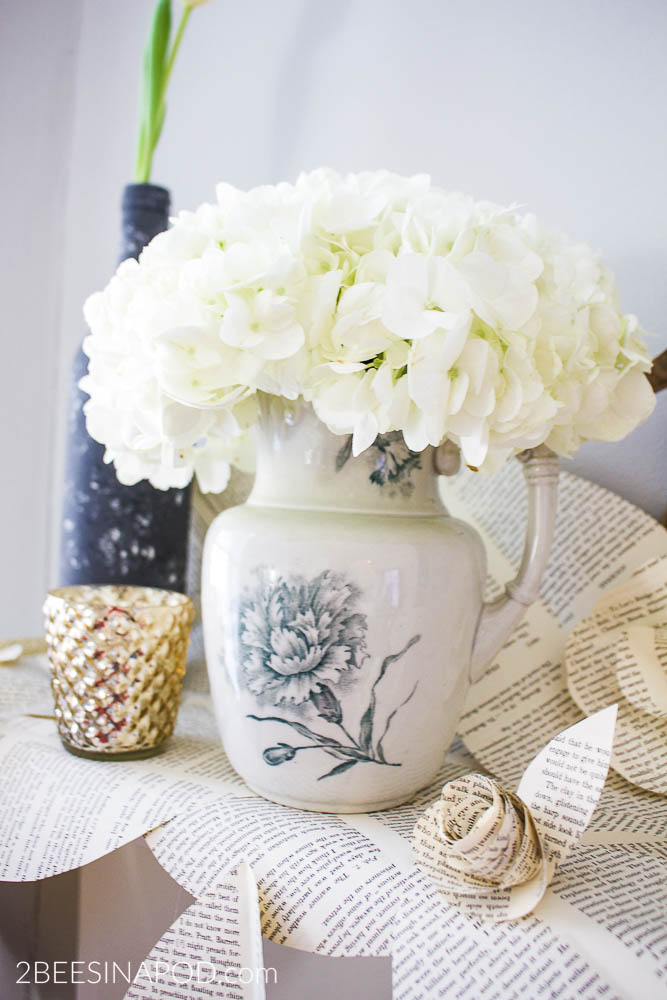 Blue and White Ironstone
As you know, we love blue and white – especially when it's china or ironstone pieces. The bottom of this pitcher is marked "Kensington Balmoral 1801". We are very confident that it is worth way more than the $2.00 that we paid for it!
By the way, this gorgeous wooden bread board is also a thrifted find at just $4.00. Our online research showed one exactly like it for $110.00!
Don't Pass up Silver Pieces
One of our favorite aisles in a thrift store is the one that houses silver pieces. Typically we look for sugar bowls, creamers pitchers and platters. We made beautiful Succulents in Vintage Sugar Bowls . Silver creamers and pitchers make for great vases. The coffee pot below was just $1.00.
China Pieces
Vintage china pieces are beautiful. There are so many colors, patterns and designs for inspiration and collecting. This sweet creamer is the newest to the collection. The bottom is marked "Victoria" from Czechoslovakia. After it was purchased last week for $1.00 we thought it made for a beautiful makeup brush holder on the vanity tray.
This gorgeous white gravy boat was actually a gift from our sweet friend, CoCo. Aren't we fortunate? During our recent Office Desk Area Refresh we decided that it looked great  with vintage rulers tucked inside.

Y'all won't believe the story with this next pitcher. While shopping in an antique shop we spotted a sticker taped to the side that said "FREE". Isn't that amazing? The shop owner said that this white and gold beauty hadn't sold so he decided to give it to someone who was observant and that would appreciate it!
If you haven't shopped in a thrift store before, we highly recommend it. You never know what you're going to find. For all of you seasoned thrift store shoppers we hope that we have inspired you to shop for pitchers, creamers and gravy boats! Decorating with thrifted pitchers make us happy and we know that you will be too. You won't be sorry.
Don't forget to Pin this to your favorite Pinterest Board!