How to Decorate a Mantel – Back to Basics
Please note that this post contains affiliate links. As an Amazon Associate, Rewards Style influencer and Jane Influencer, we earn from qualifying purchases and any sales made through such links will reward us a small commission – at no extra cost for you.
Decorating a mantel can be tricky, but we're sharing with you our tips on how to decorate a mantel.
Hope y'all had a great weekend! It's a new month, which means a new topic in our monthly Back to Basics series. Last month we shared quick appetizer ideas. This month is all about how to decorate a mantel. I am fortunate that I have four amazing mantels throughout my 1901  Victorian home and I am constantly refreshing them for the changing seasons. Sometimes the task can be a little daunting, but it's also such a fun palette to play with. It's also a great space to use your creativity and have fun decorating!
1. Start with a blank slate
I find that taking everything off the mantel and starting from scratch is the best method. If I tried to keep one or two existing elements on, I would be focused too much on those items and not on the mantel as a whole. So, clear everything off, give it a good cleaning, and take a step back to really look at the space. Think about which decor direction you want to go with. Are you decorating for a season? Are you tired of what you have and looking for a change? Have you just moved into your home and the mantel has been the last thing on your mind to decorate?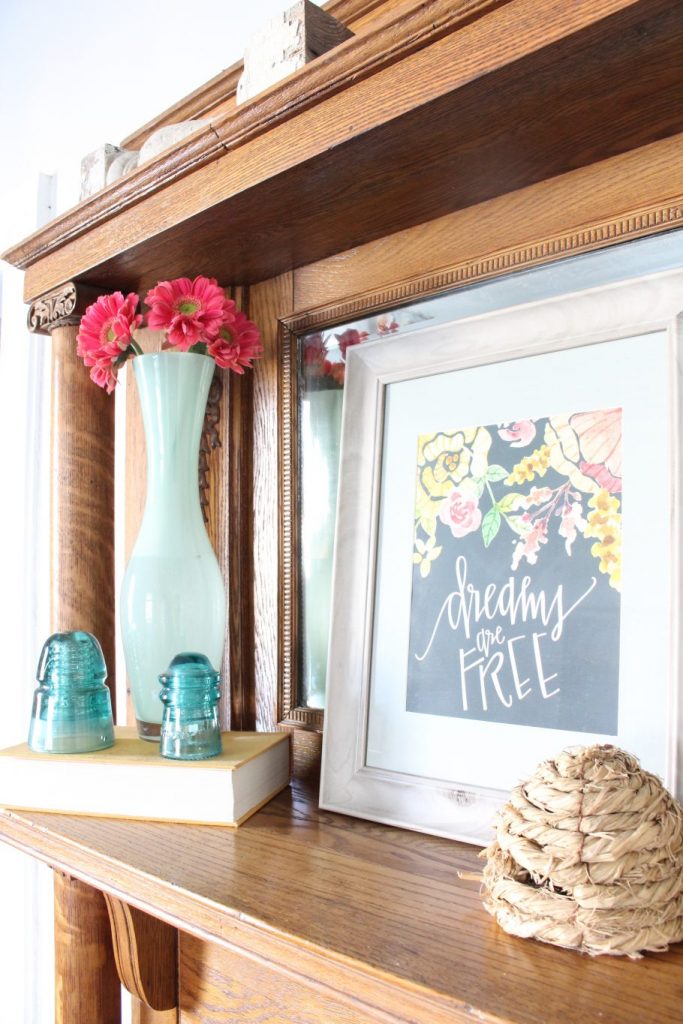 2. Gather items you think you want to use
I have a closet full of items like books, candlesticks, knick knacks, etc. that I like to pull from when re-decorating a space. When everything comes off the mantel to change up the decor, those items will go back in the closet to be used another day. I love being able to pull from things I already have. This way I am not completely re-inventing the wheel each and every time I want to change something in my home. Also, I do pick up little things here and there when I am out and about and see something I can't pass up!

3. Have a focal point and use height
Generally when I decorate a mantel, I like to have something large in the center. This can be a piece of art, typography, architectural piece etc., but I do like something big as a focal point. Also, my home has 12+ foot ceilings, so I have a lot of space to try and cover. Otherwise it would look so bare. With that in mind, I will use tall pieces, like vintage balusters and crates to create more height. Books are also great for this. I'll use a few books and place a vase or loving cup on them to get it more depth and dimension.
4. Have fun!
I can't stress this one enough! It's always such a blast when I start placing things on the mantel trying to see what is going to work. (Also, I find that some fun music helps with process too lol!) I constantly will move things around the mantel trying to achieve the look I want. And sometimes you may try really hard to make one item work that just isn't going to fit…and it's okay to take it off and not use it. I don't know how many times I've wanted to incorporate something onto the mantel so badly and it just does not look right.
I really hope that this topic in our series on how to decorate a mantel has helped some of you who have struggled. If you have any questions at all, don't be afraid to reach out to us! And be sure to visit our other blogging friends below for more inspiration and ideas.