Please note that this post contains affiliate links. As an Amazon Associate and Rewards Style influencer we earn from qualifying purchases and any sales made through such links will reward us a small commission – at no extra cost for you.
This truly is the easiest onion & garlic jam crostinis and cream cheese appetizer ever.
Welcome to another month of Back to Basics! This month's theme is quick appetizer ideas and treats at the ready. What better time than the holidays for this post, right? My mother always taught me to always be prepared for unexpected company. She said that as long as I had a block of cream cheese, bread or crackers I was practically set. And you know what? Mom was right! For years I used to prepare a very complicated version of this recipe, but not anymore. Who wants to spend tons of time in the kitchen especially during the holidays? I certainly don't and I am pretty sure that you don't want to either. Here's the easiest onion & garlic jam crostinis and cream cheese appetizer.
Start at Trader Joe's
Sadly, I do not live near a Trader Joe's. So when I make a visit it Atlanta I stop into Trader Joe's and stock-up and make my trip worthwhile. Y'all have got to visit their aisle of jarred sauces. This Roasted Garlic & Onion Jam is fantastic for so many things and it is only $2.99 a jar!.
But I'm getting ahead of myself. In the past I would make a recipe that literally had 14 ingredients and took over 2 hours to make and it tasted just like the ingredients in this jar! Why go to all of that trouble?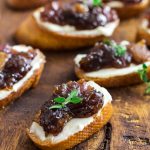 Easiest Onion & Garlic Jam Crostinis and Cream Cheese Appetizers
These crostinis are super easy, delicious and easy to make!
Ingredients
1/2

block

cream cheese

1/2

French Baguette

cut into slices

1/2

cup

Olive Oil

1

clove

Garlic

diced

1/2

jar

Trader Joe's Roasted Garlic & Onion Jam
Instructions
Preheat oven to 350 degrees.

Mix diced garlic with olive oil. Brush on both sides of sliced baguette. Place onto a baking pan. Bake for 6-8 minutes until golden brown. Turn over and bake 3-5 minutes more.

Add a teaspoon of cream cheese to each baguette slice, and spread evenly.

Heat the Garlic & Onion Jam in the microwave for 1 minute. Add one teaspoon to the top of each baguette and cream cheese.

Garnish with a mini sprig of thyme. (optional)
I haven't met anyone that doesn't love crusty French bread, have you?
This is olive oil with fresh diced garlic. You brush this onto the baguette slices…
…and bake them in the oven until they are crunchy, golden brown.
I even experimented with white bread slices and a vintage cookie cutter.
Add a teaspoon of cream cheese to the top of each baguette slice and smooth evenly.
Then add a teaspoon of the Trader Joe's roasted Garlic and Onion Jam. I add a mini sprig of thyme for color and added flavor.
My personal taste tester Honey Bee Loves these!
They are savory, slightly sweet and oh so delicious.
This recipe is totally versatile. You can make 2 or 22 depending on who you are making them for. Yourself or a crowd.
Easiest Onion & Garlic Jam Crostinis and Cream Cheese Appetizer are the perfect bite for cocktail parties or holiday parties.
Oh, and the cute little bells that I cutout with the cookie cutter turned out great!
So these can be made with all sorts of shapes with white bread like canapés. The very best part about this recipe is that it takes just minutes to make. You won't be in the kitchen for hours making this delicious dish. It literally takes minutes!

Don't forget to Pin this to your favorite Pinterest board!
I really hope you give my recipe a try. Now let's see what the other fab dishes are! I can't wait to give them a try myself!