Christmas Tour of Vicki's Home…
Please note that this post contains affiliate links. As an Amazon Associate, Rewards Style influencer and Jane Influencer, we earn from qualifying purchases and any sales made through such links will reward us a small commission – at no extra cost for you.
Hey there…So happy to have you stop by today for a Christmas tour of my home! A special thanks to Kendra of Joy in our Home for hosting this wonderful tour of 18 Christmas Homes!  Be sure to visit Thursday when Jennifer showcases her cottage. Each day you can visit each of the other bloggers and their homes listed at the bottom of this post.
Now, lets get this party started! You may want to grab your cup of hot cocoa or coffee and settle in next to the cozy fire. My post is loaded with lots of photos. It was so hard for me to decide which photos made the cut. It was kind of like having to choose a favorite child and I apparently have 502 children! Yes, that is 502 photos that I took of my home. I don't mind sharing that I love Christmas and Christmas decorations. I've been collecting ornaments and Santa Claus' since I was a little girl.
This year I have been feeling quite nostalgic and decided to use more traditional Christmas colors and elements in my decor. Lets stroll over to the …
Dining Room
For my dining room I liked using rustic, woodland elements. I think this is now my favorite room in the house. Even though our dining room is more formal, I really like this casual, pretty theme.
On Wednesday I will show you how I made the fox ornaments and gift tags.
Isn't this little guy adorable?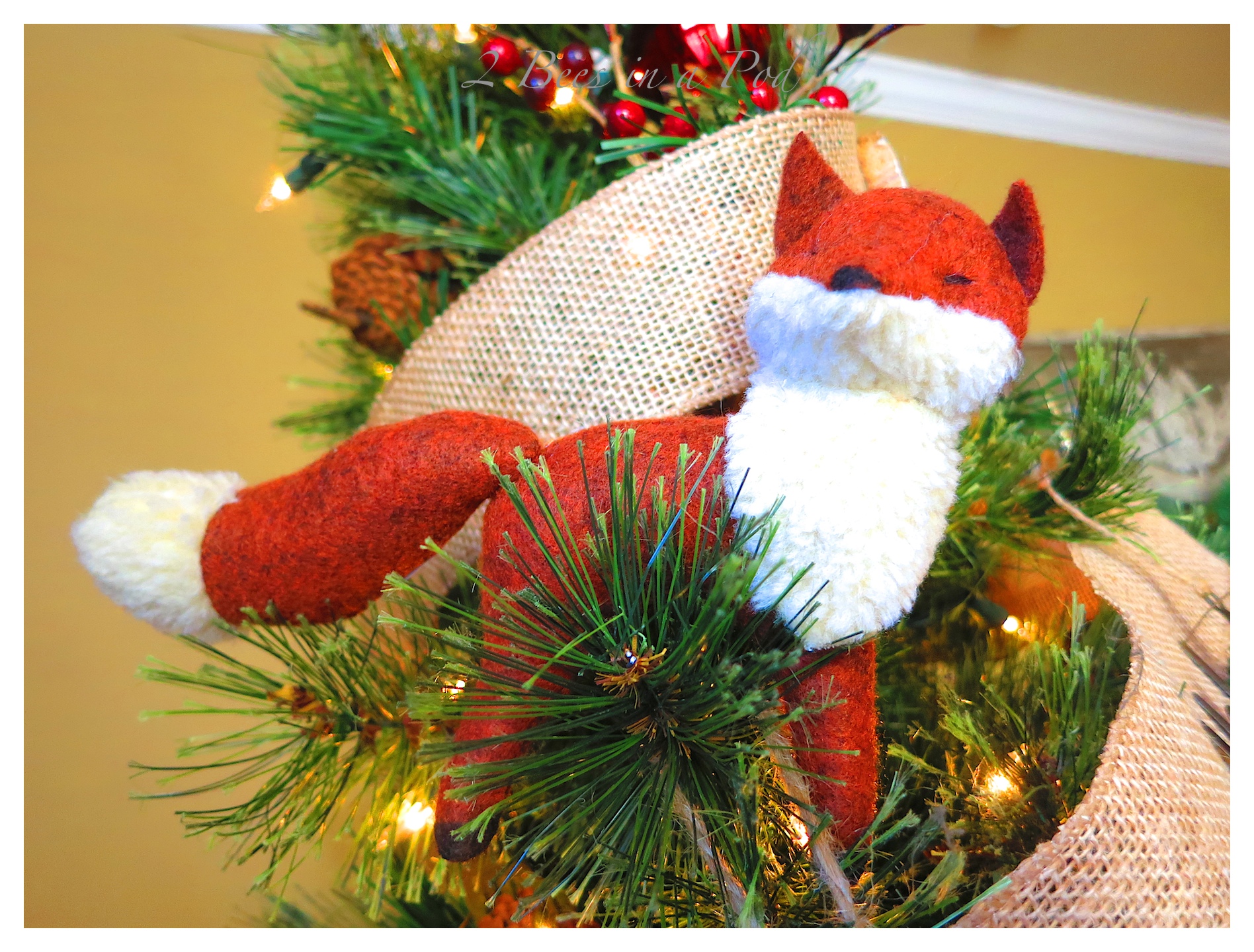 As my tree topper I love this cardinal sitting in a nest. It reminds me of our time spent in North Carolina…although close up he does seem to resemble Angry Bird 🙂
I used vintage elements on top of the buffet…
I am so fortunate to have evergreens, berries and magnolias growing in my yard…
I love my snow globe terrarium…
…and my vintage Brownie camera.
I love to decorate these floating shelves and buffet each season. Here, I used part of my Santa collection and more vintage items.
Wishing I were French 🙂
I dressed up the dining chairs a little bit.
Family Room
Here's where nostalgia struck…I decorated in mainly traditional red and green – using Santa's and vintage ornaments.
My sweet mother made us the tree skirt many years ago and I treasure it dearly.
I couldn't forget my vintage Buddy L truck filled with vintage ornaments 🙂
For the coffee table (which is a cedar chest) I used an antique cutlery tray and added some greenery, candlelight and reindeer.
The antique Underwood typewriter typically houses old family photos that I changed out for antique Santa postcards.
Mantel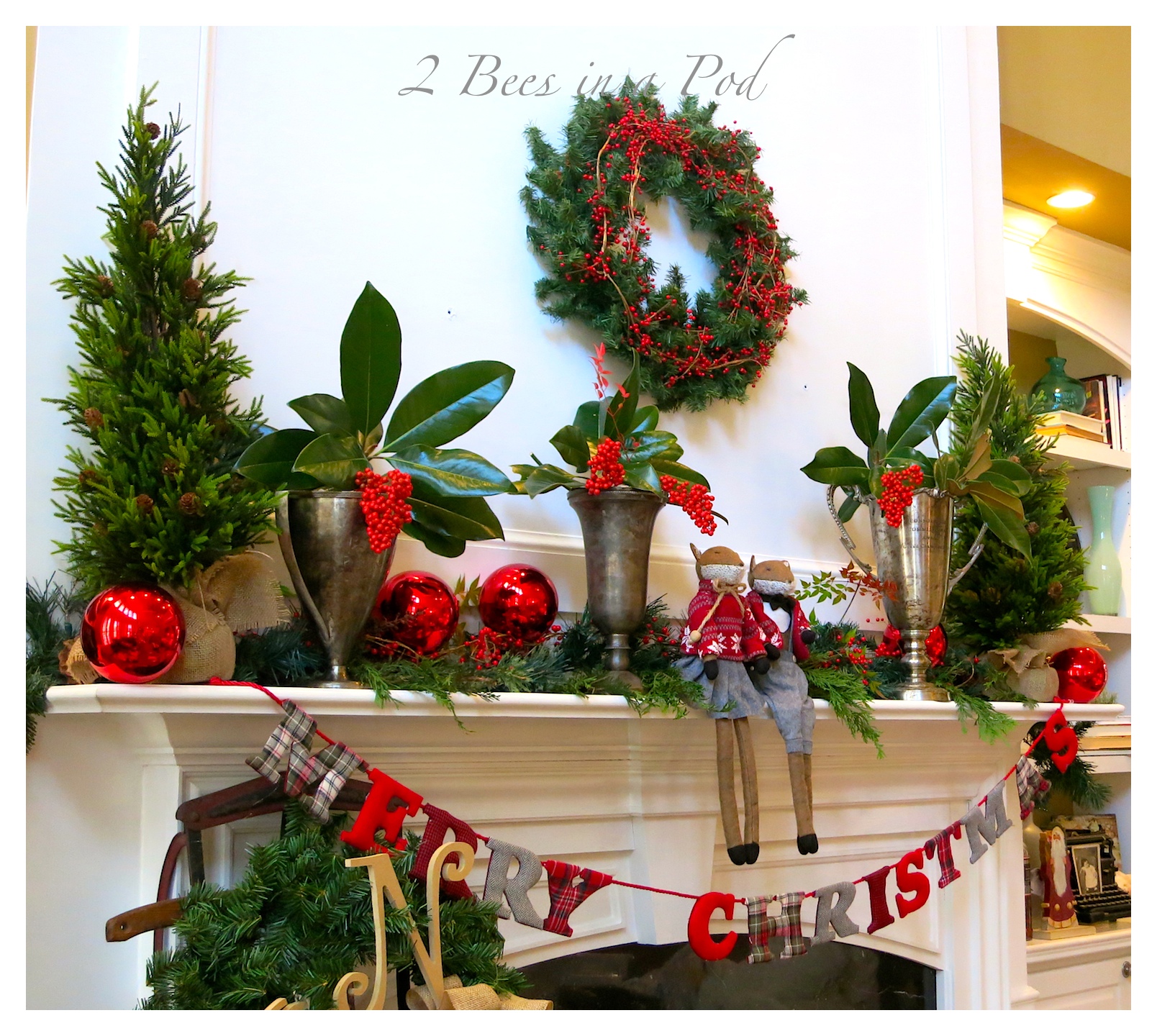 I decorated the mantel around this cute couple. I bought these fox and the Merry Christmas banner at TJ Maxx after Christmas last year…I love their sweaters and cute faces.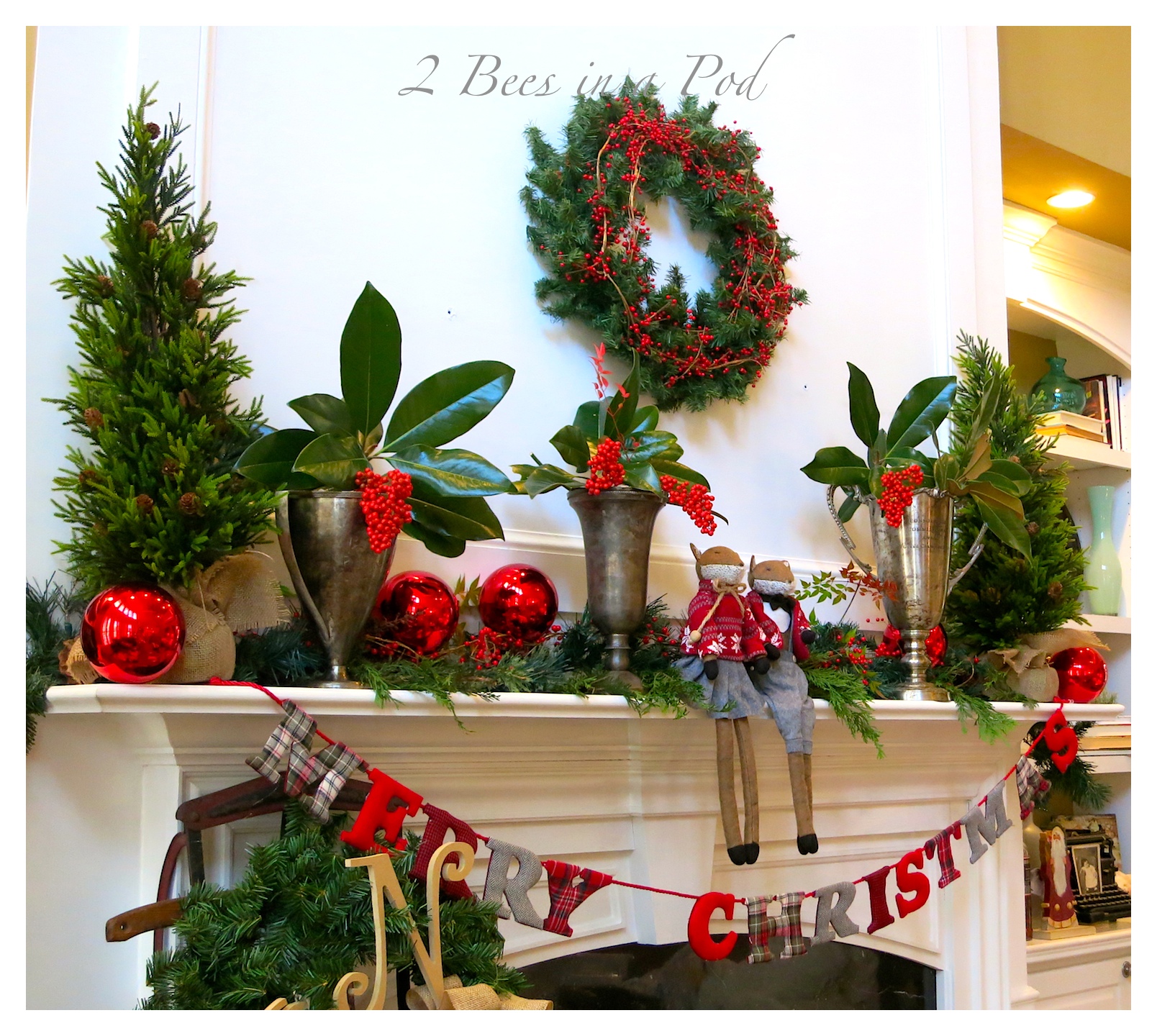 When we lived in North Carolina, I scored the Flexible Flyer sled at an auction for $15!!!
The loving cups were given a pop color…
That's it from me…I hope you enjoyed your visit and that you will come back again real soon! Do you love Christmas decorating as much as we do?
You don't want to miss the tours of other bloggers home. Scroll down the page and you can visit the ladies you missed yesterday as well as the tours from today.
xo-Vicki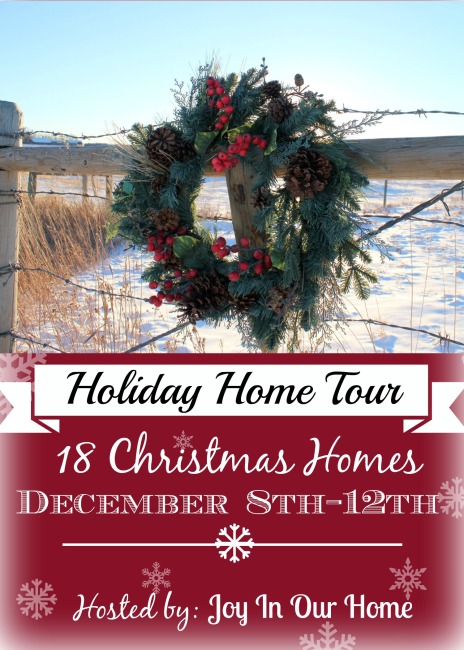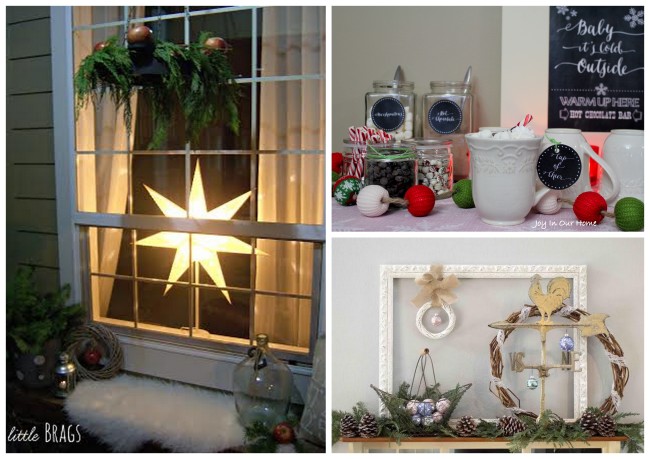 – Monday –
 1. Little Brags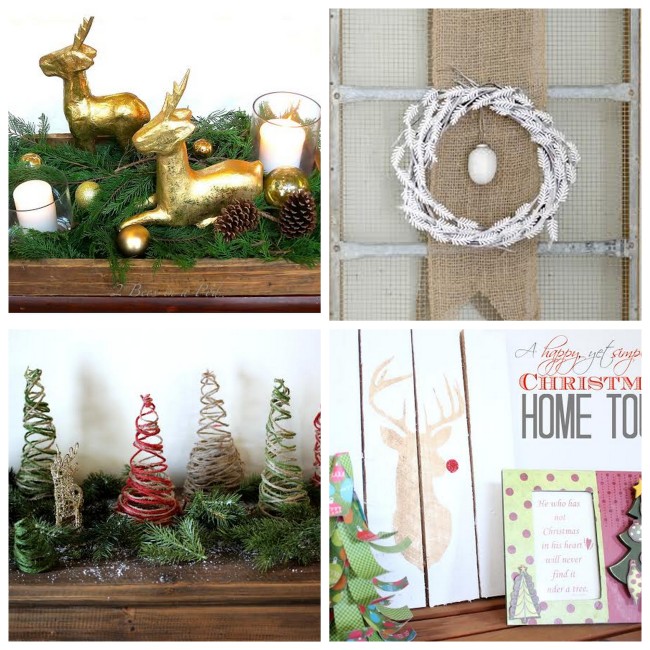 – Tuesday –
2. Dandelion Patina
4. Shambray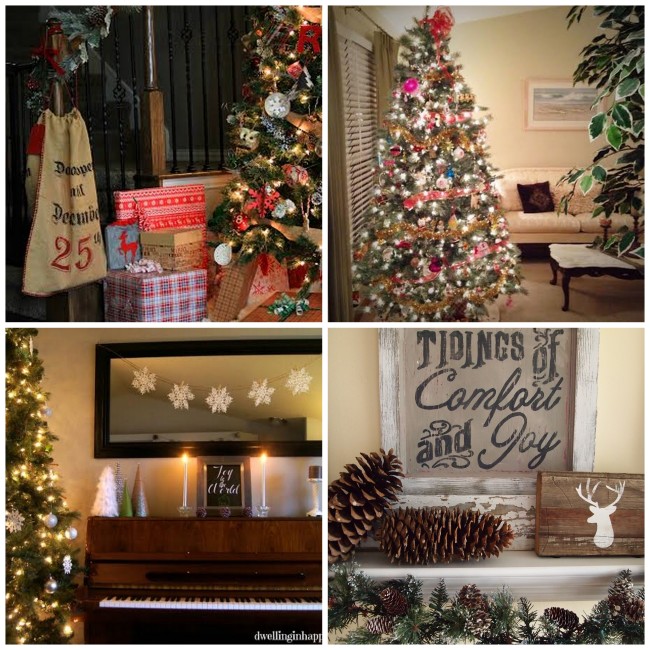 – Wednesday –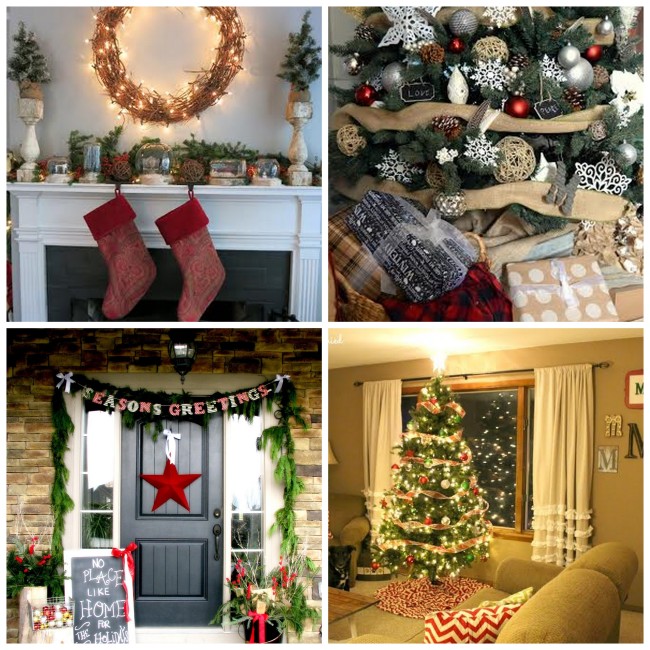 – Thursday –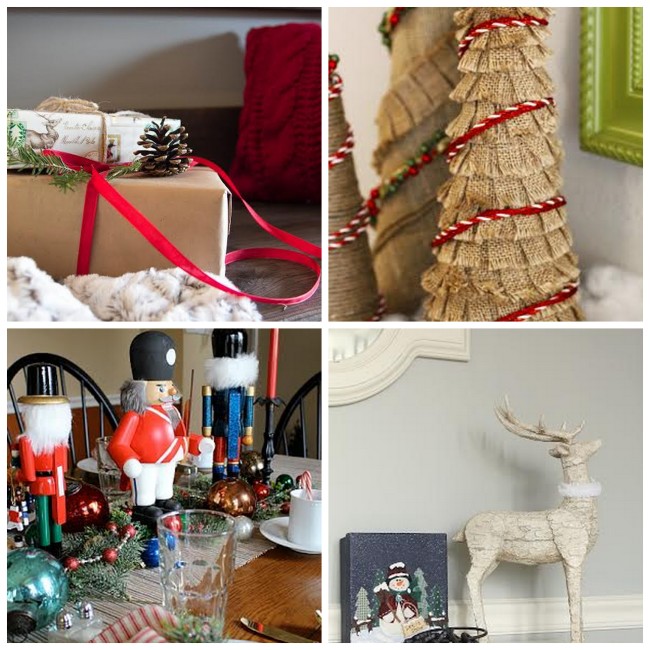 – Friday –
3. Meet the Bs