Christmas Home Tour – Vicki's House
Please note that this post contains affiliate links. As an Amazon Associate, Rewards Style influencer and Jane Influencer, we earn from qualifying purchases and any sales made through such links will reward us a small commission – at no extra cost for you.
Hey y'all…I can't thank you enough for stopping in! My favorite season is officially here and today is my (Vicki's) Christmas Home Tour. Jenn will be sharing her house soon!
We are so happy to be partnering with 5 of our blogging friends for our Merry Christmas Tour of Homes! You will get to see lots of Christmas decor, trees and creativity. Grab a cup of coffee, get cozy and follow along…
Let's start at the front porch! My dad made this sweet Santa for me many years ago and he has graced our front door each Christmas…
…and my dear Uncle Bill made this cute reindeer. I know, I'm a lucky girl!
Dining Room
Have I told y'all how much I love my dining room shelves? I love them even more since Honey Bee volunteered to paint the wall white behind the shelving. Everything just pops now, don't you think?
I collected these giant pinecones while in Washington on vacation several years ago. Yes, this is the kind of stuff I bring home from a trip, much to my husbands' chagrin LOL. The cute print is a free download from our blogger friend Lucy at Craftberry Bush. You can download a print for yourself HERE.
This year I've kept with the traditional greens and reds of the season. I made this simple garland with needlepoint thread and large cotton balls. I love the texture and they remind me of miniature snowballs.
I'm fortunate that my yard provides the evergreens and the red nandina berries.
And you already know about my moss ball addiction LOL.
The dining room tree has some of my favorite elements of nature…real cotton and nests. I had a remnant of red and white ticking that worked perfectly as a tree skirt. The cardinal is perched at the top inside a nest. Cardinal's remind me of our wonderful time living in North Carolina.
I made these "better not pout" ornaments several years ago.
Who could resist a plaid-clad penguin?
Foyer
There's just something about pairing green and gold. This antique mirror is very old and heavy. Believe it or not when we moved into our North Carolina home over 20 years ago, the previous owner didn't want this "old" mirror. Needless to say, I did!
This year I decided to place our stockings on the stairway. I don't know about you and your family, but we tend to get the best gifts in our stockings. I guess it's true, great things come in small packages.
In honor of Honey Bee's Italian heritage I created this Buon Natale chalkboard. My trick is to use black foam core instead of buying or painting a board.
Family Room
Suffice it to say, I'm in love with Santa. Always have been. I started this collection when I was a little girl. I especially like the hand-painted ones. This year I decided to let my favorites take over the built-in shelves.
Don't forget to write you letters to Santa…
The family room tree is very traditional. I use mainly reds, Santa's and vintage inspiration.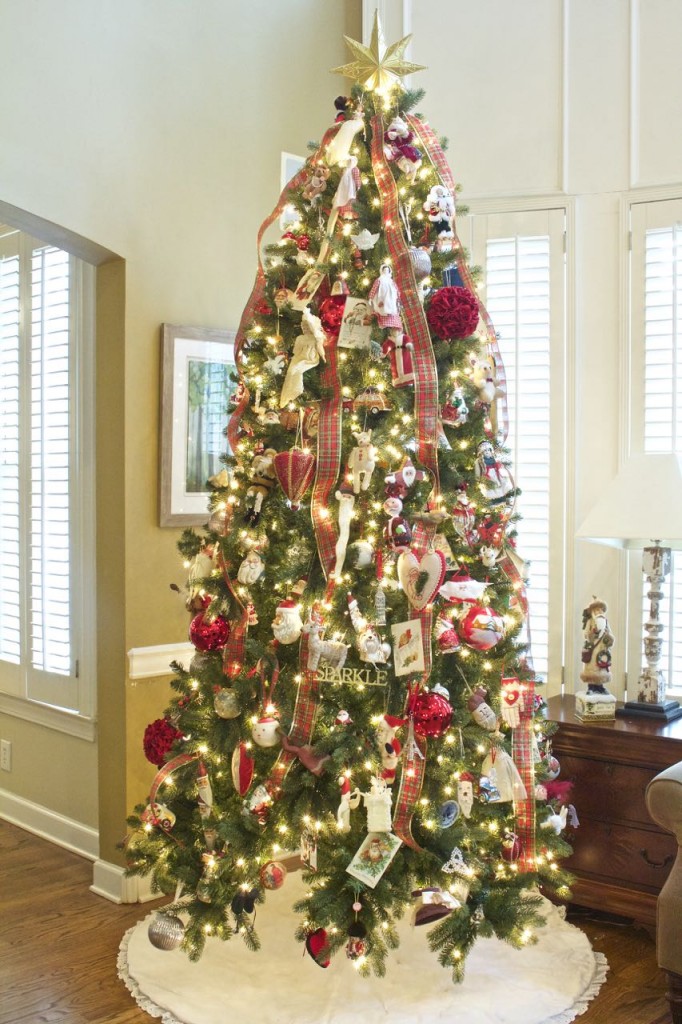 I have a collection of antique and vintage postcards that I place on the tree every year. This one was addressed and postmarked in 1909.
Hallway
You've seen my Bessie before. There's a small wonky wall in our hallway. This little wall greets us as we enter the house from the garage. I decided to create a focal point with Bessie and chalkboard paint. She deserved a Christmas makeover too…
Fireplace Mantel
Yesterday I shared a full post on my rustic mantel decor. If you want to see more you can see it HERE.
I hope you enjoyed seeing just a snippet of my Christmas decor. Jenn and I will be sharing more and more with you during the next few weeks. We'd love to see your decor too – so please feel free to send us a pic to our email address!
Don't forget to follow our friends…