Please note that this post contains affiliate links. As an Amazon Associate, Rewards Style influencer and Jane Influencer, we earn from qualifying purchases and any sales made through such links will reward us a small commission – at no extra cost for you.
Whenever I hear Chicken Pot Pie, not only do I think of yummy goodness, but I also think of David Cross singing "Chicken Pot Chicken Pot Chicken Pot Pie."  I really hope I'm not the only one who remembers this, but I can't help and sing it whenever I think of chicken pot pie!
Over the weekend I was reading Redbook magazine and saw this recipe for Chicken Pot Pie that seemed easy enough to make, so I thought I would try it out. I have never made a chicken pot pie before, but with the cooler weather rolling in, it just seemed like it would hit the spot!
You start out cooking about 6 strips of bacon, so already you know it's going to be delicious.
You continue by cooking the chicken and then coat this with flour.  Followed by adding chicken broth, marsala wine, and thyme.
You then add mixed veggies and stir together.
Once you transfer the contents to a pan, you'll need to act fast to add the puff pastry. You can add water to the edges of the pan, as moisture will help hold the puff pastry in place.  I then trimmed the edges with a pizza cutter and added an egg wash.
Then you let it bake and the finished product is soooo good! It is full of flavor, easy to make, and this is a somewhat healthier version of this awesome comfort food.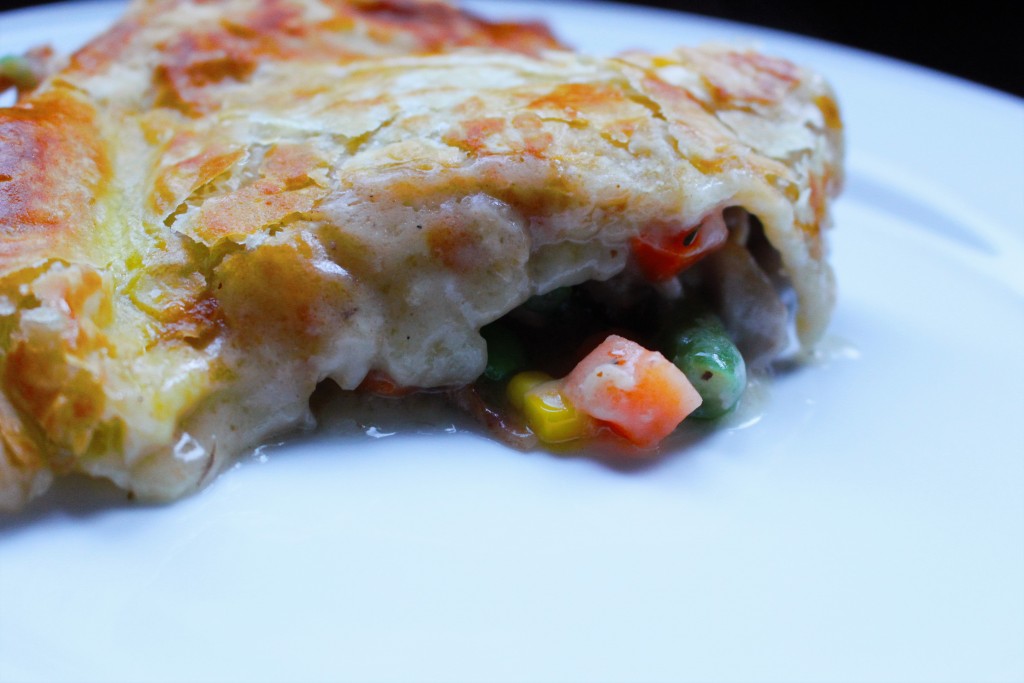 Ingredients
1 Tbsp olive oil
6 slices of bacon, cut crosswise into 1/2 in. pieces
1 clove garlic, minced
11/2 lbs boneless, skinless chicken thighs, cut into bit size pieces
1/3 cup of flour
2 tsp dried thyme
2 cups low sodium chicken broth
3 Tbsp Marsala wine
1 16 oz package frozen mixed vegetables, thawed
1 large egg
1 sheet frozen puff pastry, thawed
Instructions
Preheat oven to 425 degrees with the baking rack in the middle.
In a large skillet, add the olive oil and bacon and cook over medium heat until bacon is almost crisp. Then add the garlic and stir for about 1 minute.
Add the chicken and turn to medium high heat. Cook for about 6-8 minutes until chicken is browned. Add salt and pepper to taste. Sprinkle in the flour and make sure to coat the chicken evenly. Stir in the chicken broth, wine, and thyme. Bring to a boil, then reduce heat to simmer until the sauce thickens, about 4 minutes. Stir in the vegetables and transfer to a 2.5 qt baking dish.
In a small bowl, whisk the egg and 1 Tbsp water for the egg wash. Place the puff pastry on top of the dish and trim the excess off. Pinch the pastry sheet against the inside rim of the dish, stretching as needed. Then brush the egg wash over the pastry sheet.
Place the dish in the oven and bake for about 20 minutes, until the puff pastry is golden brown.
https://2beesinapod.com/chicken-pot-pie/
It was a hit in our household and we will definitely be making this recipe quite a bit.  It is the perfect comfort food for Fall and Winter. What is your favorite Fall-time recipe? We would love to hear from you.
XO – Jenn