Chalk Painted Armoire Makeover
Please note that this post contains affiliate links. As an Amazon Associate, Rewards Style influencer and Jane Influencer, we earn from qualifying purchases and any sales made through such links will reward us a small commission – at no extra cost for you.
This chalk painted armoire furniture makeover has been a long time coming! Let me explain…
About 18 years ago, for a short period of time, Home Depot carried a furniture collection of "raw" furniture. The pieces were partially natural wood – some pine, mostly cheap plywood and they were very affordable. We purchased this armoire for Jennifer's bedroom and it housed her books, games and eventually a television. (This post contains affiliate links.)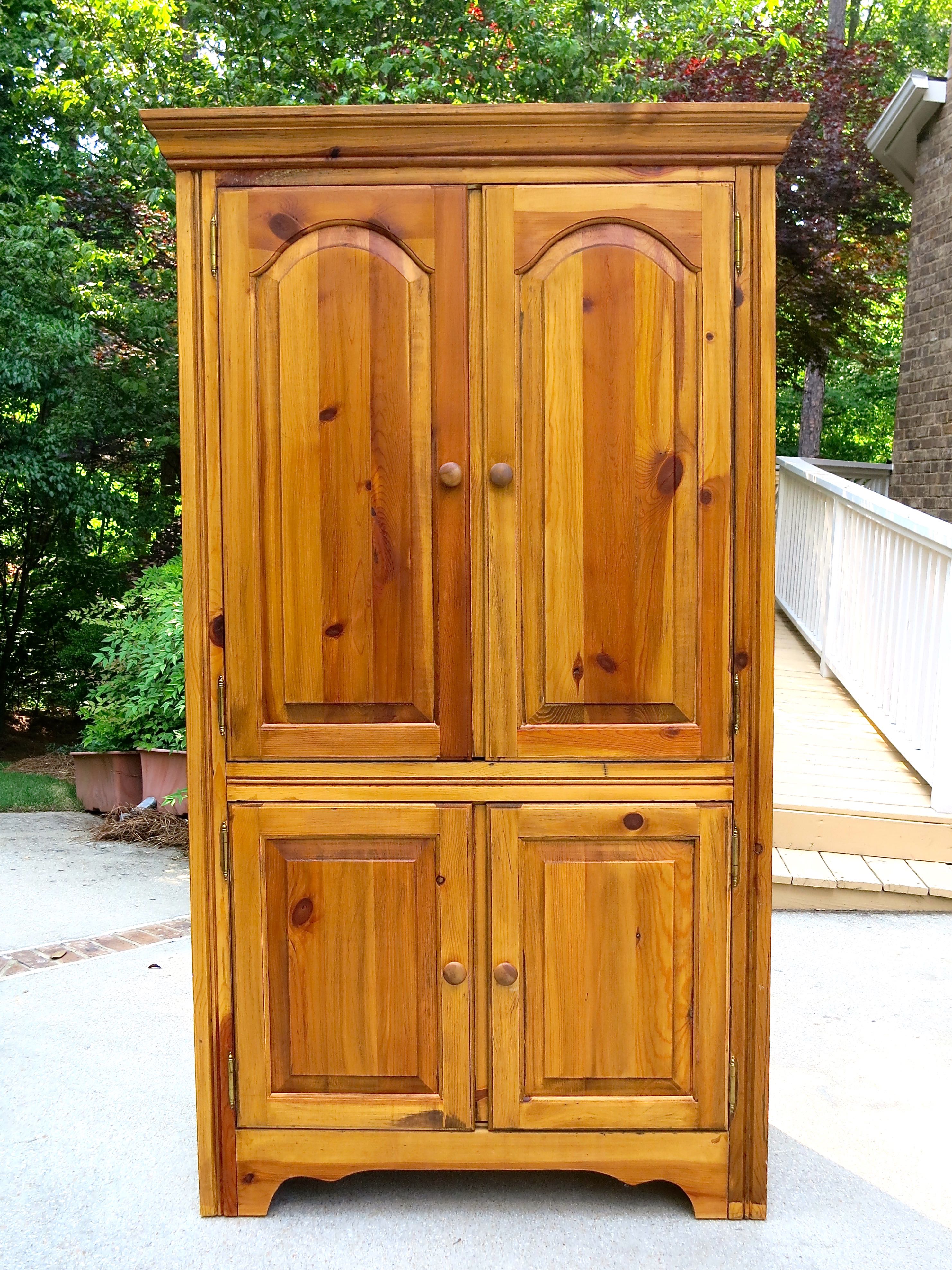 When Jennifer left for college, she took the armoire with her and used it in various rooms for the next four years. This is such a great durable and sturdy piece – it served as an entertainment center, a spare closet and for extra storage. When she graduated the armoire came back home with her and somehow ended up in our basement for the next 8 years.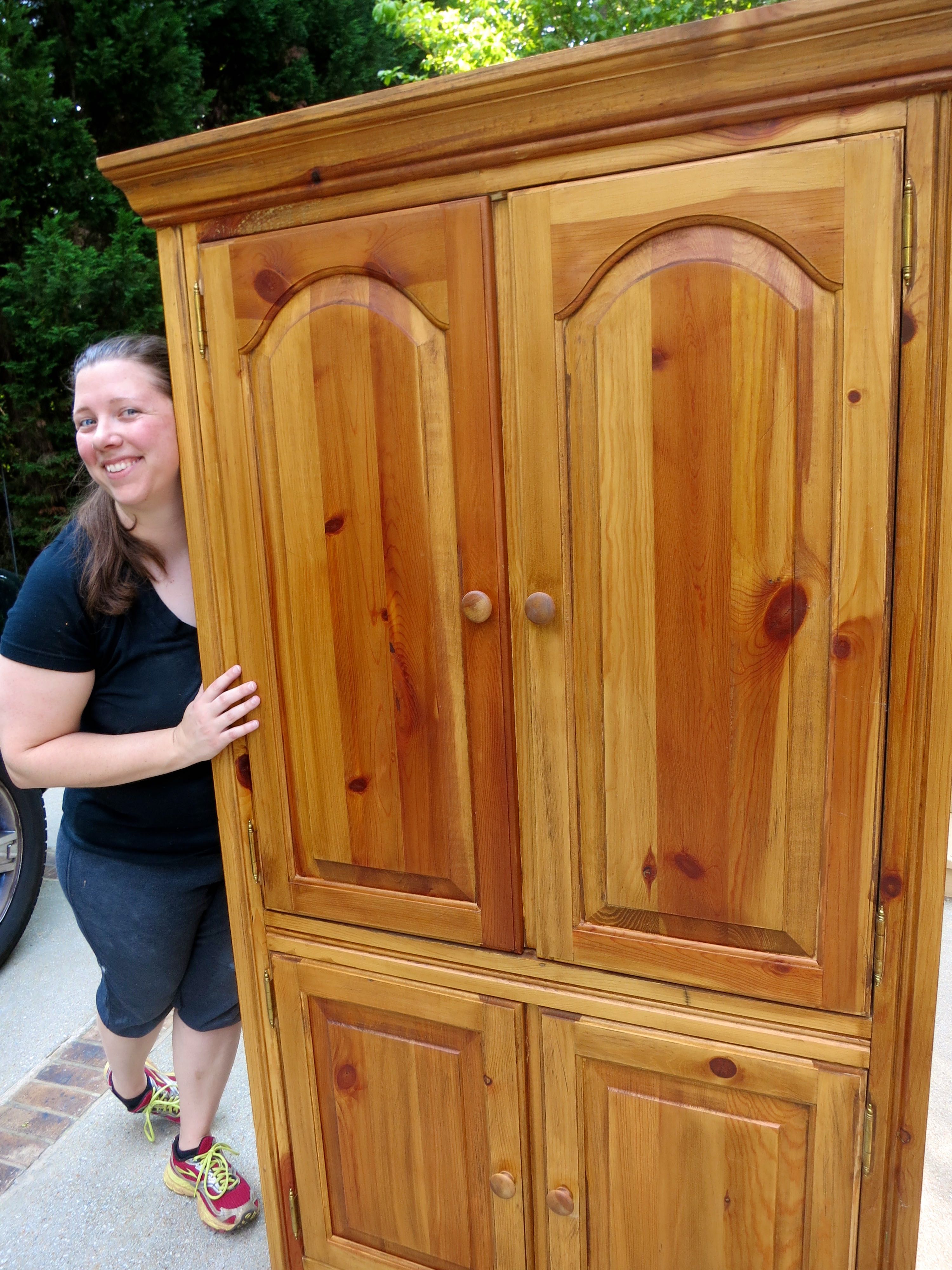 I have been wanting to paint this armoire for quite some time now. The problem was, I couldn't carry it up from the basement by myself. Plus, truth be told a bunch of crap other items needed to moved and shifted in order to get the armoire out. I finally made the time to move everything around and Jenn took pity on me and helped move the armoire up to the garage.
My next great idea, much to Honey Bee's chagrin, was to take this armoire to the lake for our bedroom. I'm embarrassed to tell you how long our television has teetered on top of a very tiny plant stand table. I knew the armoire would look great in the bedroom at the end of our bed.
So, before the holiday Honey Bee and I lugged the armoire out to my SUV and to the lake. One great thing about the bad weather that we experienced was that it made for a great time to paint indoors 🙂 I was so excited to get started and banish the yellow/orange finish of the pine and to try and create a more French feel.
I used our Homemade Chalk Paint Recipe color matched to Annie Sloan in Old White. I know we've said it before but we love how quickly this paint dries. By the time the first coat was applied we could start painting the second coat.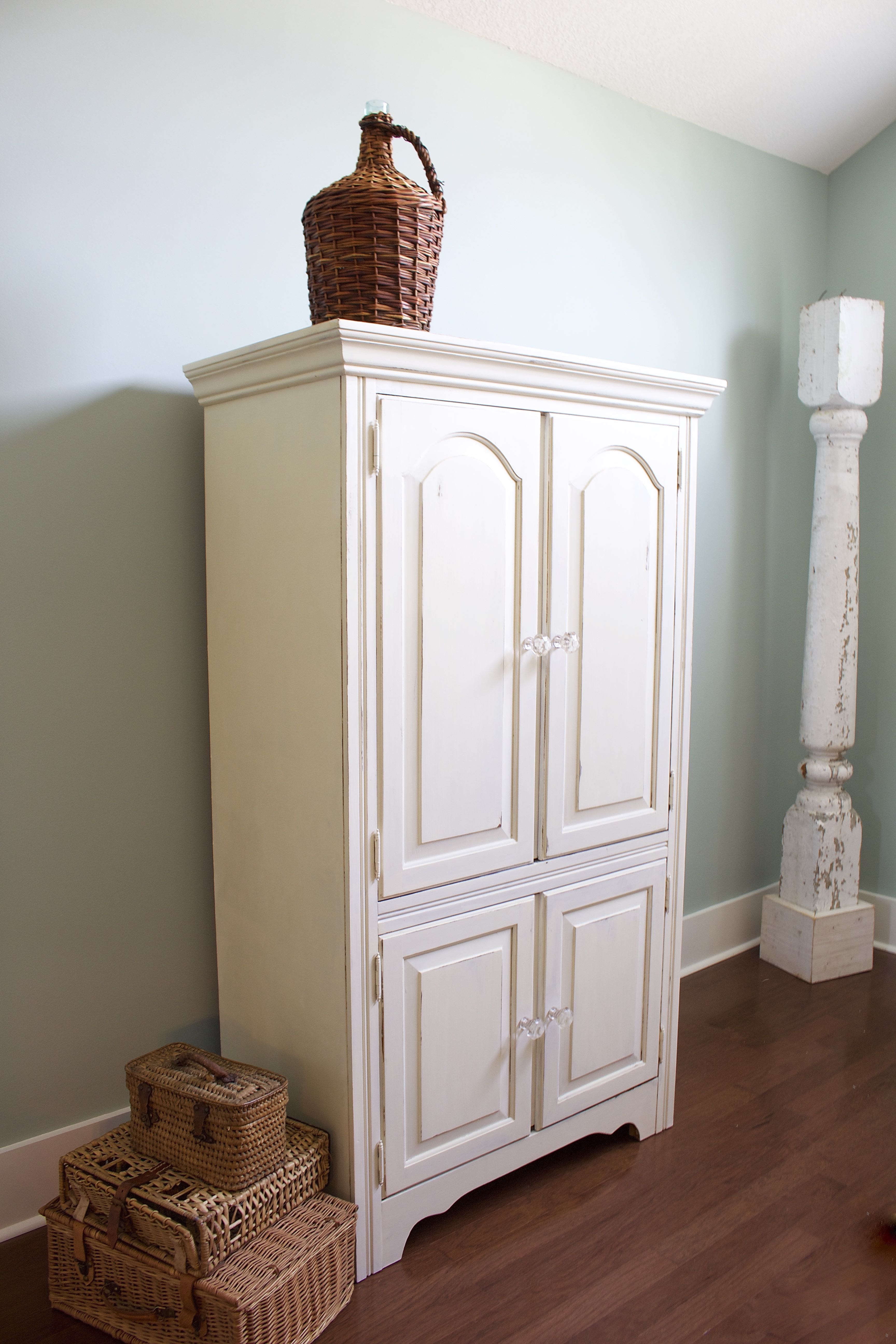 I used 80 grit sandpaper
to distress edges and areas that would have natural wear and tear. Clear paste wax
was rubbed onto the entire piece and buffed with a soft lint-free cloth
.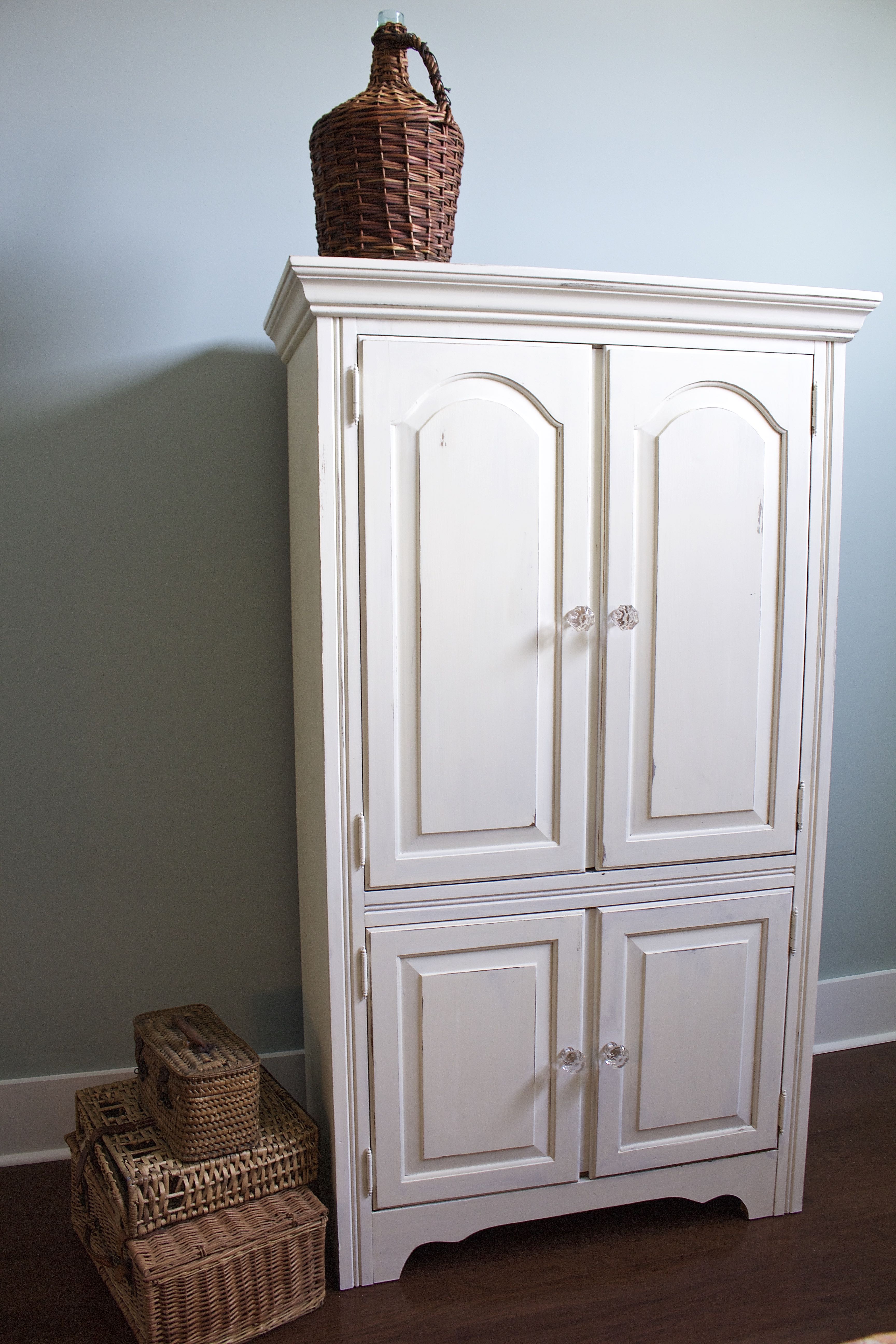 The wooden knobs were changed out for pretty glass knobs
…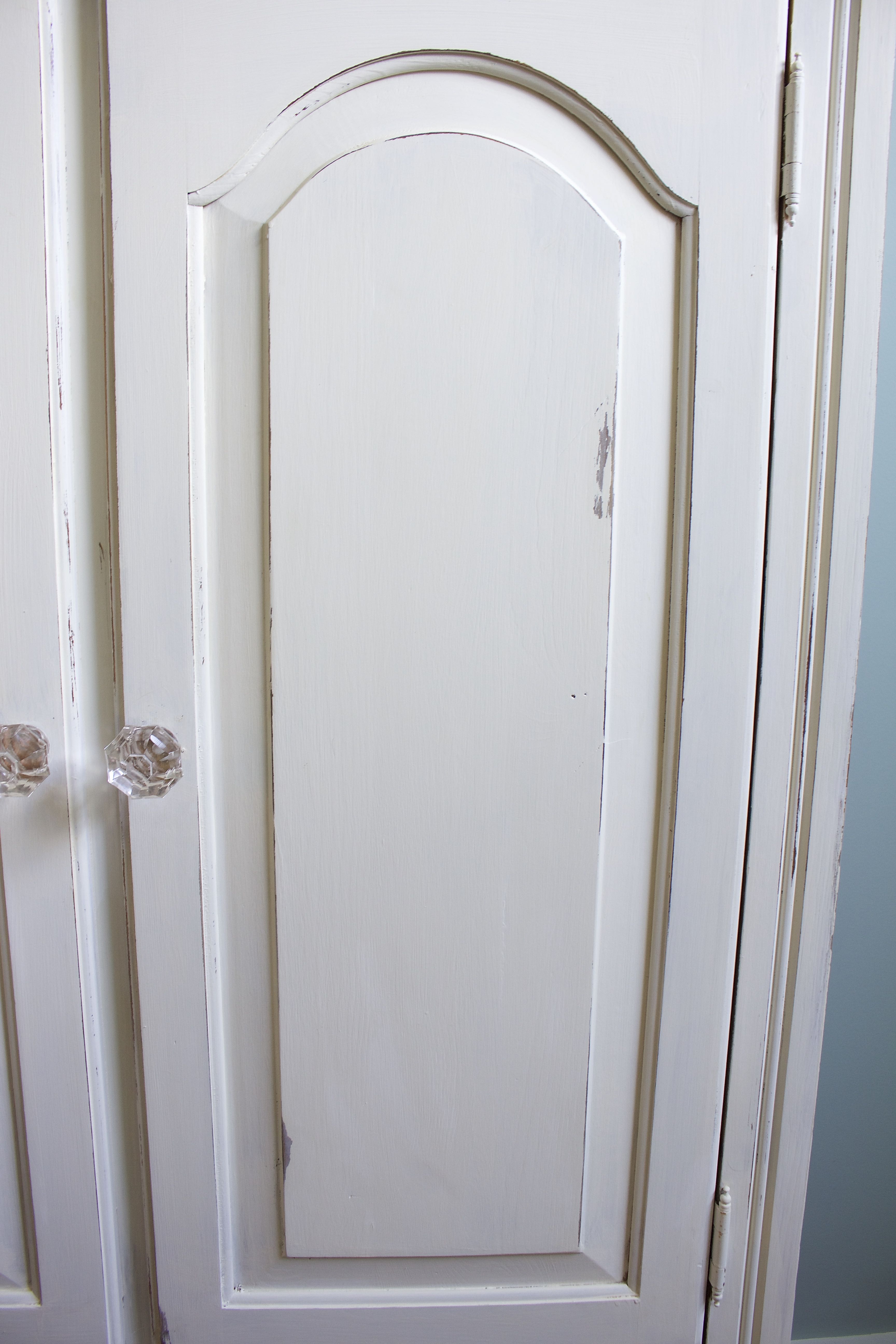 I can't exclaim loudly enough how happy I am with the results of this finished armoire!
You may have noticed I have a love affair with vintage wicker pieces. Old wine casks…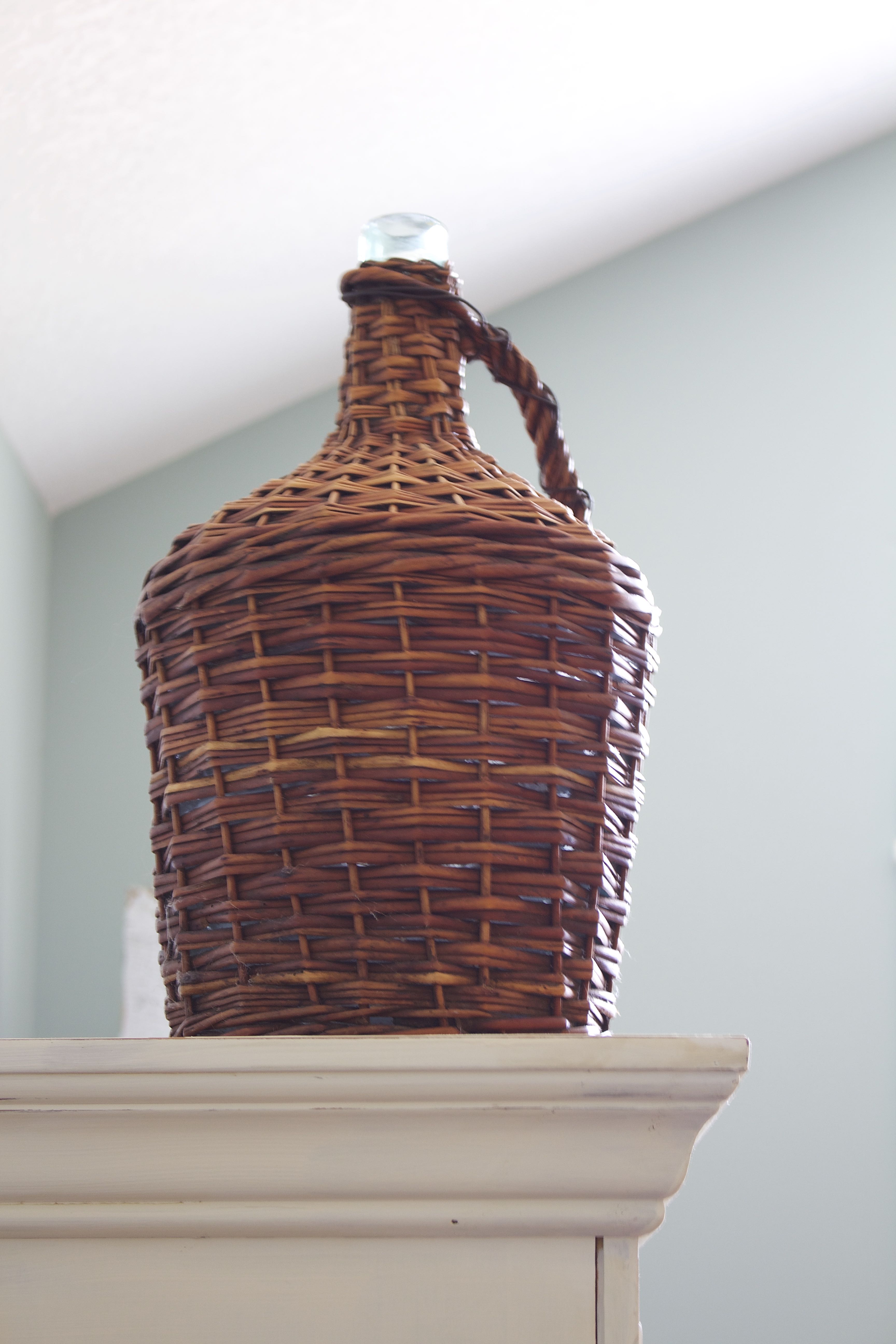 …and an assortment of baskets. You can find one similar here
.
I highly encourage you to paint a piece of furniture if you haven't already done so. The transformation is amazing and so easy to achieve a new look.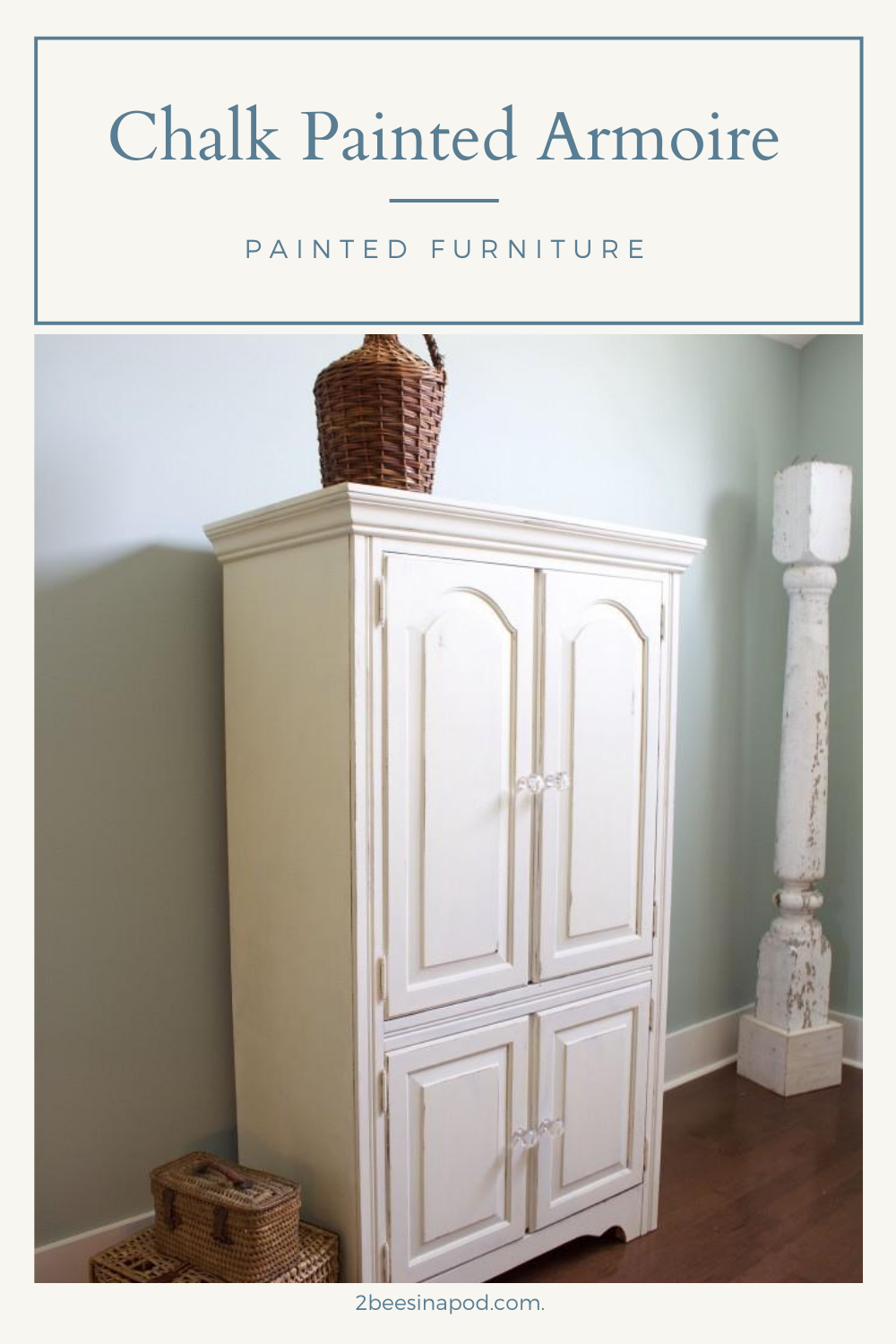 We would love for you to send us photos of projects that you have painted! What are you working on now?
XO~Vicki