Chalk Painted Armoire Makeover – Aubusson Blue
Please note that this post contains affiliate links. As an Amazon Associate, Rewards Style influencer and Jane Influencer, we earn from qualifying purchases and any sales made through such links will reward us a small commission – at no extra cost for you.
At the beginning of the year Jenn and I shared our individual home goals for 2017. One of my top design priorities listed was my master bedroom. Typically I would have pushed this project to the bottom of the list, while completing all of the other projects. But then I had an epiphany. I realized that Honey Bee and I deserved a comfortable retreat space. A cozy, yet colorful room where we can curl up with a good book and get a great nights rest. Over the next several weeks I plan to share more and more of our master bedroom transformation. The first piece to be transformed is this chalk painted armoire makeover in Aubusson Blue.
This armoire was in our master bedroom at our former home. We had the entire set…nine drawer dresser, giant mirror, nightstands, four poster bed and this armoire. We bought the set over 16 years ago for a fantastic price. When we decided to move, we realized that most of these pieces were not going to fit in our new home. Jenn took the nightstands, the dresser was sold, the bed and the mirror were donated.  The armoire is a versatile piece and we knew that we could make it fit into the lake townhouse.
Over the years my design style and preferences have changed. Plus, living in a lake community our lifestyle is much more relaxed. The cherry armoire stood out like a sore thumb. We initially tried to put the armoire in the guest room. This was an epic fail…it was so big there was absolutely no room between the armoire and the foot of the bed.
I had already given a makeover to the THIS armoire …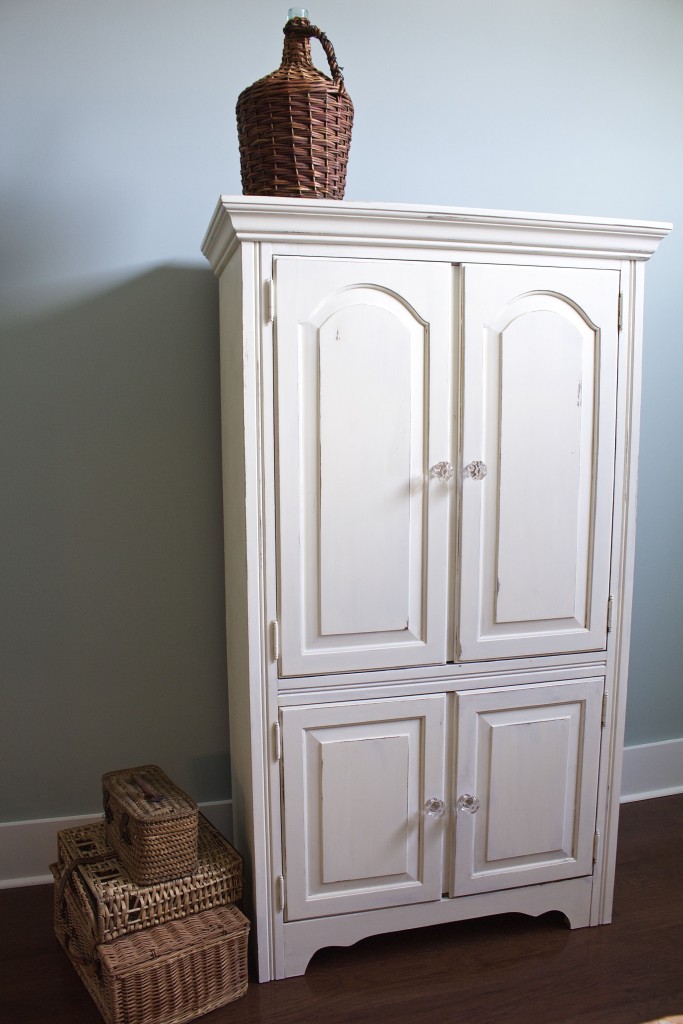 The decision was made to move it from the master bedroom into the guest room. It is much smaller and fit in perfectly.
It became obvious to me that this formal cherry finish had to go. I love the size and design of the armoire, just not the reddish color. You know how much I love the power of paint to transform furniture.
TaDa…insert jazz hands! 🙂
Aubusson Blue is a chalk paint color by Annie Sloan. Jenn and I have used it before on THIS end table. It is a beautiful and moody shade of medium blue with a touch of turquoise. It's kind of like a chameleon color and changes with the light of day. Adding clear wax and dark wax changes the hue too.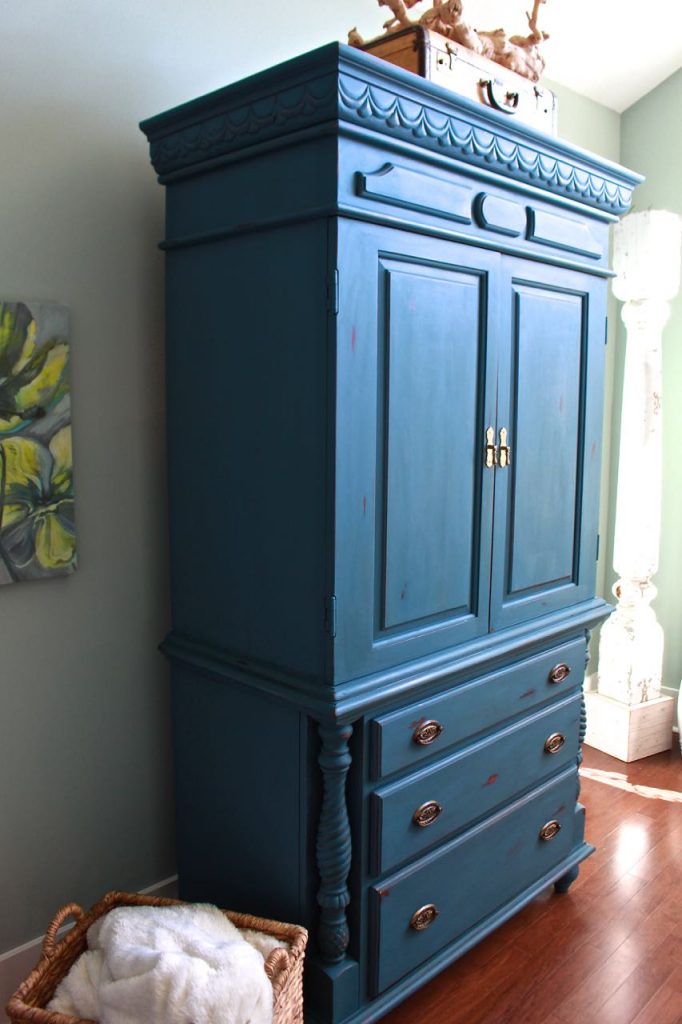 Supplies:
Affiliate links included for your shopping convenience
Annie Sloan Chalk Paint in Aubusson Blue
How I did it:
Clean the armoire
Remove hardware
Paint one coat of chalk paint on the entire piece – let dry completely
Add second coat of chalk paint and let dry for 24 hours
Lightly sand and distress on raised areas as well as areas that would naturally be well used.
Clean up dust.
Add one coat of clear wax to  the exterior finish.
Add one light coat of dark wax – being sure to blend well.
Reattach hardware.
I can't wait to share the master bedroom progress. Slowly but surely everything is coming together.
I will be layering more of this blue hue throughout the room. Calm and relaxing…
I hope y'all have a wonderful weekend. See you back and here on Monday!