Budget Friendly DIY Christmas Decorations
Please note that this post contains affiliate links. As an Amazon Associate, Rewards Style influencer and Jane Influencer, we earn from qualifying purchases and any sales made through such links will reward us a small commission – at no extra cost for you.
Sometimes great ideas are born from necessity. As most of you know, Honey Bee and I moved in May of this year. Our home sold in four hours and we had to make a quick decision as to where we wanted to live. The Atlanta housing market is red-hot and we did not want to make a hasty decision. So, in the interim we moved to a townhouse in a lake community. All of this is to say…my beloved Christmas decorations are buried in the back of a chockfull storage unit.
If you've seen any of my previous Christmas posts you know I go all-out…multiple trees, multiple themes and decorated to the hilt. I didn't want to go out and buy even more Christmas decorations for our new home, so I had to get creative. I purchased a few new items but I crafted and created most of my decor. Here's how I created budget friendly DIY Christmas Decorations.
This grouping became the inspiration for my blue and white woodsy lakeside Christmas decorations…
Get Crafty
The wood cutouts were purchased for just .10 cents each. The wooden canoes were .50 cents each. You can't get more budget friendly than that! I chose designs that would relay a cottage, woodsy theme.
I drilled holes in the cutouts and then spray painted them with white chalky paint. How adorable is this blue and white gingham checked ribbon? I found this ribbon for .50 cents per roll.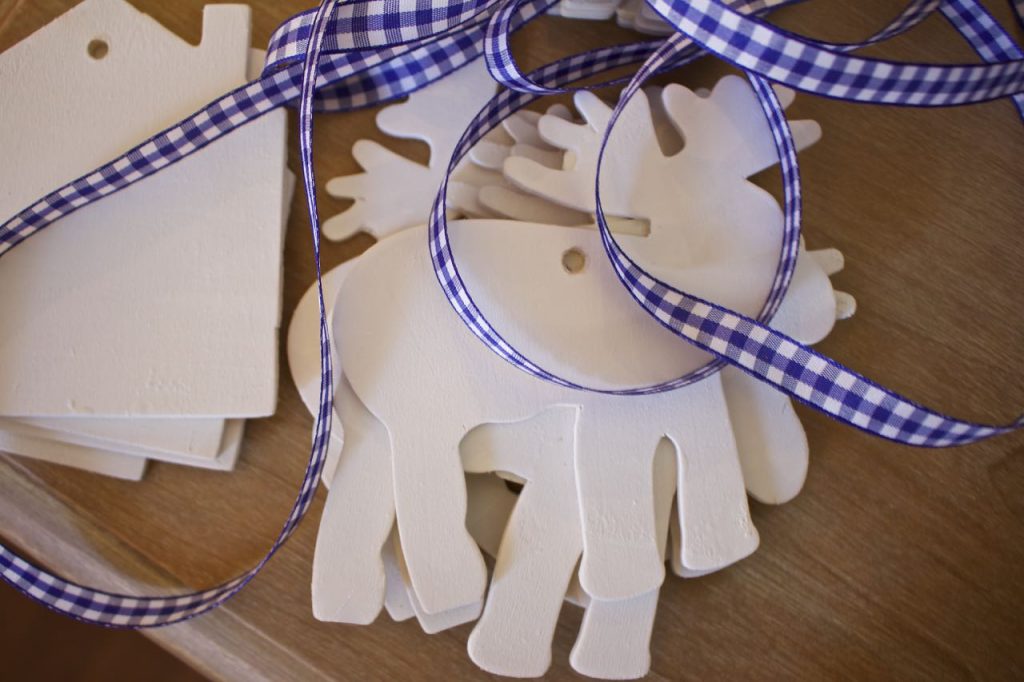 I gave the same paint treatment t the canoes. The ribbon was easily tied onto the back of the canoe.
Remember the clay tags I made a few weeks ago? I made a few extra to hang on the Christmas tree.
Jenn felt sorry for me and donated a skinny pre-lit tree. It nestles in perfectly in the sunroom.
The Target Dollar Spot is My Friend
I found some very cute decor at Target. It is so hard to get beyond the front entrance  of the store with the enticing "Dollar Spot" area…gets me every time!
This navy blue chalkboard was just $3.oo! It is trimmed in copper glitter and it is magically beautiful. I added this seasonal graphic…and the best part is, it is large and can take up a huge hunk of Christmas tree real estate. That means less ornaments are needed.
This stocking was also just $3.00. The bright blue cable knit is perfect for the tree.
The Dollar Store is My Friend Too!
Y'all – I confess that I bought quite a few things at the dollar store. I mean…how can you beat a purchase of just $1.00! This is the most budget friendly Christmas decor in town! And it is the biggest bang for your buck. These oversized plastic ornaments were just $1.00 each.
The red and gold colors were not going to blend in with my blue and white woodsy theme. Once again the power of paint proved to be a beautiful thing. I spray painted them all with glossy navy paint. Guess what? They now look just like glass ornaments and they match my theme perfectly. Never be afraid to change things up for your decor.
Mr. Santa came from the dollar store too. You know Santa's my boyfriend 🙂
My budget friendly christmas decorations look great on the tree. With just a little bit of money and some imagination, I was able to create a tree I am proud of.
I will be sharing the entire tree and the sunroom next week.
I just wanted to give you a sneak peek of my easy-to-make decorations in case you were stumped as to what to put on your tree.
Let me know what you think!
Until tomorrow…
XO~Vicki