Blue and Silver Christmas Tree for the Living Room
Please note that this post contains affiliate links. As an Amazon Associate, Rewards Style influencer and Jane Influencer, we earn from qualifying purchases and any sales made through such links will reward us a small commission – at no extra cost for you.
Welcome To The 2nd Annual Christmas Tree Decor Blog Hop!!
We have 24 talented bloggers joining up to share their decorated Christmas Trees with us!  I  can't wait to show you my blue and silver Christmas tree for the living room. So grab a cup of your favorite beverage and get comfortable, because you are going to love the beautiful Christmas Tree Decor shared over the next two days. We can't thank our sweet friend Michelle of Our Crafty Mom for hosting this fabulous hop!
Let's Meet The Hosts!
Michelle from Our Crafty Mom | Allison from Upright and Caffeinated
 Angela from Simply Beautiful By Angela  | Chloe from Celebrate and Decorate
Michelle from Weekend Craft   | Jeanie from Create and Babble
Cindy from County Road 407 | Erlene from My Pinterventures 
Jaclyn from The Dotted Nest   | Vicki from 2 Bees In A Pod 
Leanna from Faeries and Fauna  | Maria from Simple Nature Decor
Marie from The Inspiration Vault | Beverly from Across the Blvd.
Jenn from Loveland Lodge | Dru from Polka Dot Poplars
Melissa from Welcome To The Woods | Donna from Modern On Monticello
 Nancy from Adams And Elm Home |  Sam from Raggedy Bits
Shirley from Intelligent Domestications  | Wanda from From House To Home
Libbie from A Life Unfolding  |  Jaclyn from One Thousand Oaks  
Blue Christmas
This Christmas tree was so much fun to put together.The rest of my home is decked out in red, green, plaid and buffalo check. Our living room is the only room in the house that has Christmas decor of blue and silver. Did you have a chance to see my Christmas Mantel last week? Or the Christmas Coffee Table Vignette? Being that the living room is already decorated in hues of blue, I thought a blue and silver tree would be beautiful.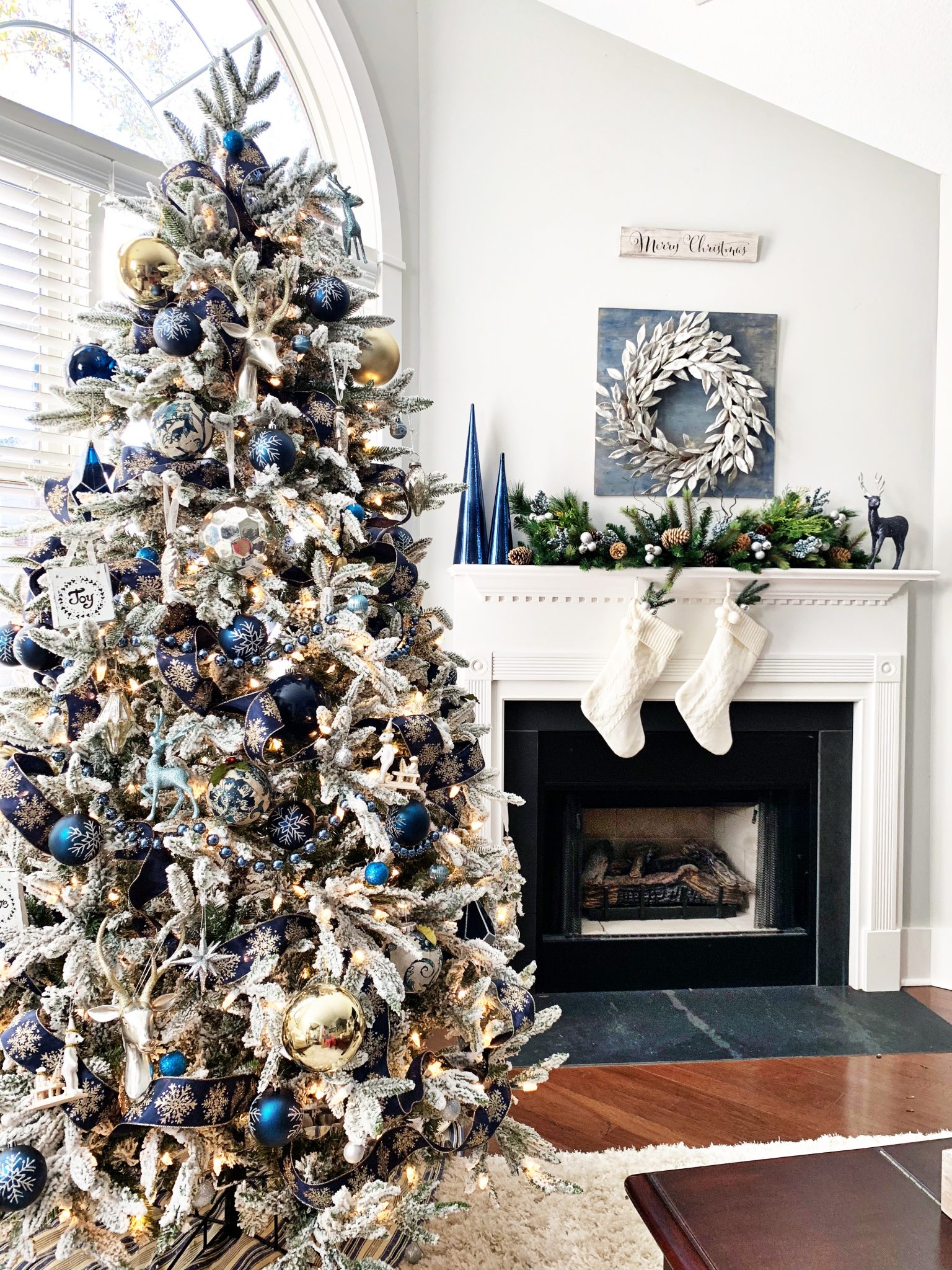 Lights, Camera, Action
I purchased this 8 foot pre-lit Australian Pine flocked tree from Lowe's last year for just $99. Unfortunately, they no longer carry it. I'm kicking myself that I didn't buy a second one. Not only is the tree full and lush – it is easy to assemble and it has 8 different lighting settings that you turn off and on with a foot-press button. I'm telling you…the tree is awesome!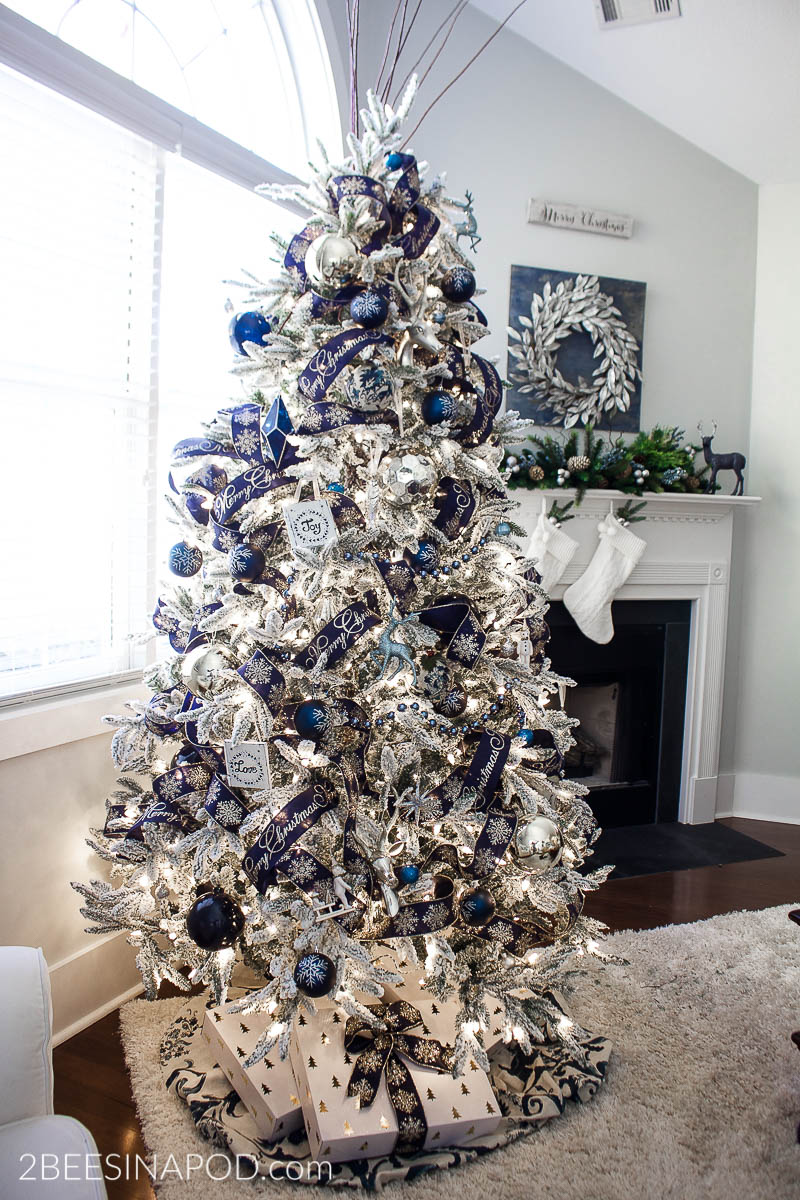 Cool lighting and warm lighting settings make such a difference.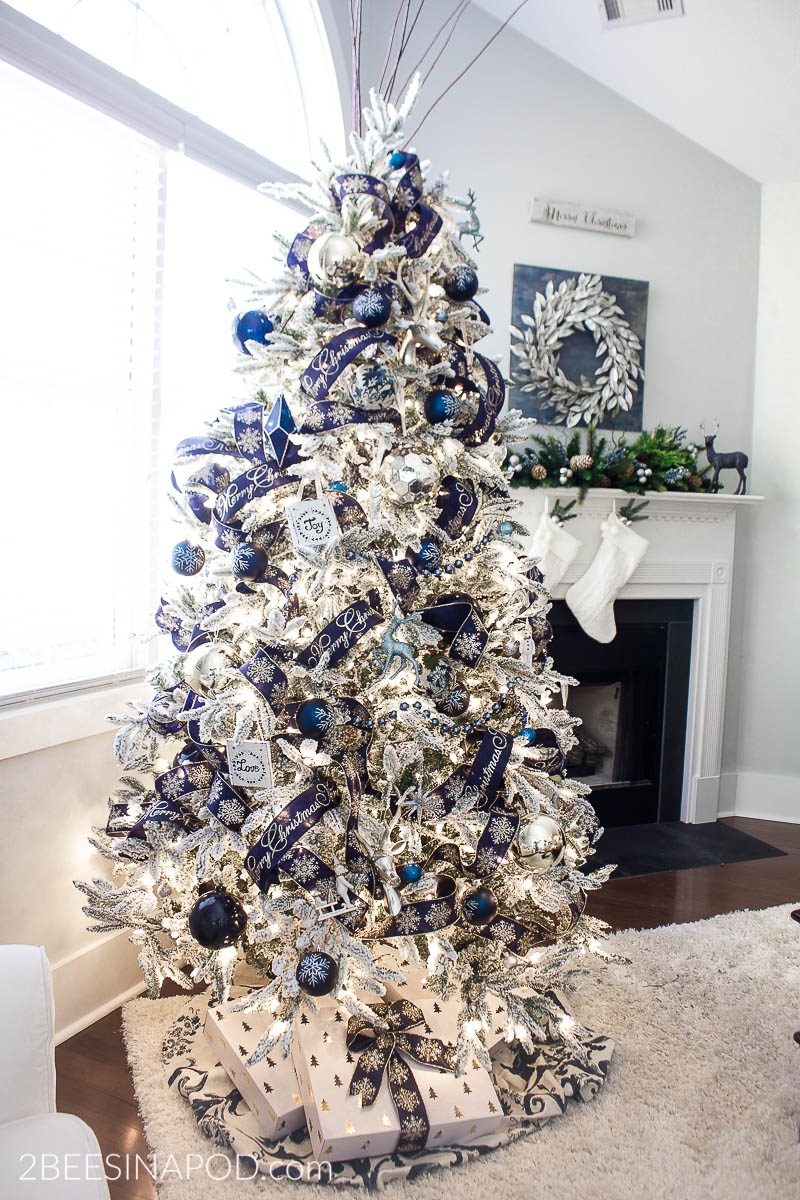 The first thing I added to the tree were two different navy wired ribbons that are 2 ½" wide.
They are each intertwined throughout the entire tree.
Next, I began adding ornaments. As some of you may remember, the bulk of my Christmas decorations are in storage. When it comes to decorating the Christmas tree I didn't want to spend a lot of money on ornaments.
This sweet papa and baby bear were purchased during my NYC trip with Honey Bee at Christmas last year.
The mercury glass fish were a new purchase. They were only $4.99 for a set of 6 and I just knew they would be perfect for the tree.
Mercury glass shimmers and reflects with light.
Interspersed through the tree are oversized dollar store ornaments. They make an impact for little investment.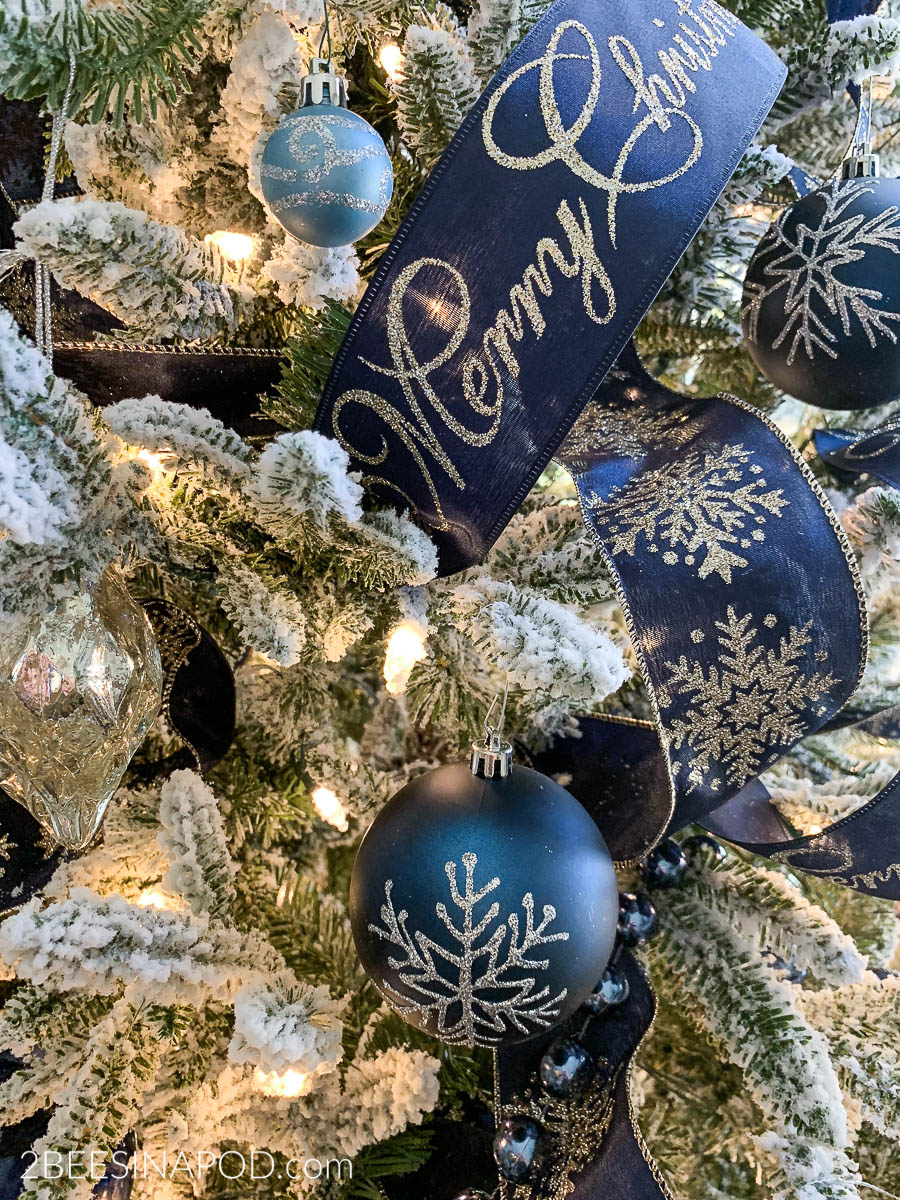 These blue glitter deer are from the dollar store as well.
I also made ornaments. You can read my tutorial for making Fabric Wrapped Christmas Ornaments .They are a perfect way to add personality and style to your tree and decor.
I hope that you are inspired by my blue and silver Christmas tree for the living room. What colors are you decorating with?
TIPS TO CREATE A BLUE CHRISTMAS THEME
Use ribbons that emphasize color theme of your tree.
Hang blue ornament collections to bring a cohesive look to the tree.
Mix precious ornaments with oversized dollar store ornaments.
Use as many ornaments in similar color tones for maximum effect!
Don't Forget to Pin This to Your Favorite Pinterest Board!
Now let's check out the rest of the beautiful Christmas Trees!
SUNDAY
My Family Christmas Tree: The Treequel – The Inspiration Vault
Four Traditional Christmas Tree – Intelligent Domestications
Blue and Silver Christmas Tree – 2 Bees In A Pod
A Christmas Tree Without Charisma – County Road 407
Rustic Christmas Tree Decor – Polka Dot Poplars
2018 Christmas Tree – Welcome To The Woods
Candy Themed Christmas Tree – Celebrate And Decorate
A Christmas Tree Filled With Memories – Across the Blvd.
Flocked Buffalo Check Christmas Tree – Weekend Craft
MONDAY
Elegant Christmas Tree With Blush And Metallics – Our Crafty Mom
Vintage Christmas – Upright And Caffeinated
The Perfect Christmas Tree For A Small Space – Create & Babble
Rustic Modern Christmas Tree- Modern On Monticello
Christmas Tree – Adams And Elm Home
Handcrafted Coastal Holiday Tree – Simple Nature Decor
A Rustic Christmas Tree Featuring Buffalo Check – Faeries And Fauna
Christmas Tree Blog Hop – Simply Beautiful By Angela
Plaid Christmas Tree Decorations – One Thousand Oaks
Blush, White and Black Christmas Tree – From House To Home
Farmhouse Bingo Vintage Clock Christmas Tree – Raggedy Bits
Tropical Ocean Christmas Tree – My Pinterventures