Bee Themed Spring Tablescape
Please note that this post contains affiliate links. As an Amazon Associate, Rewards Style influencer and Jane Influencer, we earn from qualifying purchases and any sales made through such links will reward us a small commission – at no extra cost for you.
Hey y'all…I am so excited about sharing today's post with you! You know how you sometimes get a design idea in your head? And it won't shake loose until you act on it? That's exactly what happened with this bee themed Spring tablescape!
Obviously Jenn and I love bees 🙂 We don't go whackadoodle crazy by collecting a lot of bee memorabilia, but if we see something super cute and sophisticated we can be persuaded to purchase it. Back in January, I was shopping with friends and purchased this adorable bee skep at an antique/gift shop. Then about a month ago, Jenn and I were thrift shopping and I found these fantastic large rectangle sea grass placemats. Now, hold onto your hats…15 placemats for $1.00! They have never been used and the original tags were still on them – $8.00 each! Can you believe it? These are my favorite kind of deals. They don't happen that often but when they do…Woo Hoo!
Last week I was visiting one of my fave stores – HomeGoods – and I happened upon this super cute bee jug. It was only $3.99. The white mini bee bottles came in a boxed set of 6 for $5.99. I honestly didn't know at the time what I was going to do with them, but for that price I just had to get them.
Then, the other day "Spring" started happening. And I wanted to start lightening and brightening the entire house!
My lightbulb moment came when I started thinking about a bright, cheerful tablescape for the dining room. I started pulling all of these pieces together and before I knew it, I had created the design in my head.
I treated Jenn and I to a set of these iron bee napkin rings. They look perfect paired with my Great-great Aunt Julia's vintage napkins.
Seriously…$3.99!
The French bee glassware was purchased about 8 years ago. I bought lots of it for $1.99 a piece and I purchased it over time.
I've shared this floral centerpiece trick with y'all before. I purchased a potted daisy bush for $8.00 from the garden center. I made sure there were a lot of blooms on it. I cut the flowers, stems and blooms and placed them in the mini bee bottles. I also added a bunch to this Irish porcelain pitcher,
I promise you…these keep forever! Even the buds will bloom. The best part? They will start to root and you can plant them in your yard. I'm not kidding. No need for expensive arrangements…and no need to throw out flowers after just a few days. Just be sure to refresh the water every couple of days.
These daisies look like something a bee would be buzzing around and I thought they would look great on the table.
I love the natural wicker elements and the pop of yellow color.
Sunshine, bright and fresh…just like Spring!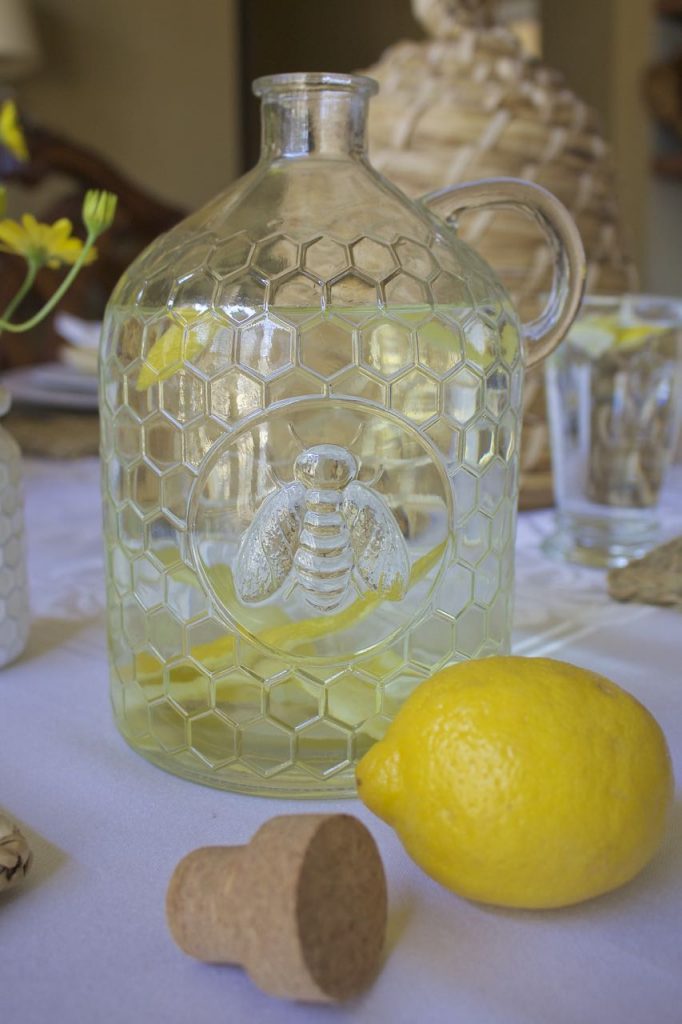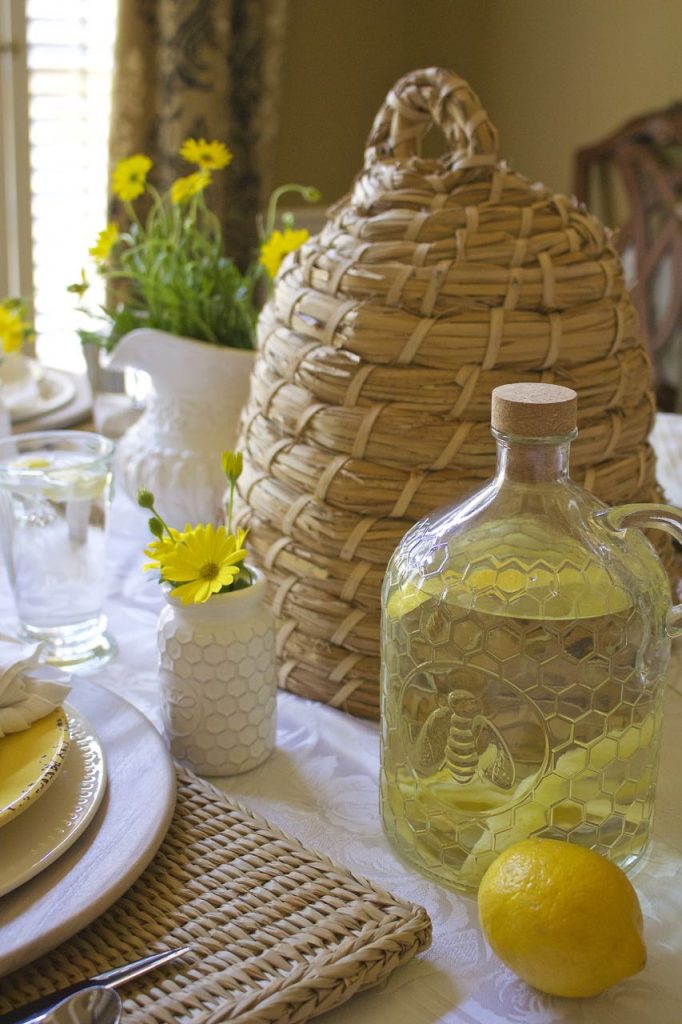 Do you decorate your dining room for Spring? We would love for you to share your decor with us!
Until tomorrow…
XO~Vicki