A big boy desk for a little client…
Please note that this post contains affiliate links. As an Amazon Associate, Rewards Style influencer and Jane Influencer, we earn from qualifying purchases and any sales made through such links will reward us a small commission – at no extra cost for you.
We have been on the lookout for a small desk for a little boy named Matthew.  A couple of weeks ago I was at the Atlanta Union Mission thrift store as this desk was being brought in.  I barely let the two delivery men get it off the truck before I was inquiring about the price.  A great deal to be sure.  I purchased the desk, loaded it up and was on my merry way.   This is the perfect piece for a painted desk makeover. Matthew is growing up and needed a desk for his room that wouldn't take up a lot of space.  This desk will be perfect for him.  But first, some improvements needed to be made. Here is a big boy desk for a little client!
The desk was in overall good condition but was very knicked and banged up.  The first thing I did was prime the entire desk – and I forgot to take photos of that process.
You can see the primer on the back leg of the photo below.  I applied just one coat of paint to the entire desk and drawer fronts.  Matthew's grandmother gave me creative license with the paint color choice.  I decided to keep it very neutral so that it would match or blend with anything in his room.  It was so bright outside that the color looks like olive green but is definitely khaki with a small bit of green undertones.  By painting the desk it really enhanced the curves and detail of the woodwork.
And… look at how cute this painted desk makeover is.   It is just adorable.  We can't wait to see Matthew's reaction when he gets his "new" desk.
A desk makeover is just a paintbrush stroke away…
 My good friend Carol painted the beautiful fish watercolors.  I framed both in salvaged barn wood frames.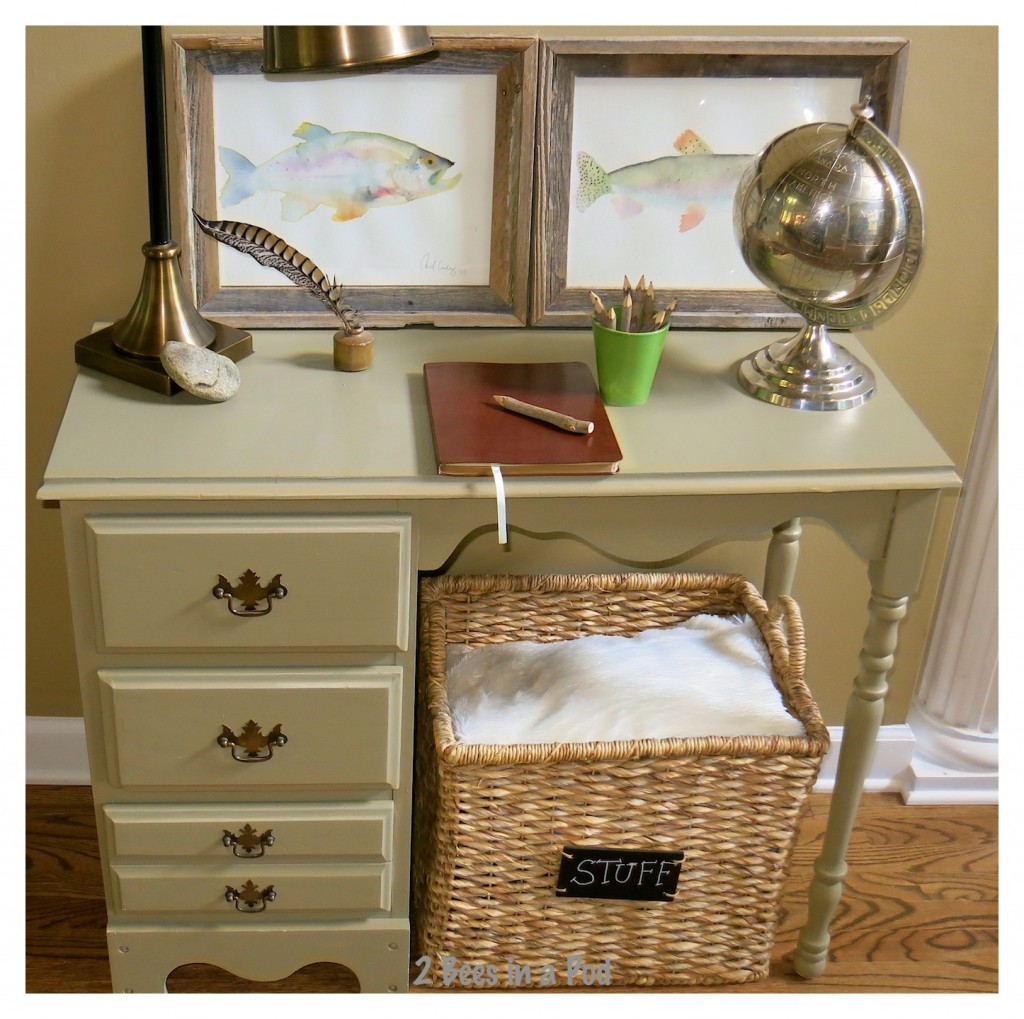 We feel that our youngest client will be very pleased.  Matthew is so excited about his "big boy" room and this little desk will be the perfect addition.