Please note that this post contains affiliate links. As an Amazon Associate and Rewards Style influencer we earn from qualifying purchases and any sales made through such links will reward us a small commission – at no extra cost for you.
In the grand scheme of my life – I am just too busy. Between working full time, blogging, planning a wedding, working out and keeping up with my home life there isn't a lot of time left for friends and having fun.
Two of my friends, Katie & Ashleigh, and I decided to plan a girl's night jewelry party. You know, just a casual get together to eat, have some wine, shop for jewelry and accessories and share lots of laughs.
Co-host number 1 – Katie has an adorable home, inside and out…
Katie is so organized and already had this table ready before she even left for work in the morning 🙂
I was preparing some of our food and snacks…
Being that this party was immediately after work and on a weeknight, I had to make appetizers that were quick and easy. I prepared two of my favorites:
Salsa Dip
…and Drunken Dogs
This is super quick and easy and they are always a crowd pleaser!
What kind of girl's night would it be without chocolate? I just had to make brownies that I made the night before 🙂
And some not-as-homemade mini cupcakes 🙂
Co-host Number 2 – Ashleigh is a fabulous stylist with Stella and Dot. The array of jewelry and accessories were beautiful!
And it was such a gorgeous evening we decided to set up the display tables outside.
Just a small sampling of bags…I love the mosaic cross body purse in the back!
Guess whose mother went home with this beautiful coral necklace? 🙂
The jewelry is very pretty and tarnish-free.
So much fun trying on all of the different pieces.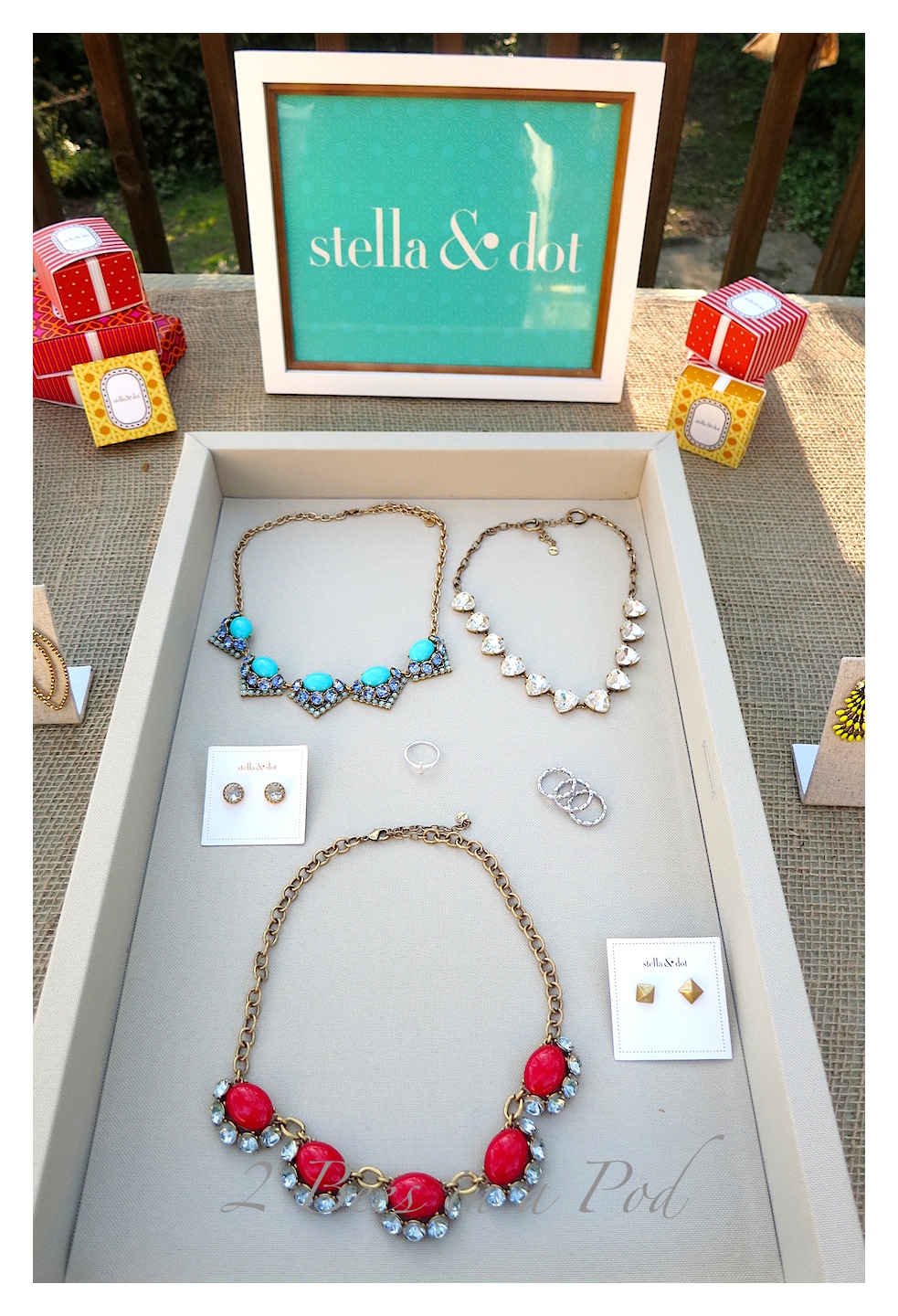 I even loved the colorful display boxes…
It was such a wonderful evening to be with friends – catching up, slowing down, laughing and having a great time! Thanks to my co-hosts it was a fabulous, stress-free time! Thanks Katie and Ashleigh 🙂