Top 5 Tips to Help You Move
Please note that this post contains affiliate links. As an Amazon Associate, Rewards Style influencer and Jane Influencer, we earn from qualifying purchases and any sales made through such links will reward us a small commission – at no extra cost for you.
Moving is usually so bittersweet.  You're typically excited to move into your new home, but are also slightly sad to leave your old home and you also dread having to pack up your entire house.  That's really the daunting part of the entire process.  You pack up some things here and there and think you're in pretty good shape until the movers arrive and you're frantically shoving things into boxes.
Today we want to share with you our top 5 tips to help you move!
1. Use rolling suitcases for heavy items
No one wants to carry around boxes full of heavy items like books.  Use your rolling suitcases to load up on the heavy stuff so you don't break your back.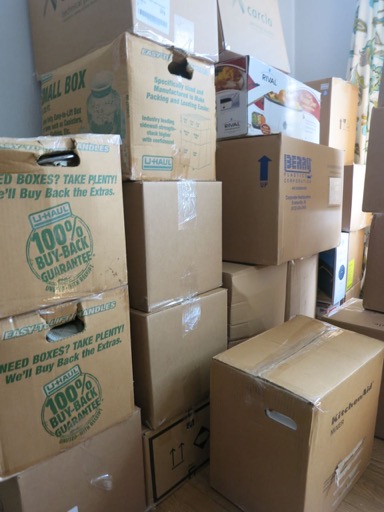 2. Hire someone to pack a U-Haul
When we sold our house we were in a bit of a pickle because we weren't closing on our new house for another week.  All of the moving companies we called charged an arm and a leg to store their truck at their facility and all of them literally said to just get a storage unit for the week.  The whole thing was just too expensive. So I had what I thought was a bright idea…why not rent a U-Haul for the week and we can keep it at mom and dad's house.  They were thrilled with the idea.
But we still had an issue…we did not want to have to load the truck up ourselves.  Been there, done that and no thank you. We were able to hire a crew to load the U-Haul for us and then they came back and unloaded the truck when it was time to move into the new home.  It saved us tons of money and we were thrilled with how it all turned out.
3. Keep your clothes in the dresser
We know this sounds a little crazy, but if you are using movers, you should definitely keep your clothes in your dressers.  You can use mover's wrap to wrap the entire dresser so the drawers won't come out.  This will save you sooo much time and you'll feel like you've gotten something unpacked even if you haven't at all.
4. Keep cleaning supplies out
I know that when I move into a new home, I like to clean the house myself.  Be sure to keep cleaning supplies out so that you can do this before the movers get there.
5. Make sure you have enough materials
We used an amazing service for boxes called Used Cardboard Boxes and it was awesome!  You tell them what you need and they ship boxes to you, which is free shipping by the way, along with supplies like box cutters, sharpies, and packing tape.
I also always err on the side of having too many boxes because it is so frustrating when you're packing late at night and you run out of supplies.  So what you think you'll need, you will likely need a little more.
I hope that these tips have been helpful and will come in handy for your next move.  They've definitely helped me in the past!
XO – Jenn