Please note that this post contains affiliate links. As an Amazon Associate, Rewards Style influencer and Jane Influencer, we earn from qualifying purchases and any sales made through such links will reward us a small commission – at no extra cost for you.
Truth be told, my secretary shelves desperately needed a complete refresh…especially since they had been bare up until Christmas.  And once the Christmas décor came down, they were bare for another month! It was time to bring some life into this piece, which is one of my favorites.  Mom found this secretary for a great deal and did an awesome paint job on it…lucky for me it was a gift for when we moved into our old house.
The secretary had been in our old eat in kitchen and held beautiful blue dishes.  But in the new house, we found a new spot for it in our foyer.  It is one of the first things you see when you walk into our home and it was time to stop neglecting the shelves. The first thing I did was pull all of the elements I already had together, so that I could have them in one spot and see what else was lacking. I was able to get a few more pieces at some of my favorite local spots to help tie everything together and I really love how it looks.  Just finally decorating the shelves brings a little more joy when I walk into my home now.
I love this bull that mom got for me from Target…we having matching one's since we're both Taurus.  Also, the feather watercolor was something I won from Craftberry Bush and I love having it in a float frame. It was upstairs on my desk, but no one really sees there and I felt it needed to be more on display.
I got this great milk glass vase on sale at a local antique store…the orange daisies really pop with the white.
Y'all know we love decorating with books! I knew I wanted books with black spines, so I went to Goodwill to see what I could find and lucky for me, all of these were 50% off and ended up only being $4 total. Thank you yellow sticker day 🙂 Books are an inexpensive way to help decorate a space.
I had to fit a bee in there somewhere 🙂  I've had this for awhile and couldn't find the right place for it. I think it's perfect décor for my shelves, especially leaned up against this vintage spool.
And as long as I had a bee theme going, I decided to put this adorable beehive hut next to it, which was given to me by a friend.
Last week mom showcased some Native American pottery she has, and I have some as well.  They are cute little pieces you can put anywhere throughout your home.
And I of course had to incorporate some of my vintage camera collection…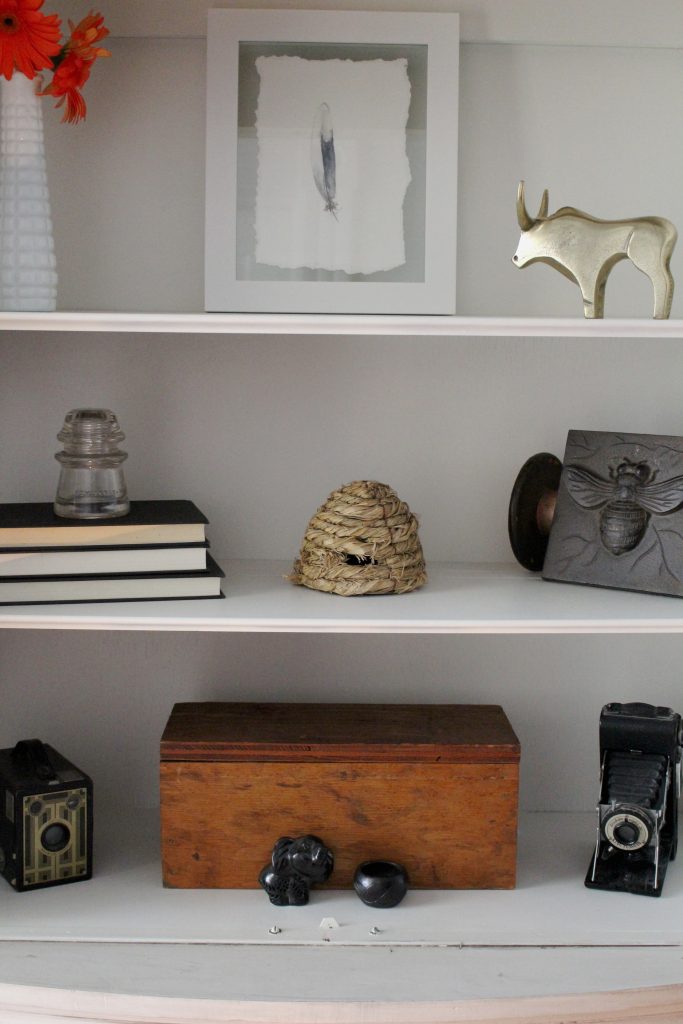 I really love how the secretary shelves décor came together and that it is no longer an empty space.  Like we showed you last week with how to create vignettes, it really is about gathering all of the pieces you have and just playing with them until you get the look you love.  The foyer has a few more finishing touches left to do, but it is almost done…I can't wait!
XO, Jenn