Quick and Easy Chicken Enchilada Casserole…
Please note that this post contains affiliate links. As an Amazon Associate, Rewards Style influencer and Jane Influencer, we earn from qualifying purchases and any sales made through such links will reward us a small commission – at no extra cost for you.
With our busy lifestyle, I am always looking for flavorful and quick recipes. I created this recipe because I was craving Mexican food and the ingredients happened to be on sale at the grocery store. I always have chicken, cheddar cheese and Fage yogurt so I only needed to buy  a couple of ingredients.
Here's how I made Quick and Easy Chicken Enchilada Casserole…
Be sure to use corn tortillas…
Quick and Easy Chicken Enchilada Casserole…
Ingredients
2 boneless, skinless chicken breasts, cooked and shredded
1 - 28 ounce can enchilada sauce - mild or hot
1 - 4 ounce can green chiles - mild or hot
12 (6 inch) corn tortillas torn in half
16 ounces shredded cheese - cheddar cheese or Monterey Jack
8 ounces Fage plain yogurt - can use sour cream
Instructions
Preheat oven to 350 degrees. Lightly grease a medium baking dish.
Pour about half of the enchilada sauce in the bottom of a medium baking dish. arrange 6 tortillas in a single layer. Top with 1/2 of the chicken, 1/2 of the cheese and all of the yogurt.
Add the can of green chiles with the remaining enchilada sauce and pour on top of casserole.
Layer the rest of the chicken and cheese on top of the casserole.
Cover and bake for 45 minutes. Cool slightly before serving.
Corn Tortillas - this part is not necessary but it does enhance the casserole flavor. Using metal tongs, slightly char each tortilla half over the open flame of your gas stove burner or gas grill for about one minute. The tortillas will puff slightly.
https://2beesinapod.com/quick-easy-chicken-enchilada-casserole/
Shredded cheddar cheese for the top of the enchilada casserole…
Tear the corn tortillas in half…
Now, this next step is not necessary, but it does enhance the enchiladas flavor. I channeled my inner Bobby Flay and had some fun. Using tongs, I carefully charred each corn tortilla over my gas stove flame. You could also do this with your gas grill. I saw Bobby Flay do this once on TV and decided I would give it a try 🙂
Pour enchilada sauce in the bottom of a baking dish and begin layering ingredients…
The green chiles are very mild and a tad tangy…so tasty especially when mixed with the enchilada sauce.
Even though I don't have a photo of cooked chicken, it is layered in the casserole. All set to bake in the over.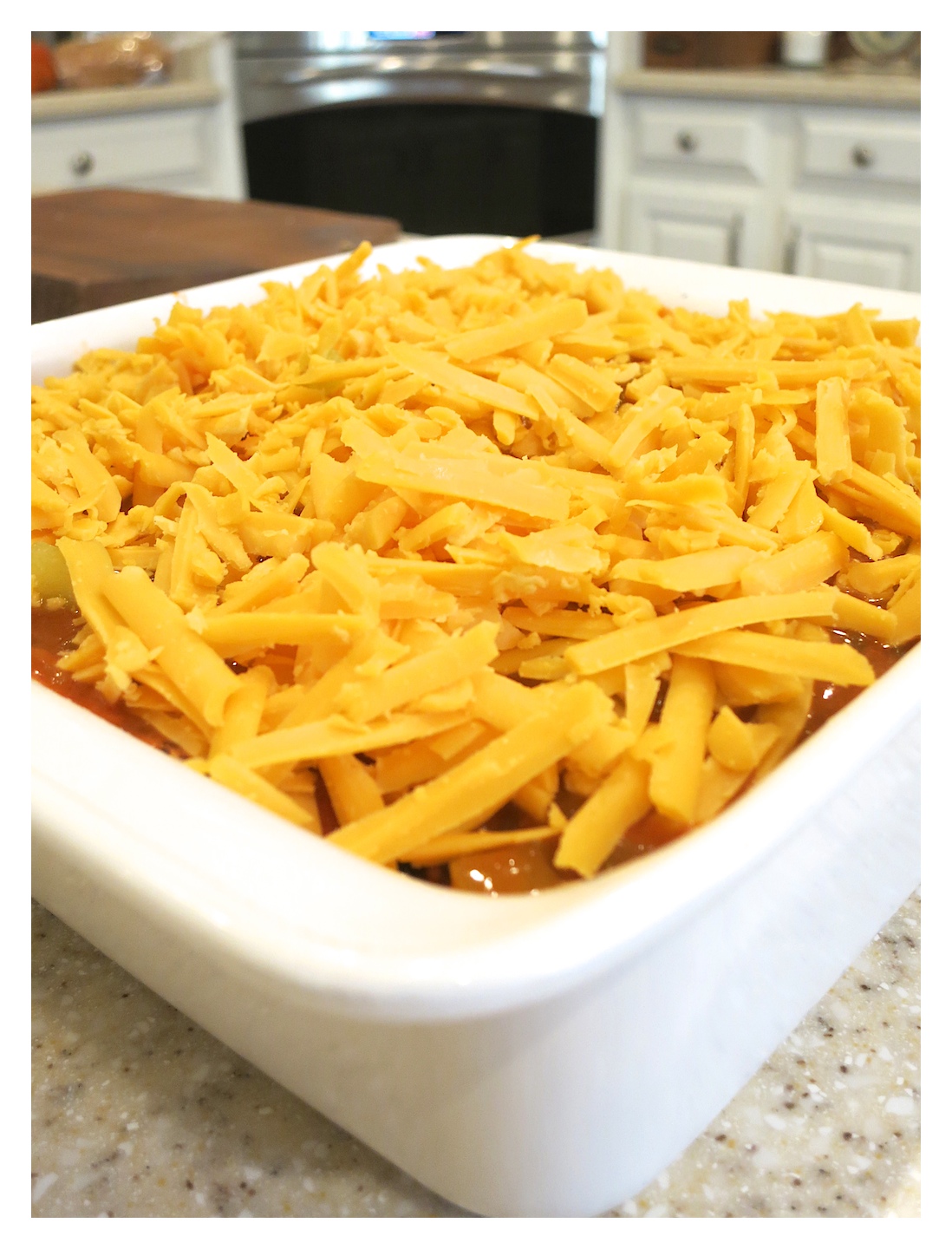 This chicken enchilada casserole is so quick and easy to throw together. If you prefer spicier food, you can substitute the enchilada sauce and green chiles for "hot" versions. I made an extra casserole to freeze for later use on a day when I don't want to cook 🙂
I hope you like this recipe and give it a taste. Drop us a line and let us know what you think!