Peppery Peanuts – Perfect Holiday Gift and Treat
Please note that this post contains affiliate links. As an Amazon Associate, Rewards Style influencer and Jane Influencer, we earn from qualifying purchases and any sales made through such links will reward us a small commission – at no extra cost for you.
We are always looking for new and fun gifts to give friends, neighbors and coworkers.  We especially love when these gifts are food items that can be enjoyed by the receiver. This recipe for Peppery Peanuts is that perfect savory gift.
This recipe is shared with us courtesy of our wonderful family friend, Laura Mullinax.  We have made these peanuts many times over the years.  No one has ever been disappointed.
Peppery Peanuts…Perfect Holiday Gift and Treat
Ingredients
2 cups cocktail peanuts
1 TBS rosemary crushed
1/2 tsp cayenne pepper
1/2 tsp garlic salt
1/2 tsp majoram
Instructions
Toss all ingredients together.
Place on a jelly roll or baking sheet.
Bake at 350 degrees for ten minutes. Stir once.
https://2beesinapod.com/peppery-peanuts-perfect-holiday-gift-and-treat-2/
I prefer using fresh rosemary, which I have growing in my garden. If you use fresh rosemary, be sure to hand-crush the leaves to release their natural oil.
These are all the ingredients that you need to add to the peanuts.
Mix everything together in a bowl…
…and pour onto your baking sheet.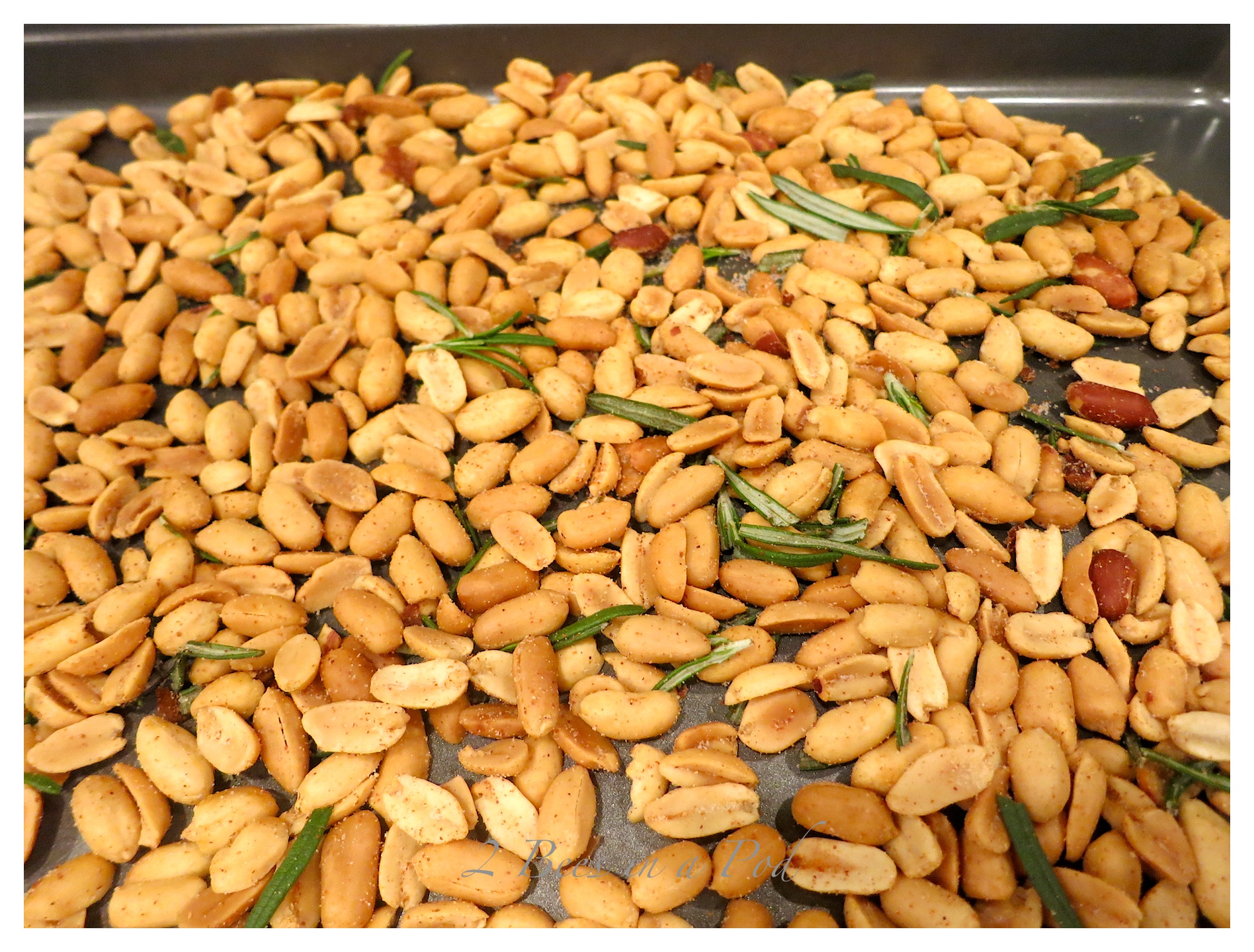 We always like to package our Peppery Peanuts in Mason jars.
I like to decorate the jars…
Using a cute tag, fresh rosemary and berries.
I promise, this recipe is savory and delicious.  The best part is they are quick and easy to make in batches.  I made six batches in 30 minutes by using two baking sheets at a time.  Let us know what you think!