Homemade Mint Oreos in Elf Shoes
Please note that this post contains affiliate links. As an Amazon Associate, Rewards Style influencer and Jane Influencer, we earn from qualifying purchases and any sales made through such links will reward us a small commission – at no extra cost for you.
Each year at Christmas I make homemade Mint Oreos and if I do say so myself, they are always a huge hit! Family members and friends are always asking for them this time of year. Last year I was perusing on Pinterest (weird, I know) and I saw this post about make elf shoes for Oreos…I was so excited! I now was able to make my Mint Oreos, but I also had a cute way to give them as gifts.
Here is what you'll need for both the mint oreos and elf shoes…
Ingredients
Oreos
Candies (I get them at Michaels or Hobby Lobby)
Peppermint Extract
Wax Paper
Instructions
First you will want to melt the candies. If using a microwave, you will use the defrost setting and melt them for every 30 seconds and then stir. Do this until they are completely melted. Instructions are on the package for the candies.
Once melted, you will add the Peppermint Extract. I just use my judgement on this, but I probably use about 1/2 a tbsp.
Now you will dip the Oreos into melted candies...make sure you coat the entire Oreo.
Once coated, place the Oreo on wax paper to harden.
Once hardened enjoy with a glass of milk!
https://2beesinapod.com/mint-oreos-in-elf-shoes/
I do the Oreos first, so that they can be hardening while I make the elf feet.
First thing you need to do is melt the candies…I use the microwave, but if you are using a double boiler, be very careful to not get any water in the bowl. Please do as I say – I have made that mistake before and it is not pretty.
I also wouldn't double up the packages of candy…every once in a while you'll get a bad bag, so if you combine the bags then your whole bunch is ruined. Again, I speak from experience 🙂
Next, you'll take your peppermint extract and add this to the melted candies. I just guess on this part and it always turns out right.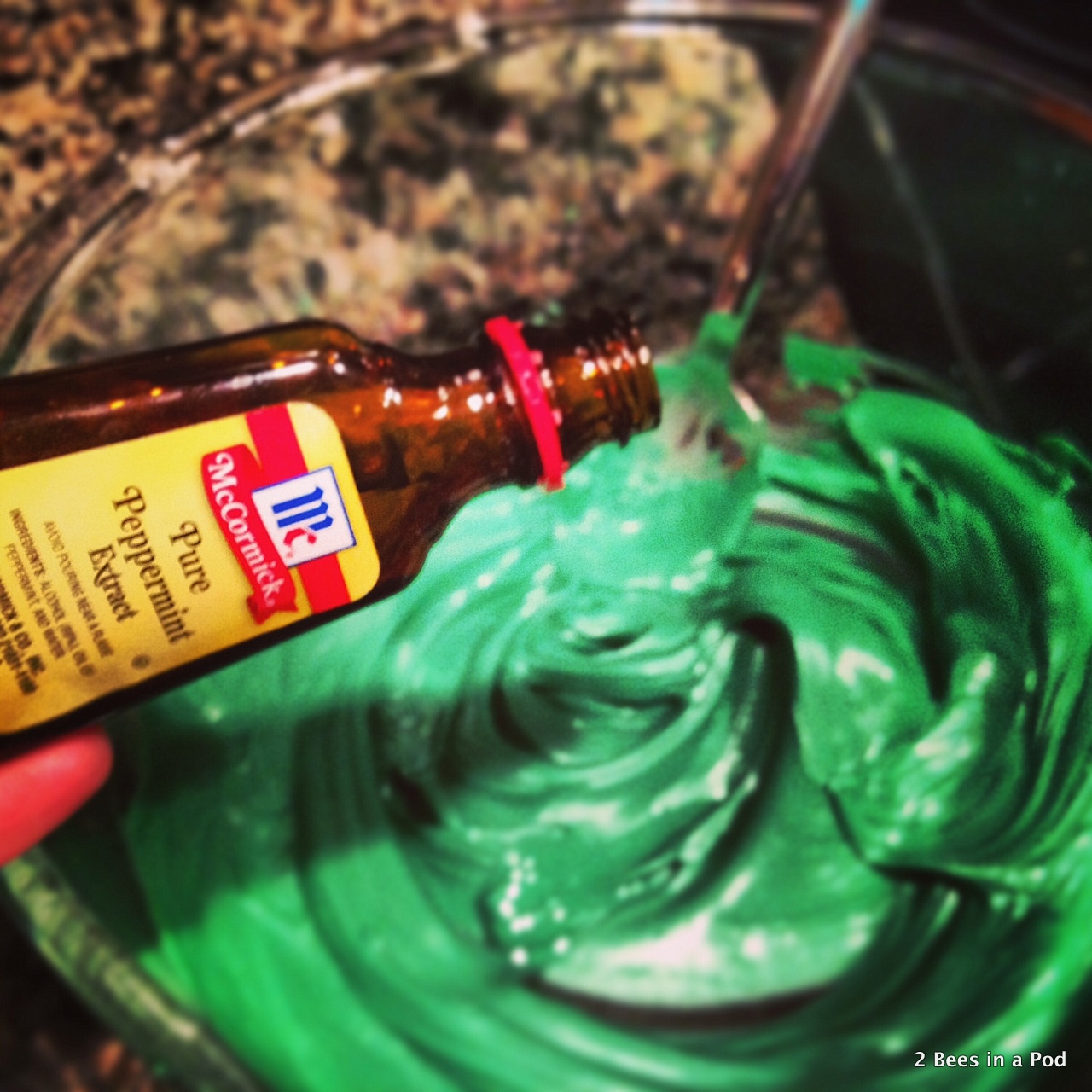 Now this part took me a while to master, but you will need to coat the both sides of the oreo and make sure it is fully covered.
I also like to drip the excess candies off before placing it on the wax paper to harden.
While all my oreos are hardening, I make the elf feet.
Another great thing about the website I found is that they even have a template, so all I have to do is trace it.
Then I tape the wrapping paper cut out to the poster board.
After this, I go ahead and make holes where I will put the ribbon through.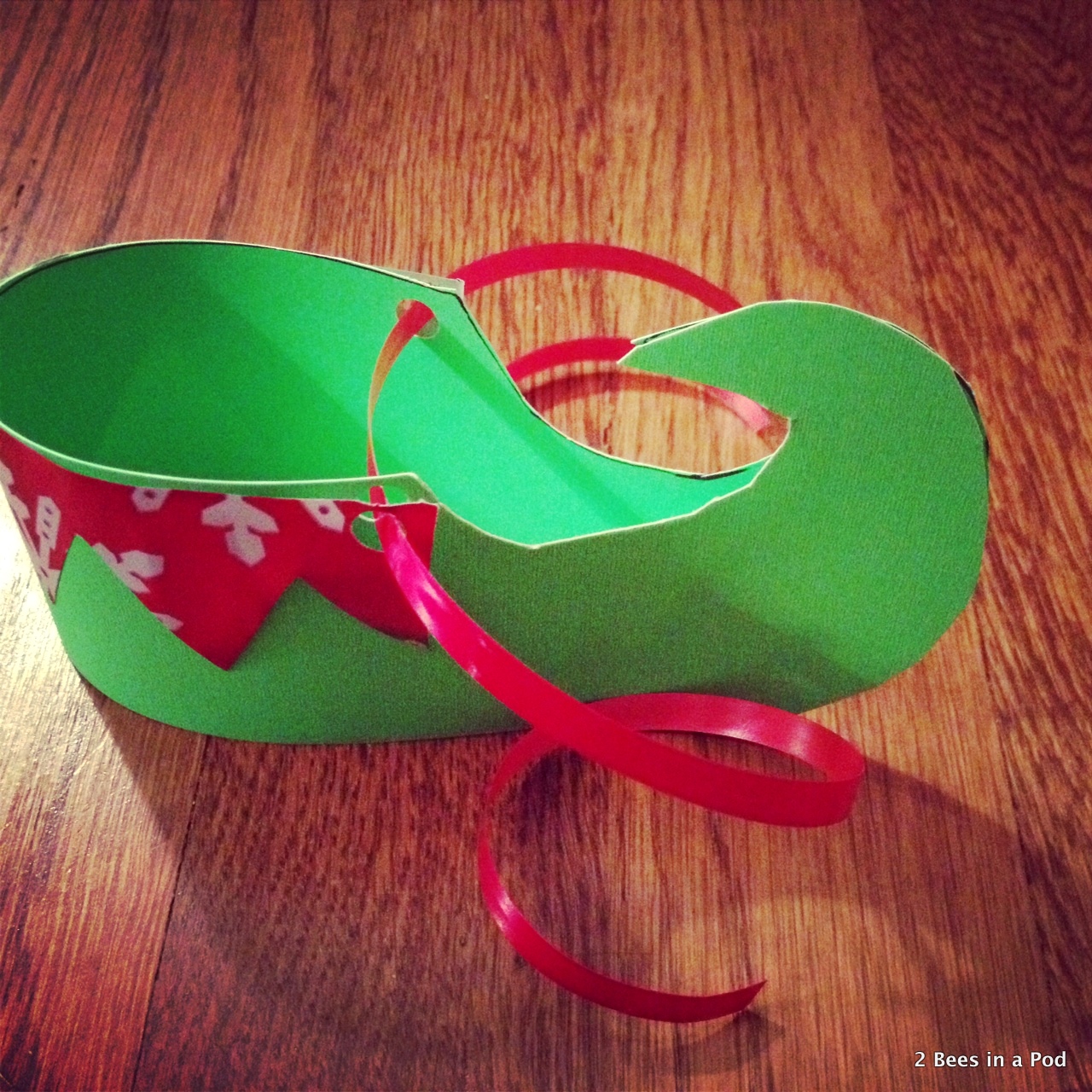 You will then thread the bell through the tip of the shoe.
After you put your cookies into cellophane bags and tie them on top, you will have great gifts to give family, friends, and co-workers!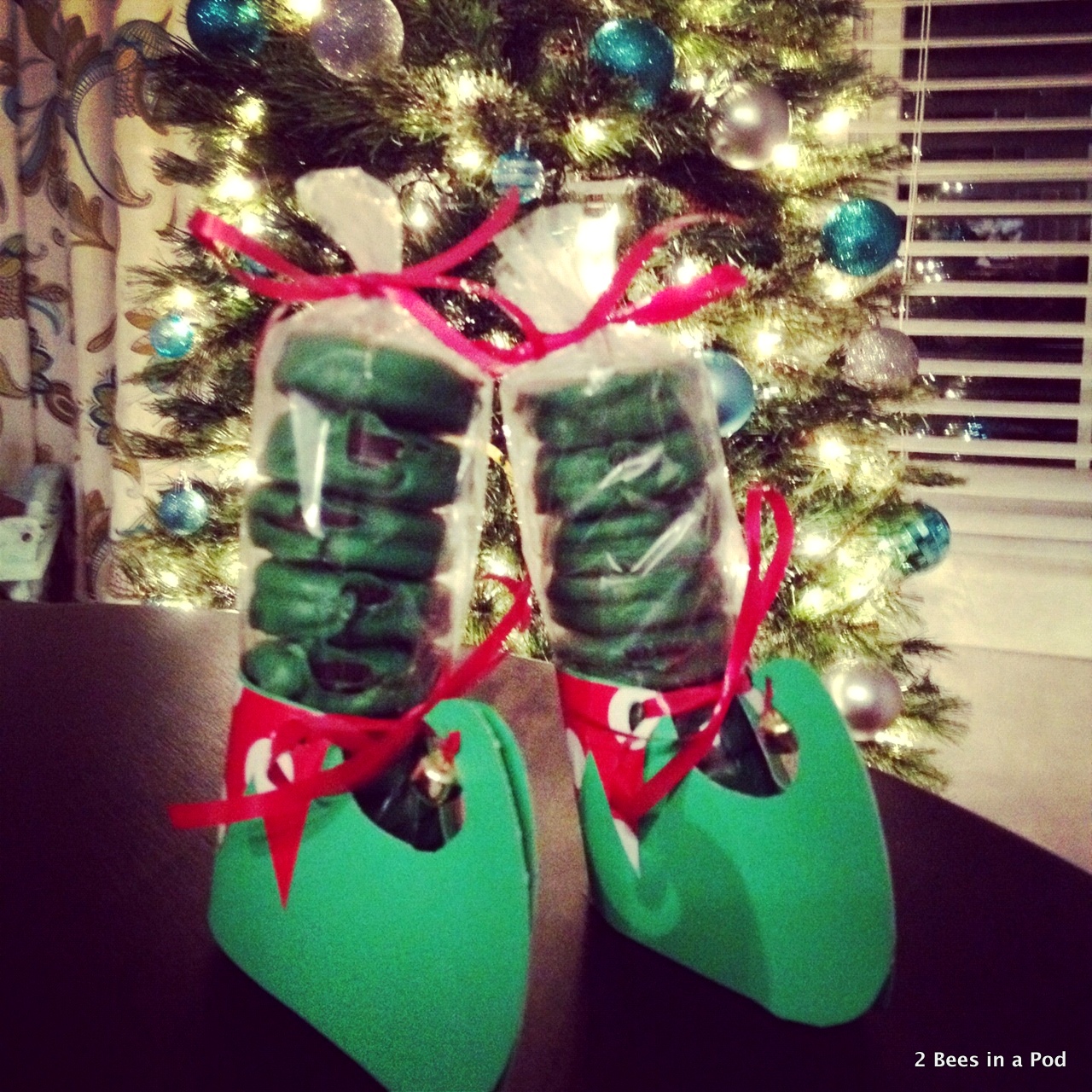 Hope you enjoy this recipe as much as I do!
You might like these holiday favorites too! Salted Caramel Eggnog Cocktail, Super Easy Gingerbread Cookies, Yummy Pecan Tassies.