Please note that this post contains affiliate links. As an Amazon Associate, Rewards Style influencer and Jane Influencer, we earn from qualifying purchases and any sales made through such links will reward us a small commission – at no extra cost for you.
I just got back from my work trip to London last night, and while I had a great time, I was so ready to be home and in my own bed 🙂 I was also ready for some home cooking after eating out for every meal for the past week!  I love to play around with sauces and spices to create my own marinades, and was really thrilled with how my latest creation turned out.  It was also so simple to make!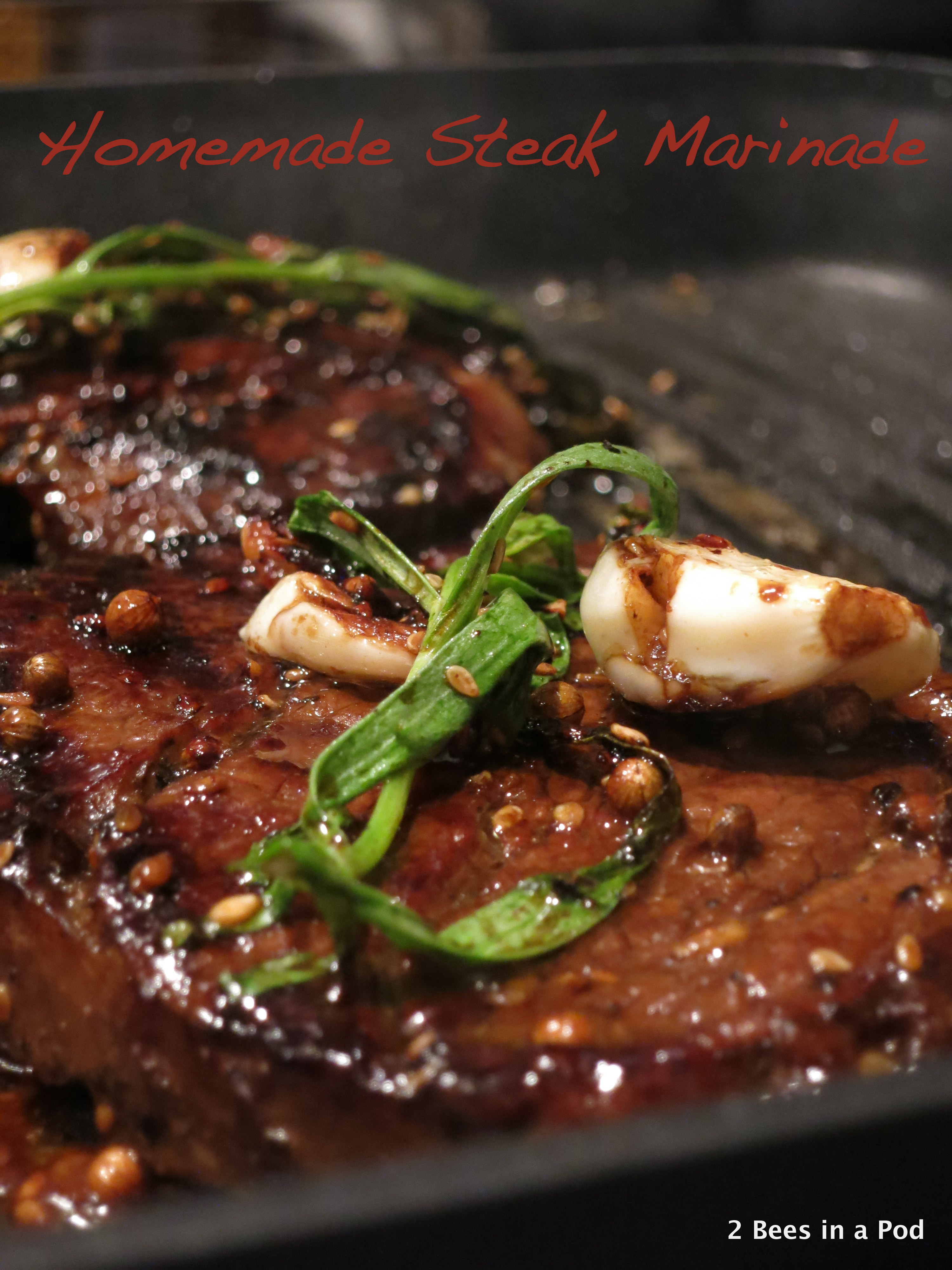 I honestly just took some things I had in my pantry and hoped for the best…sometimes that really is the best way to do it.
I used coriander and ground pepper, which I toasted for about 2 minutes with some olive oil, along with some sesame seeds, which I love!
While this was cooling I mixed worcestershire sauce and balsamic vinegar, along with some crushed garlic and salt. I then added in the toasted spices.  I placed the steaks into a ziploc bag and added the mixture along with tarragon (this would also be great with rosemary). I would let it marinade for at least 2 hours if not longer.
Since it's been fairly cold at night and I don't feel like grilling outside, I just used a grill pan on the stove, which works like a charm!
It only took about 8 minutes to cook the steak and in no time we had a delicious meal.
Ingredients
1/2 cup worcestershire sauce
1/2 cup balsamic vinegar
1 tbsp corriander
1 tbsp black pepper
1 tbsp sesame seeds
1/2 tsp salt
3 cloves of garlic, crushed
Tarragon
2 tsp olive oil
Instructions
In a pan, heat the olive oil over medium heat. Then add the corriander, black pepper, and sesame seeds. Toast for about 3 minutes.
In a mixing bowl, mix the worcestershire sauce, balsamic vinegar, and crushed garlic. Then added the toasted mixture, along with salt.
Add the ziploc bag with the steaks.
Add Tarragon - you can add however much you would like.
Marinade for at least 2 hours.
https://2beesinapod.com/homemade-steak-marinade/
I know I am usually such a stickler for recipes, but sometimes it's nice to just use the ingredients you have on hand and get fun with it.  Isn't cooking supposed to be about being creative and having a good time?! What have you made in the kitchen lately?