Ham Steak with Kale and Black Eyed Pea Salad…
Please note that this post contains affiliate links. As an Amazon Associate, Rewards Style influencer and Jane Influencer, we earn from qualifying purchases and any sales made through such links will reward us a small commission – at no extra cost for you.
Now, before I get started with this recipe post…let me throw out a couple of disclaimers. I know this is Cooking 101 – this is a super-simple recipe. BUT… this is the very first meal that I have been able to cook in 3 1/2 months! It is literally a "baby-steps" moment – but so very significant for me.
Last Thursday, Honey Bee and I were in the reception area for my first pulmonology appointment. I'm not gonna lie – I was nervous. As a distraction, I began watching the waiting room television and the program "The Chew" had just begun. The very first segment was Michael Symon cooking Ham Steak with Kale and Black Eyed Pea Salad. I became very excited…as I am working towards reclaiming my independent life, my first thought was "I can do this". Plus, this dish spoke to my Southern Girl heart.
Here are some of the ingredients…
Ham Steak with Kale and Black Eyed Pea Salad…
Ingredients
24 ounce Ham Steak
1/4 cup Cider Vinegar
2 teaspoons Dijon Mustard
1 Clove of Garlic grated
1/2 cup olive oil - plus more for the pan
4 cups Kale Leaves - finely chiffonade
15.5 ounce can Black Eyed Peas - Rinsed and Drained well
1/2 Red Onion- thinly sliced into rings. Use a mandolin if you have one.
Kosher Salt
Freshly Ground Black Pepper
2 Pats of Butter
Instructions
In a medium mixing bowl whisk together the vinegar, mustard, garlic, half a teaspoon of salt and freshly ground black pepper. Slowly whisk in the olive oil then set the vinaigrette aside.
Make a slit in the center of each Ham Steak to ensure that it stays flat during cooking., allowing an even sear. Blot the ham steaks with paper towels to get rid of some of the moisture. Season both sides with pepper.
Preheat a saute pan over medium-high heat. When the pan is hot, add a drizzle of olive oil followed by the ham steak. Cook for about 2 minutes per side until golden brown and slightly charred. Add the butter halfway through cooking and baste the ham with the melted butter and a couple of teaspoons of the vinaigrette.
Meanwhile, add the kale to a mixing bowl. Massage the kale with a drizzle of olive oil and a sprinkle of salt for at least 2 minutes, breaking down the leaves and wilting them slightly. Next add the black eyed peas and red onion. Dress with some of the vinaigrette. Mix well and season to taste.
Serve the Ham Steaks with the Kale and Black Eyed Peas Salad on top.
https://2beesinapod.com/ham-steak-kale-black-eyed-pea-salad/
Making the Dijon vinaigrette…
Fresh kale…
I had never "massaged" kale before. I will from this point forward. By adding a touch of salt and a teaspoon of olive oil, massaging the kale really breaks down the green without hurting the nutrients. The kale became very soft and so easy to eat.
Getting a nice char on the ham steak…
Preparing the salad…
Drizzling the vinaigrette on top…
Supper is ready!
This meal was delicious! I don't know if it is because it is the first home cooked meal I have had in a long time. It could be that I was just thrilled to accomplish cooking supper. More than likely it is because it really is super tasty 🙂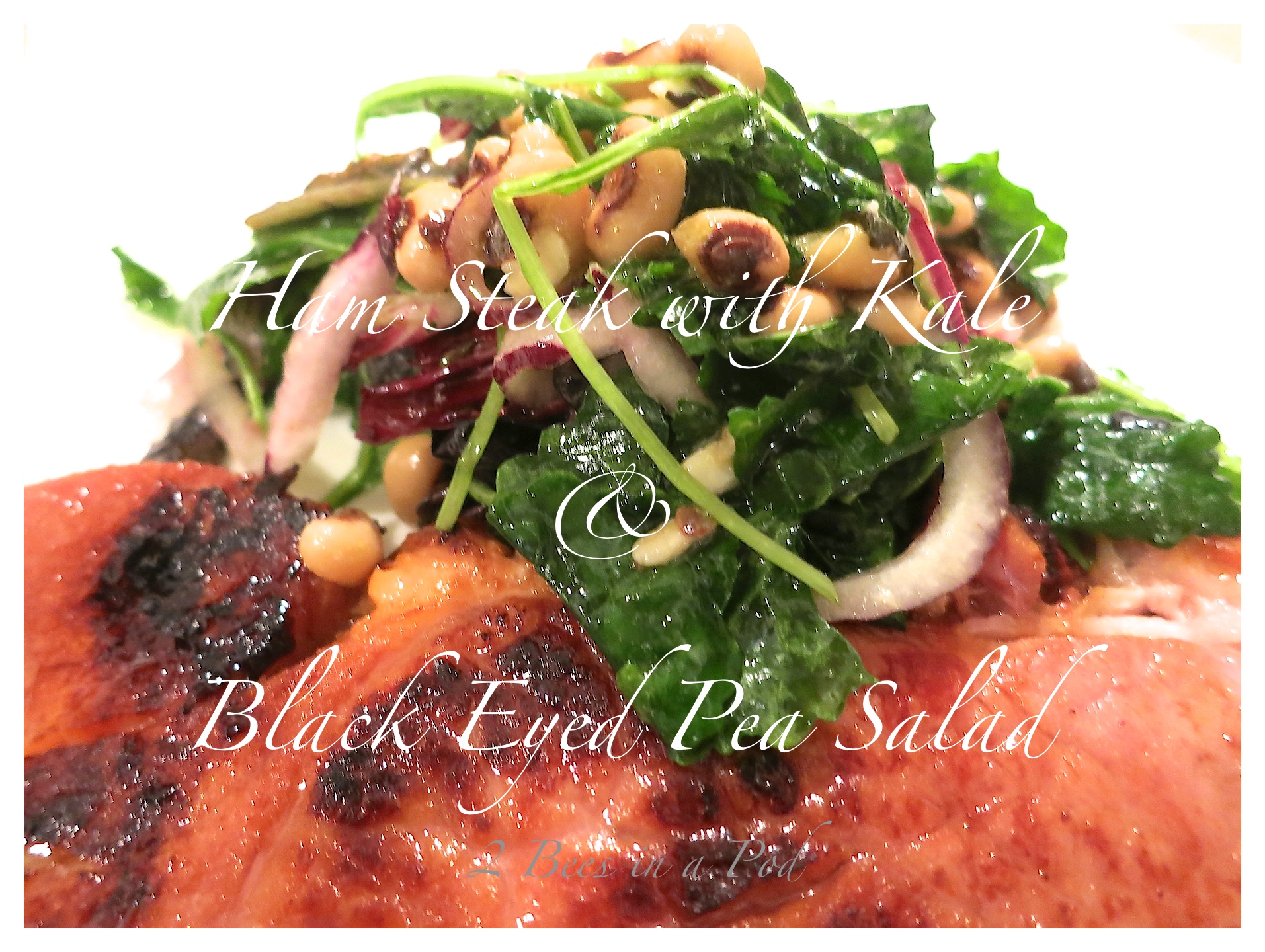 I hope you give this great dish a try. This is the perfect quick meal to make with the holidays coming up. When you're low on time – make this 🙂 Let us know what you think!