Please note that this post contains affiliate links. As an Amazon Associate, Rewards Style influencer and Jane Influencer, we earn from qualifying purchases and any sales made through such links will reward us a small commission – at no extra cost for you.
Here's a great recipe for easy peach ice cream.
Wow, I thought last year's peaches were the best peaches ever. Hands-down this summer's peaches are even better. I kid you not – they are larger, juicier, sweeter and just delicious. Honestly I feel like I am adding them to every single meal, snack and dessert.
Last year I made Fresh Peach Salsa and Easy Peach Turnovers.  Heck, I even created a Georgia Peach Cocktail!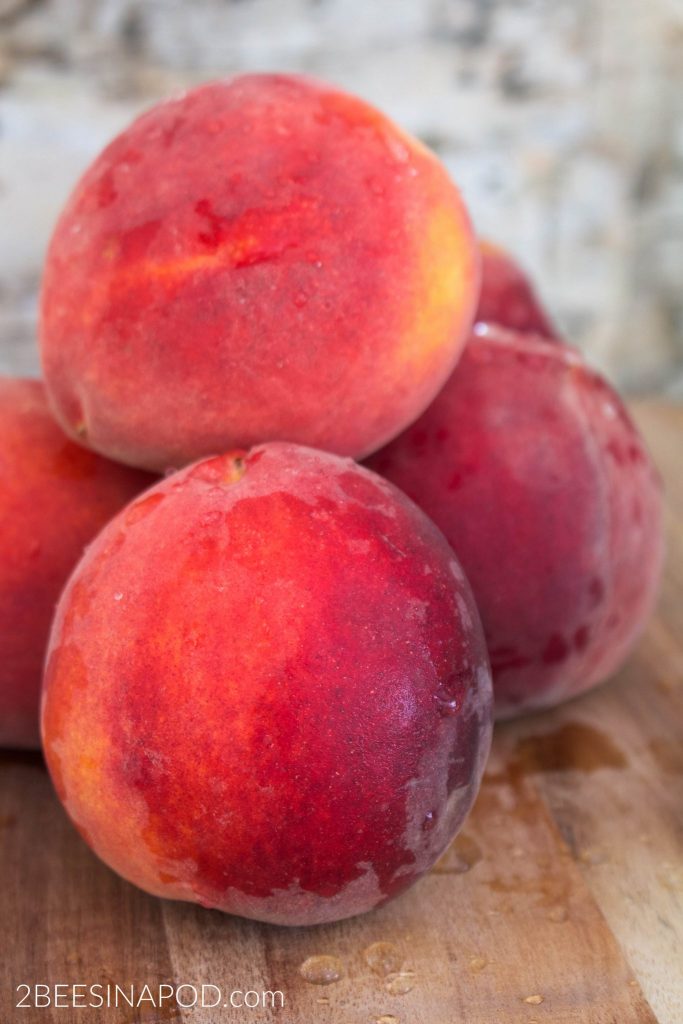 This summer, life has been a bit more busy and hectic, so I haven't had a lot of time to create new recipes. One day I suddenly had a craving for fresh peach ice cream. Lazy summer days of my youth came flooding back to me.
Summertime memories
Many days were spent with my grandparents at their home near the St. Johns river in Florida. Needless to say, summertime was very hot. As a treat we would make homemade ice cream. But, there was a catch. This ice cream was made in an old-fashioned churn. You know the type where you added fresh ice and rock salt? As you may have guessed – the catch was the kids had to hand crank the churn until the liquid recipe ingredients became frozen ice cream. This process seemed to take forever and to us kids it felt like torture pure 🙂
So the reason I call this easy peach ice cream is because it is made in a wonderful modern countertop ice cream maker and in just a few easy steps! I found a recipe for Cuisinart ice cream makers and I tweaked it just a little.
These directions are for a Cuisinart ice cream maker, but should work for any electric countertop ice cream maker.
Ingredients
1½ cups peeled, pitted and sliced peaches
¾ cup whole milk
2/3 cup granulated sugar
pinch of salt
1½ cups heavy cream
1 tbsp. pure vanilla extract
Instructions
Put the peaches into the bowl of a food processor fitted with the chopping blade. Pulse peaches until rough/finely chopped (depending on your preference). I prefer a rough chop. Remove 1/4 cup of chopped peaches. Reserve the rest of the peaches in the bowl.
In a medium bowl, use a hand mixer on low speed to combine the milk, sugar and salt until the sugar is dissolved. Stir in the heavy cream and vanilla. Stir in reserved peaches with all juices except the 1/4 cup.
Turn on the Cuisinart ice cream maker; pour the mixture into the frozen freezer bowl and let it mix until thickened, about 20 to 25 minutes. The ice cream will have a soft, creamy texture. Gently add the reserved 1/4 cup chopped peaches and mix for 5 more minutes. If a firmer consistency is desired, transfer the ice cream to an airtight container and place in freezer for about 2 hours.
https://2beesinapod.com/easy-peach-ice-cream/
This ice cream is lighter in the sense that there are no eggs or sweetened condensed milk like custard based recipes.
Sweet peachy goodness
Personally, I prefer the peachy flavor and the light sweetness. Remember that homemade ice creams typically melt more quickly than store bought ice creams. Because of my impatience I chose not to wait for a longer freezing time in air-tight containers. This is straight out of the ice cream maker and into a bowl. Okay, and me taking a few bites and fiddling with my camera before taking photos.
The fresh peachy flavor is like no other. Summertime in a bowl.
I plan to eat as many peaches as I can as long as the local roadside produce stand provides them. Hopefully for at least a couple of more weeks!
Don't forget to pin this to your favorite Pinterest board.