Please note that this post contains affiliate links. As an Amazon Associate, Rewards Style influencer and Jane Influencer, we earn from qualifying purchases and any sales made through such links will reward us a small commission – at no extra cost for you.
Last week we shared with you a tutorial on how to make a rustic American flag with grade stakes. You can see that post here. At that same time we were making other signs using the same grade stakes. This new sign uses less stakes and I made a DIY Rustic Lake Sign. I'm so excited with how it turned out 🙂
Materials Needed:
Grade stakes
paint stirrers or shims
base paint color
black paint for lettering
white paint for outlining
Gorilla Glue – **remember… a little bit goes a long way**
Dark wax
Sandpaper
Paint four pickets in the color of your choice. We made our own custom color chalk paint.
At this point, I broke two paint stirrers in half. I used Gorilla Glue and placed them on a diagonal being sure not to use to much glue. As a reminder…when Gorilla Glue dries, it expands and takes on a life of its' own – just trust me on this 🙂
I added some books to weight the stir sticks down for better adhesion…
After the base coat dried – I was ready to do my lettering. I was brave 🙂 and decided to hand-letter for an authentic, rustic look using the black acrylic paint.
When this paint dried, I then used white acrylic paint for outlining the letters…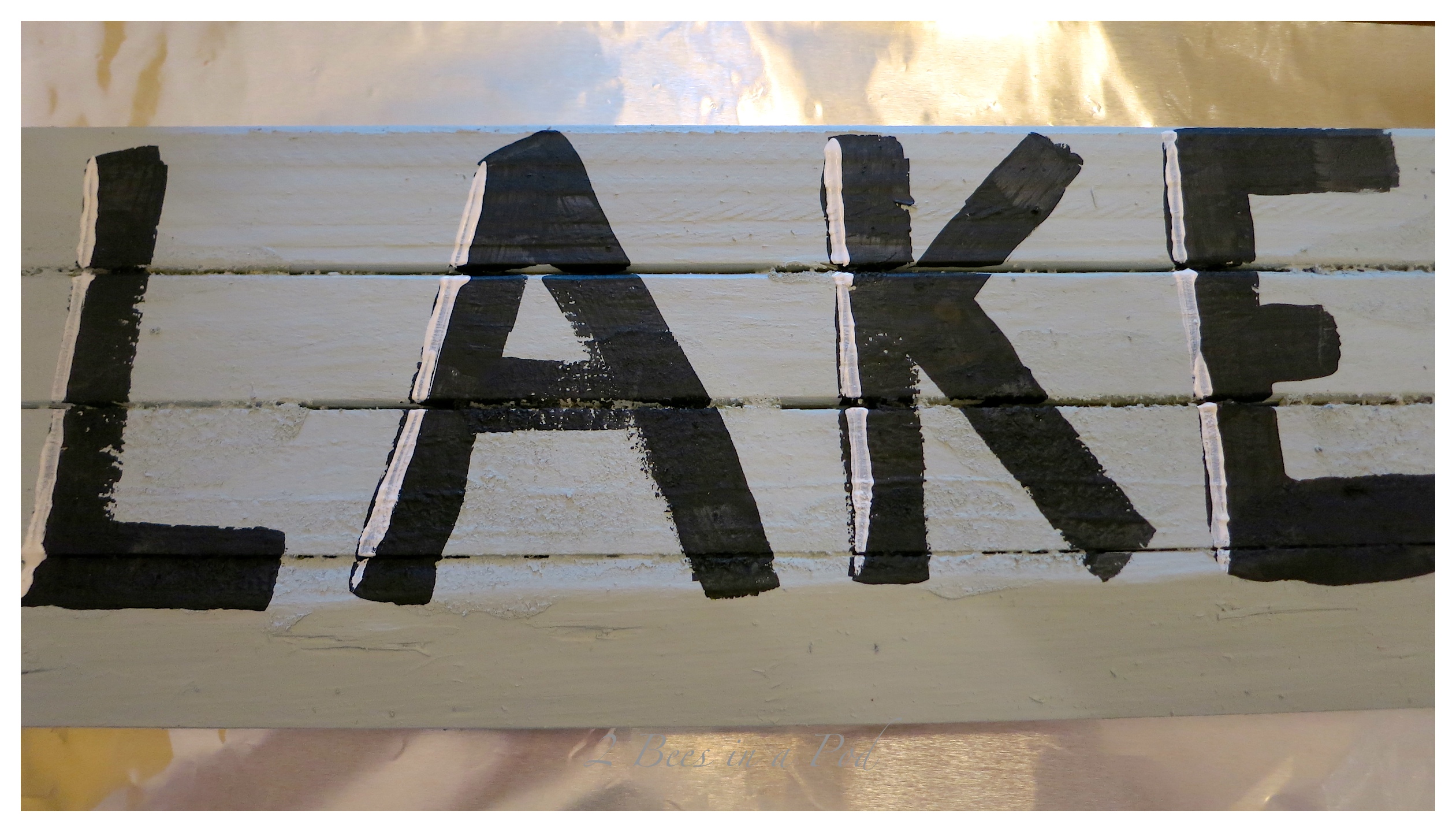 When all of the paint was completely dry, I lightly sanded the lettering…
I then added a light coat of dark wax. I rubbed and buffed the wax until I achieved the rustic look that I wanted.
I am thrilled with the finished sign. It looks great on our vintage coffee table – which is really a vintage, handmade tool box. I was pleasantly surprised that the paint on the sign and the tool box matched – a total coincidence 🙂 Love when that happens.
We really hope that you give the sign projects a try. The pickets are very inexpensive and the signs can be personalized and varied. Let your creativity run wild!
XO~Vicki