Please note that this post contains affiliate links. As an Amazon Associate, Rewards Style influencer and Jane Influencer, we earn from qualifying purchases and any sales made through such links will reward us a small commission – at no extra cost for you.
Have you ever spent the night in the guest room of your home? A few weeks ago I wasn't feeling well. I didn't want to wake Honey Bee so I made my way in the dark to our guest room. I eventually fell asleep…the bed is so comfortable. When I awoke, I realized I had never slept in this room and was now looking at it through different eyes.
I had previously thought that this room was cute and comfortable. It was definitely comfortable but I now thought it was not cute at all. How could have I missed this key element?
Around this time Jennifer and I were offered an opportunity to try a new product, Weatherwood Stains. Their product #1 Reclamation is a reactive stain that creates different weathered colors based on raw wood species. You can make wood look aged without having to wait 100 years.
I became very excited – this was like a science project 🙂 Keeping my guest room in mind, I knew exactly what we could create…DIY Curtain Rods.
I already had everything I needed for this project. The problem was digging it up from my garage. I also needed Jennifer onboard to help me, which she readily agreed to. I remembered that awhile back I had purchased two wooden feet for furniture and thought that they would be great chunky statements for the end of the rods. And by rods I mean a 48 inch broom handle that I would cut in half. I told you it was DIY 🙂
We gathered the necessary materials and got to work:
Broom handle
Wooden rod ends
80 grit sanding block
Rod holders
Whenever we stain or paint something like this, we use styrofoam or egg crates to hold the item up for easier staining or painting. It works great for furniture handles too.
This is the finished piece…
This orb was inspiration piece – they match perfectly…
Here's what they look like hung in the guest room. I love the look.
I bought a few of these arrows several months ago from Painted Fox…
The guest room makeover is off to a great start. I can't wait to show you the other things we are working on. What do you think of the DIY Curtain Rods?
We were fortunate to work with this amazing group of bloggers. Please visit each of them and see the projects that they created using Weatherwood Stain!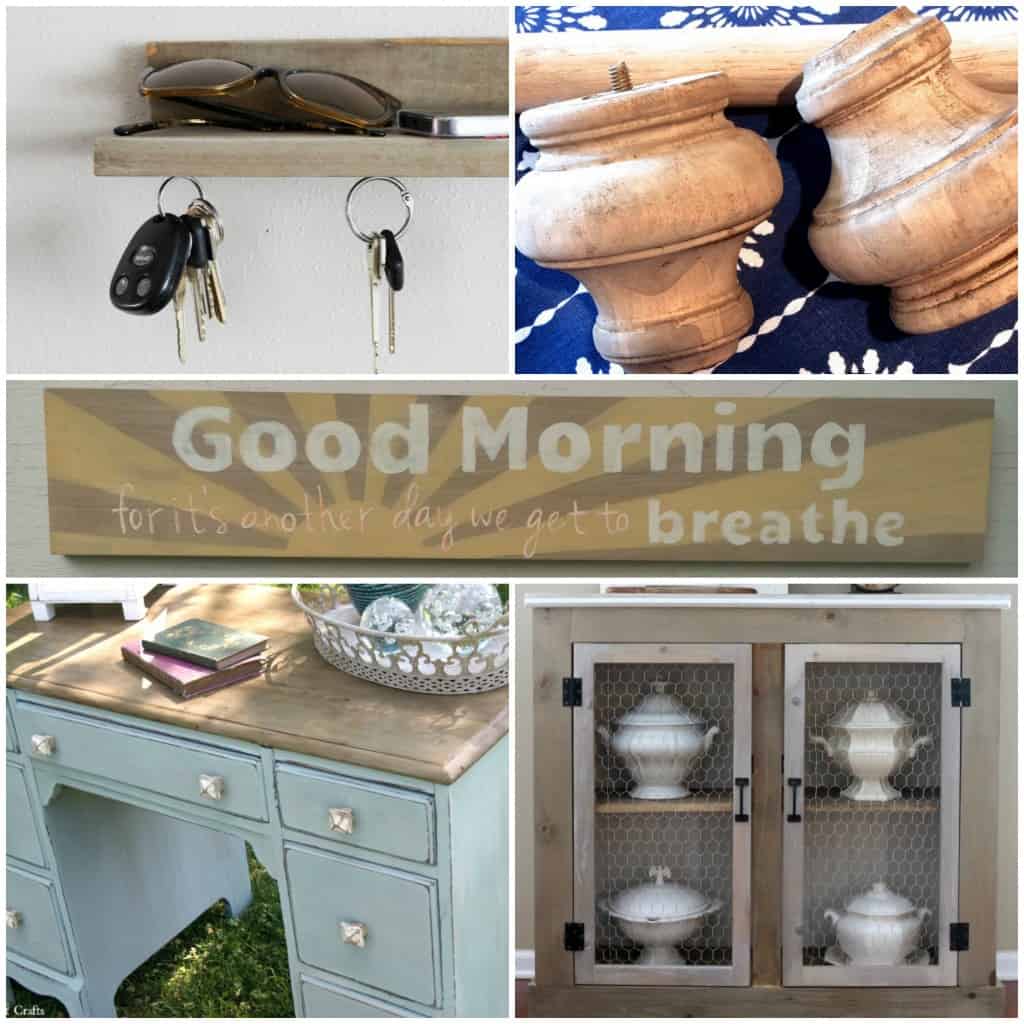 Barn Wood Magnetic Key Holder With Shelf- Hawthorne & Main
DIY Curtain Rod- 2 Bees In A Pod
DIY Hand Painted Sign- Refresh Living
Coastal Desk Makeover-Canary Street Crafts
Stained Cabinet- The Crowned Goat
Disclosure: We were compensated with product from Weatherwood Stains for this post. All opinions stated are entirely our own.