Decorating a Small Blank Wall
Please note that this post contains affiliate links. As an Amazon Associate, Rewards Style influencer and Jane Influencer, we earn from qualifying purchases and any sales made through such links will reward us a small commission – at no extra cost for you.
Every home has that awkward space that defies being decorated. In my current home I have been met with a design challenge. There is a funky corner in the sunroom with very small wall space that just couldn't be ignored anymore.
For you, the challenge might be a skinny hallway, an open space under the stairway, a super-tiny foyer or a nook that you thought was "so charming" before you purchased the house. I have personally had all of these design dilemmas (and more) in homes that I have lived in over the years and they each present different challenges.
Here's what the room currently looks like. Don't get me wrong, I love how the room looks. The area that needs attention is over there on the left where the arrow is. (This post contains affiliate links.)
When sitting on the sofa, this area looks barren. I am not trying to fill up every square inch of wall space – it just looks like I forgot to address this area. To make matters worse, a French door opens into the sunroom and takes up the entire corner. We are left with a very small wall that definitely needs some design attention.
These canvas art prints were on clearance at TJMaxx. They were a bit damaged and misshapen. To me, the risky purchase was a no-brainer. The colors were just right for the space and did you see that these were feathers? Love the feathers!
I brought in my beloved "wonky table" from outside. This table was a free, curbside find at Jenn's previous home. You can read all about it HERE. The color is perfect for this space.
I placed the largest feather print on top. This canvas print was $7.99. I always check the clearance end caps at TJMaxx and HomeGoods for the best deals. I was so lucky to find these prints.

The smaller print was just $4.99!
Do you remember the feather watercolor that I painted? It looks perfect with the canvas prints! You can read that post HERE. If you are looking for your own feather prints you can find similar ones here, here, and here 🙂 
The rustic wood salvage piece was a great find. The wicker bottle was a clearance item too! Always check the clearance aisles first when out shopping. Be sure to shop for off-season items. You will be surprised at what you find! And isn't that owl adorable? You can find a similar one here.
Adding personal touches makes the space more meaningful. Here's how I created this book page artwork!
The space looks beautiful now.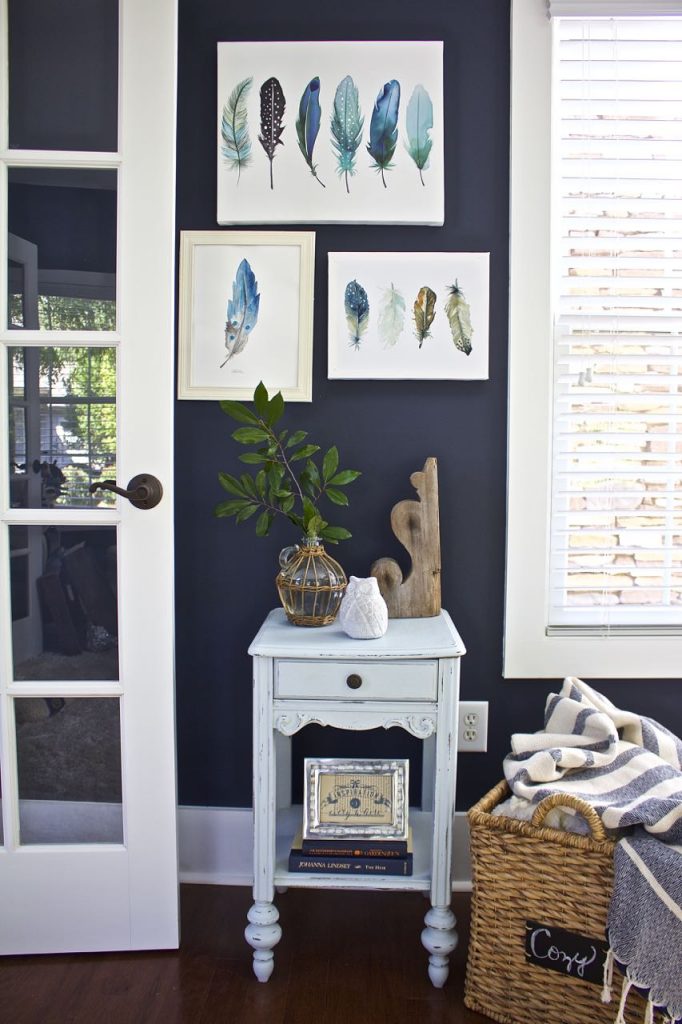 Very homey and lived-in.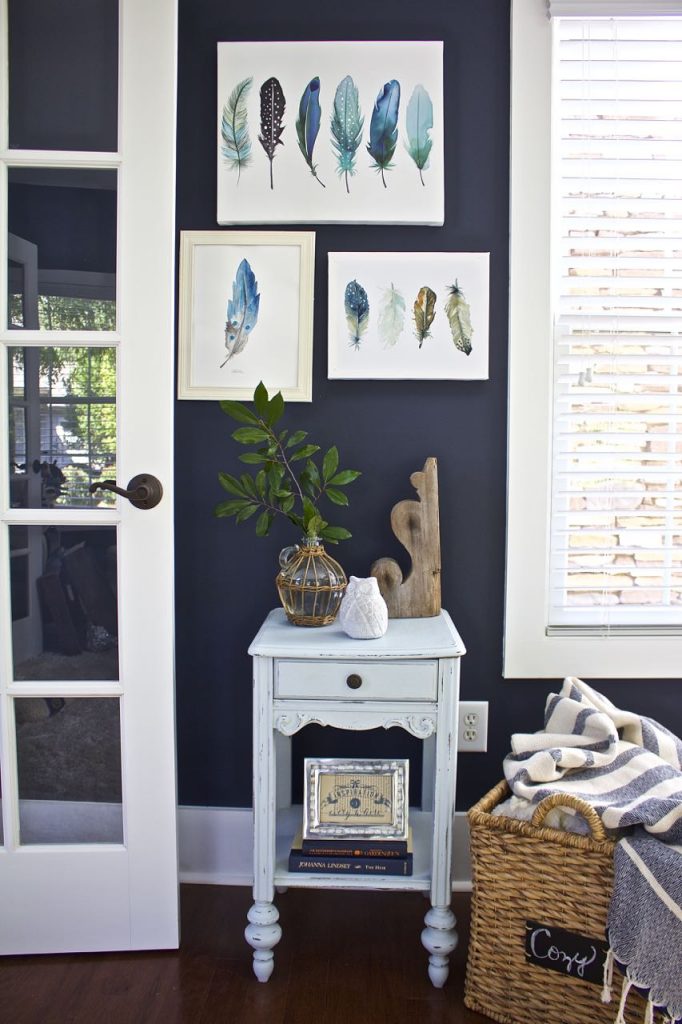 I really love this large basket with the chalkboard. I put comfortable blankets and throws inside…they really are cozy!
This space is like night and day now!
It is amazing how many decor items fit in this small wall space. The sunroom feels very complete now. This cozy corner feels decorated and beautiful now! I hope you are inspired to work on an awkward space in your home. We would love to hear about it!
Until tomorrow…
XO~Vicki
Let's be Pin Pals. Be sure to pin this to your favorite Pinterest board…