DIY Christmas Gift – Casserole Carrier – Interchangeable Sizes
Please note that this post contains affiliate links. As an Amazon Associate, Rewards Style influencer and Jane Influencer, we earn from qualifying purchases and any sales made through such links will reward us a small commission – at no extra cost for you.
Happy Thursday! This week is really clicking along, isn't it? Today is Day 4 of our Bloggers Christmas Series, so that means today is Christmas Crafts! I think our group has already shown how creative they are and today will prove to be no different 🙂 My craft is really a gift that would be ideal for the hostess of your next party. It's a Casserole Carrier with Interchangeable Sizes.
I'm fairly certain that we've all had mishaps with a dish or casserole we were bringing to a potluck or picnic. I remember one time we were on our way to meet family and friends for a picnic at the beach. I was in charge of baked beans. Because of a certain persons driving skills, the pan of beans slid around on the floor board of the back seat and ended up flipping on its side. Friends, I'm here to tell you that the baked bean smell in my car never really did disappear,,,and I don't even like baked beans LOL.
Anyway…this casserole carrier should eliminate that problem. This is how I did it.
I was fortunate to find a great piece of wood in the scrap bin at Home Depot for just $5.00. It is red oak – very strong and sturdy wood which shouldn't warp from the heat or so the HD guy told me. It was a bit too long so I sawed off about 10 inches.
I had a piece of pegboard that I cut down to the same size as my pice of wood.
I placed the pegboard on top of the piece of word and marked through each hole of the pegboard.
You need a pouch of pegs which come in a variety of styles and sizes. I purchased two styles and they were each 1/4″ in diameter.
I used my 1/4″ drill bit to bore each hole. This part does get a little tiresome but the drilling does go fairly quickly. Don't drill all the way through…just enough for the peg to be stable.
I cleaned up the saw dust and used a dark stain on the raw wood. I wanted a richer,warmer tone of wood. I let the first coat dry overnight and applied a second coat of stain the next day.
I found these fabulous arrow handles at the craft store. Aren't they gorgeous?
I drilled two holes on each end of the board for handle placement. I ultimately decided to use these pegs.
So…here is the completed board. You use the pegs to hold your traveling casserole in place.
I used it with a 13″x9″ pan…
…and demonstrated with a medium, oval pan.
The pegs fit snuggly keeping the pan into place. You just place pegs into the board around your pan on all four sides. The pan stays firmly in place – no sliding!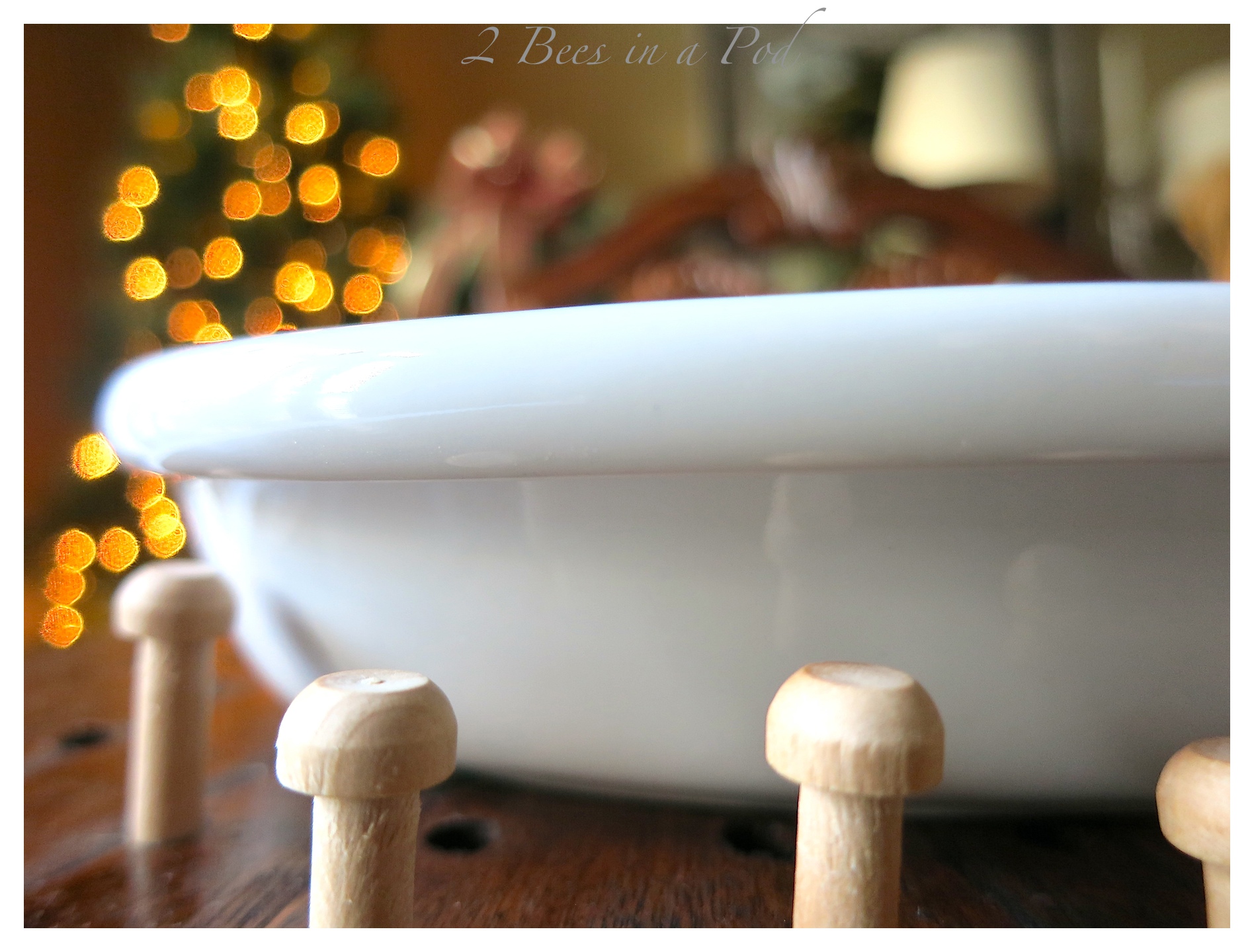 I had this cute jewelry pouch in my stash. It works perfectly to store the pegs and it is cute for gift giving purposes.
No more spills or disasters on my way to our next potluck or party! The handles are also great because I no longer need to bring hot pads to carry my dish. and the carrier is so pretty it the casserole plan can stay on the carrier and be placed right on the table.
I hope you like my Christmas craft –  I plan to make several more of these carriers as gifts for family and friends. So…if you are inviting me to your house this holiday season – you have a good chance of receiving one of these casserole carriers as a gift  🙂
Please visit our blogging friends to see what creative Christmas Crafts they have come up with:
Tune in tomorrow for our last day of the Bloggers Christmas Series where we showcase mantels and tablescapes!
 xo-Vicki