Please note that this post contains affiliate links. As an Amazon Associate, Rewards Style influencer and Jane Influencer, we earn from qualifying purchases and any sales made through such links will reward us a small commission – at no extra cost for you.
Our woodland Christmas porch is ready for its close-up!
You are in for a treat today. Not only are we revealing our woodland Christmas porch, we are also sharing 8 other festively decorated Christmas porches. Sit back, relax and take a peek at all of the inspiration!
A huge thank you to our friend and host of this annual porch tour Amy of Atta Girl Says!
If you are new here – welcome! We are Vicki and Jenn – a mother/daughter design duo from Georgia that has a passion for decorating home interiors. Decorating on a budget is key for us – we feel that everyone deserves a beautiful home and we love sharing ways to accomplish this.
If you have arrived here from Southern Home and Hospitality, welcome! Kate's porch is beautiful and festive! When it comes to our Christmas porch, we typically keep it traditional. Lots of greenery, pops of red and maybe an appearance by a reindeer. Our home faces the woods, so it only seems natural to embrace this theme.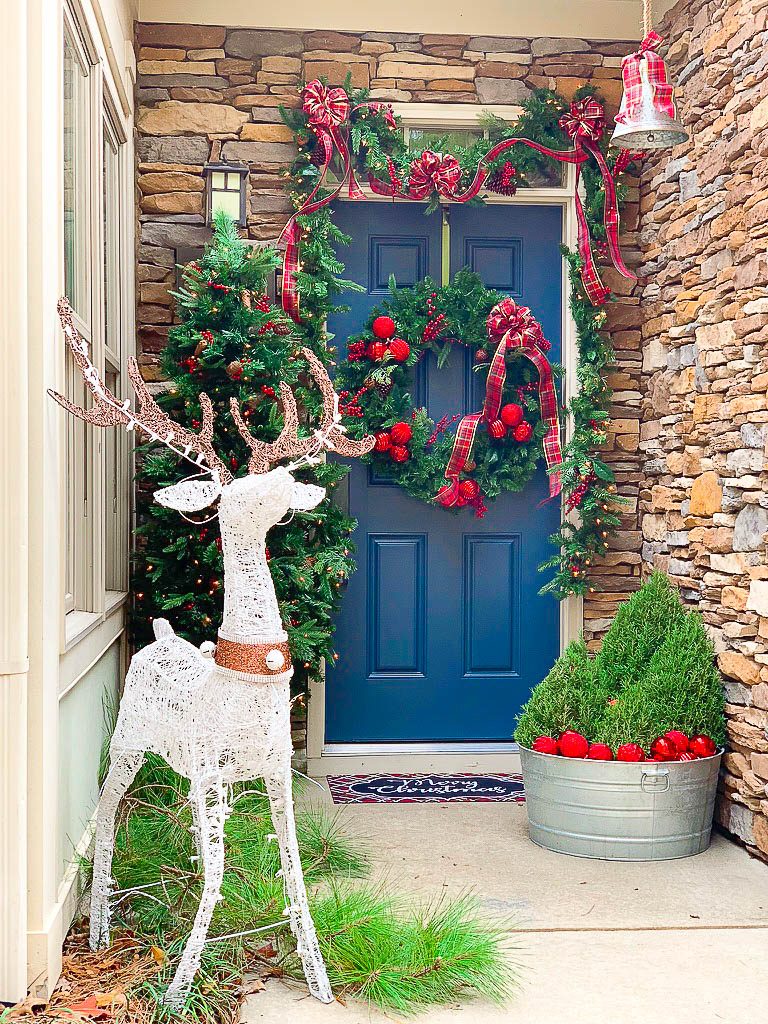 A large wreath and evergreen swag highlight the front door.
Using faux greenery, we missed the fragrance of fresh pine. As a solution, we added a few fresh rosemary topiaries into a galvanized tub. Next we placed lots of plastic red ornaments at the base of the rosemary. Fragrant doesn't even begin to describe how fabulous this smells. Bonus – these topiaries will each make great gifts for friends!
The galvanized bell was a new find. A red plaid bow was added to make it look more festive.
Do you change out your front door mat throughout the year? This is an inexpensive way to add more cheer to your outdoor decor.
The lights twinkle and shine at night, especially the tree by the front door.
As an after-thought, a cute sign was added to the rosemary.
Fresh greenery was added around the reindeer. This also helped to keep him from tipping over LOL.
Next on the tour is our dear friend, Cindy of DIY Beautify! Lets just suffice it to say that we love everything she does.
Christmas Porches Tour
Be sure to visit all the participating bloggers for festive decorating inspiration for your porches, balconies, decks and other outdoor spaces.
Atta Girl Says // Southern Home and Hospitality // 2 Bees in a Pod // DIY Beautify
Worthing Court // Our Crafty Mom //
Dedicated with love
We dedicate this year's tour to our dear friend, Paula Skulina from Sweet Pea, who died in February after a five year battle with lung cancer. Paula has participated in this tour since 2017, and we are all really missing her this year.
Paula was just the sweetest person, full of love for her family, her beloved dog Sherman and her students.
Her home was beautiful and full of vintage treasures. Paula had a knack for styling, but what I loved most were the stories she told about her decor. So many of her Christmas decorations were treasured family heirlooms. I'm so grateful she shared those memories with us.
While Paula is not here this year to tour with us, she's still an important part of our group. I encourage you to visit her blog, Sweet Pea, for Christmas decorating inspiration, especially if you like to use meaningful family items in your holiday displays.
To honor Paula, we are also donating in her memory to LUNGevity and The Humane Society for Campbell County, Va. If you loved Paula and her blog, we encourage you to make a donation in her memory using the links above.