Please note that this post contains affiliate links. As an Amazon Associate, Rewards Style influencer and Jane Influencer, we earn from qualifying purchases and any sales made through such links will reward us a small commission – at no extra cost for you.
This nursery closet makeover just took a little bit of drywall, fresh paint, and a new closet system. The nursery closet was definitely done on a budget.
We've been slowly working on the nursery and it's all coming together. I can't believe that baby bee will be here in the next six weeks. Time is flying by! And we still have a lot more to do around the house. Of course there is always something to do, right?
One area we definitely needed to work on was the closet and we're excited to share the nursery closet makeover with you all today! This is the before picture of the nursery closet. It had particle board, which we had thought about painting. However, after doing some research it seemed like it would be very porous and would take several coats of paint. It also was a random catchall of items, so it definitely needed to be cleaned out and organized.
Before
We decided to install drywall and paint it the same gray color as the walls to give it a fresh and clean look. Also, since we're on a budget we found an easy to install closet system on Amazon, which worked out perfectly for the space. The nursery closet is also something he can grow with.
After
I am a sucker for baby shoes, but I have been so good about not buying a ton. Though it's been hard! They're just so darn cute. Also, being an Alabama fan I had to incorporate an elephant somewhere in the decor. It doesn't fit with the nursery theme, but I knew I could get away with it in the nursery closet.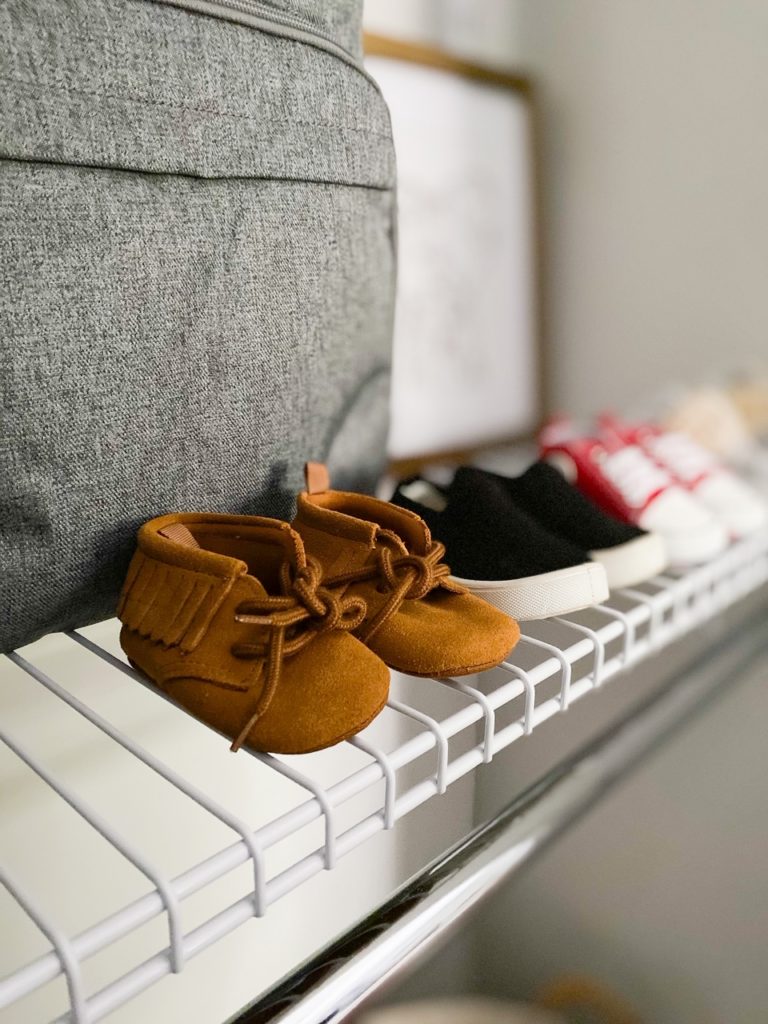 These baskets were an amazing find at Homegoods! I was so worried that venturing to the store would be a waste of time since I had heard their supply of things had been pretty low. But I certainly lucked out! These were the last of the baskets and I scooped them up. They are perfect for storing cute stuffed animals, but I also have stored diapers, baby wipes, toys, etc. in them.
I would have obviously loved to have a custom nursery closet installed, especially since this space is a little awkward and small. But with being on a budget, I really feel like this was the perfect solution for now. I ended up hanging most of his clothes instead of putting them in drawers so I can see everything we have.
It's a small space, but I definitely feel like with a little drywall and paint, it's made quite the difference for this nursery closet makeover. As the next few weeks go by, I am sure there will be a few more items added, particularly to the clothing section 🙂