How to Age Terracotta Pots with Paint
Please note that this post contains affiliate links. As an Amazon Associate, Rewards Style influencer and Jane Influencer, we earn from qualifying purchases and any sales made through such links will reward us a small commission – at no extra cost for you.
If you have ever wanted to know how to age terracotta pots with paint, this post is for you.
Recently I shared my Vintage Botanical Spring Mantel decor. Several people emailed us about the painted pots that hold lavender plants. I quickly created them from clay terracotta pots that I had in my garage. Three small pots were purchased at a thrift store for just .25¢ total. There are several methods on how to age terracotta pots. Personally, I don't feel like there is a right way or a wrong way. Here is my method.
How to Age Terracotta Pots with Paint
Use paint on terracotta pots to create the aged finish of outdoor, vintage pots. No need to wait years - this project is fast, easy and fun!
Additional Time
20 minutes
Materials
white chalk type paint
craft paints - gray, black and green
paintbrush - 1 inch bristle brush or stippling brush
paper towels
water
protective covering for paint area
Instructions
Lay out protective covering for paint area.
Gather materials.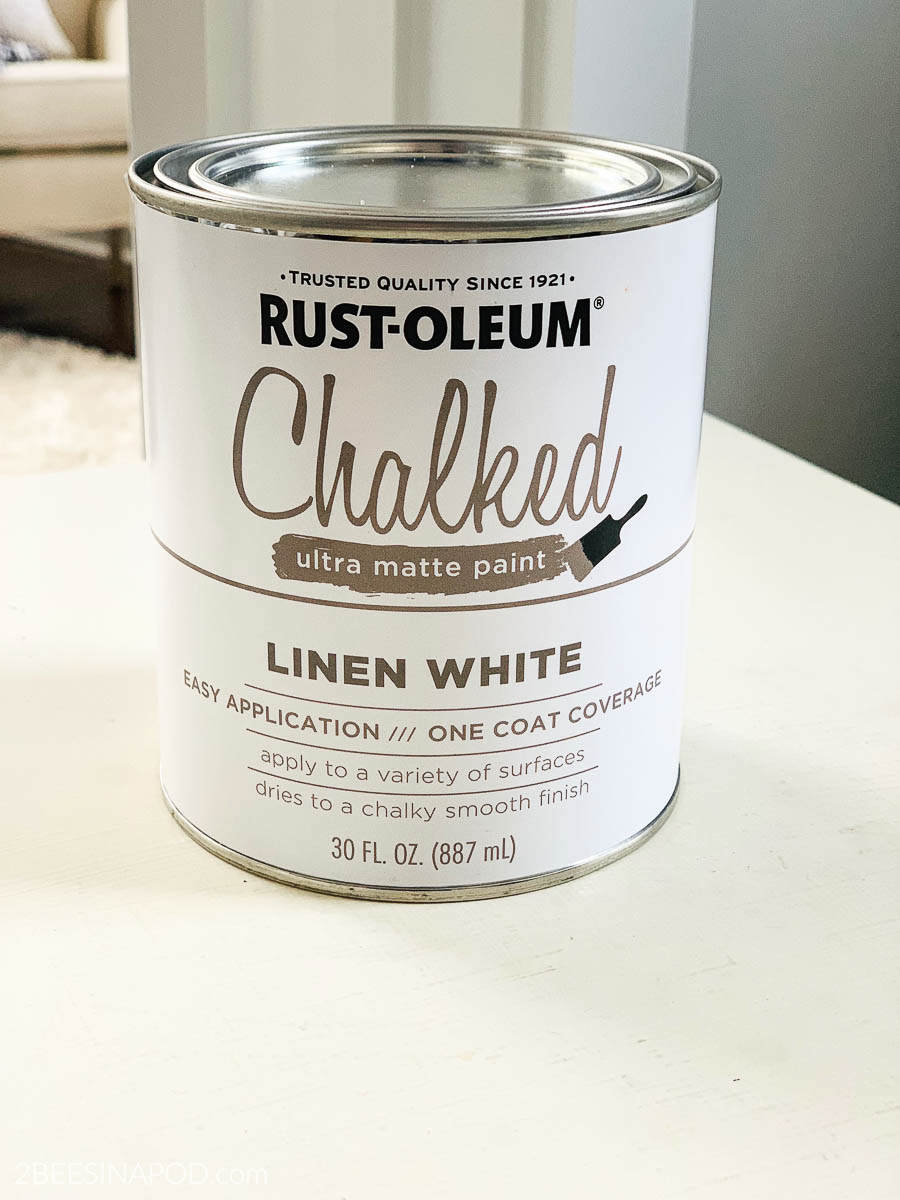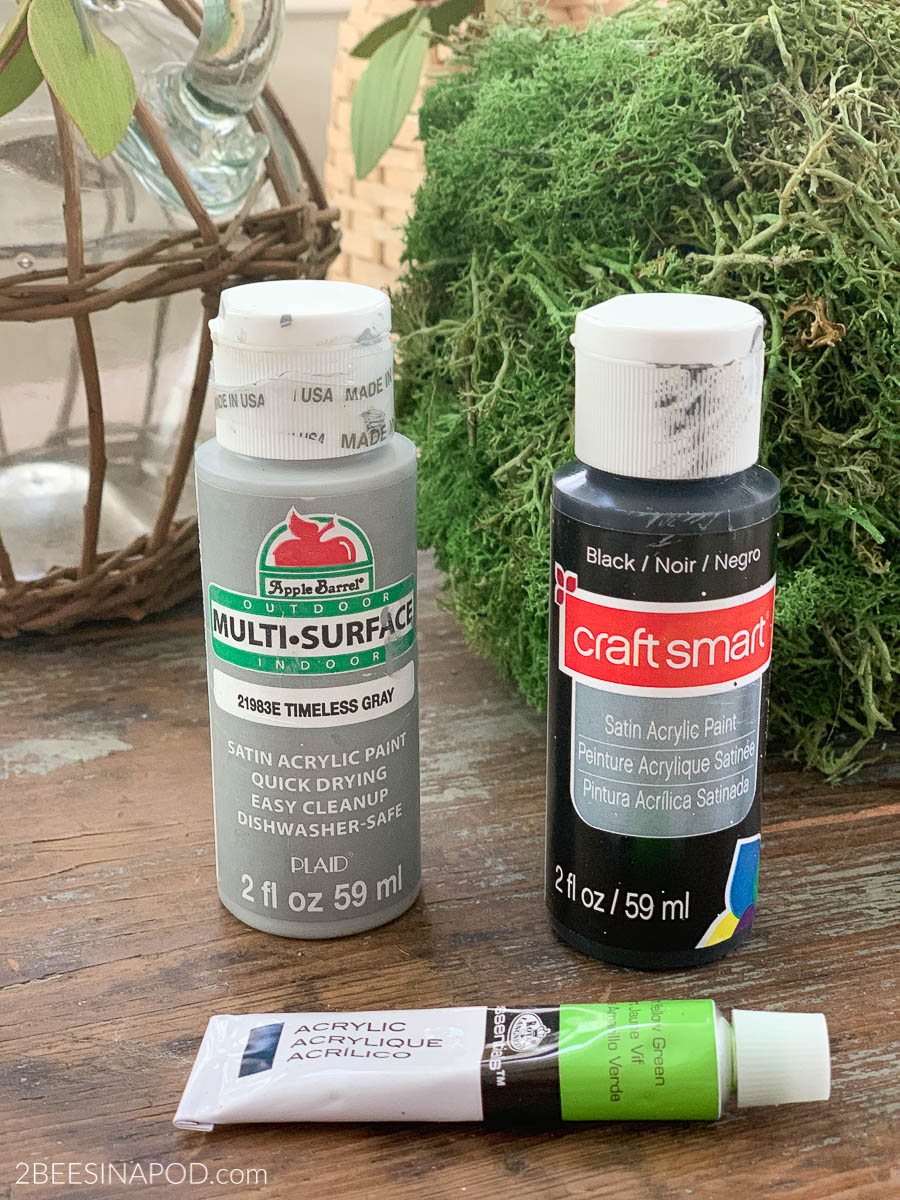 Using white chalk-type paint and a stippling brush, paint a base coat to terracotta pot. No need to be neat about this.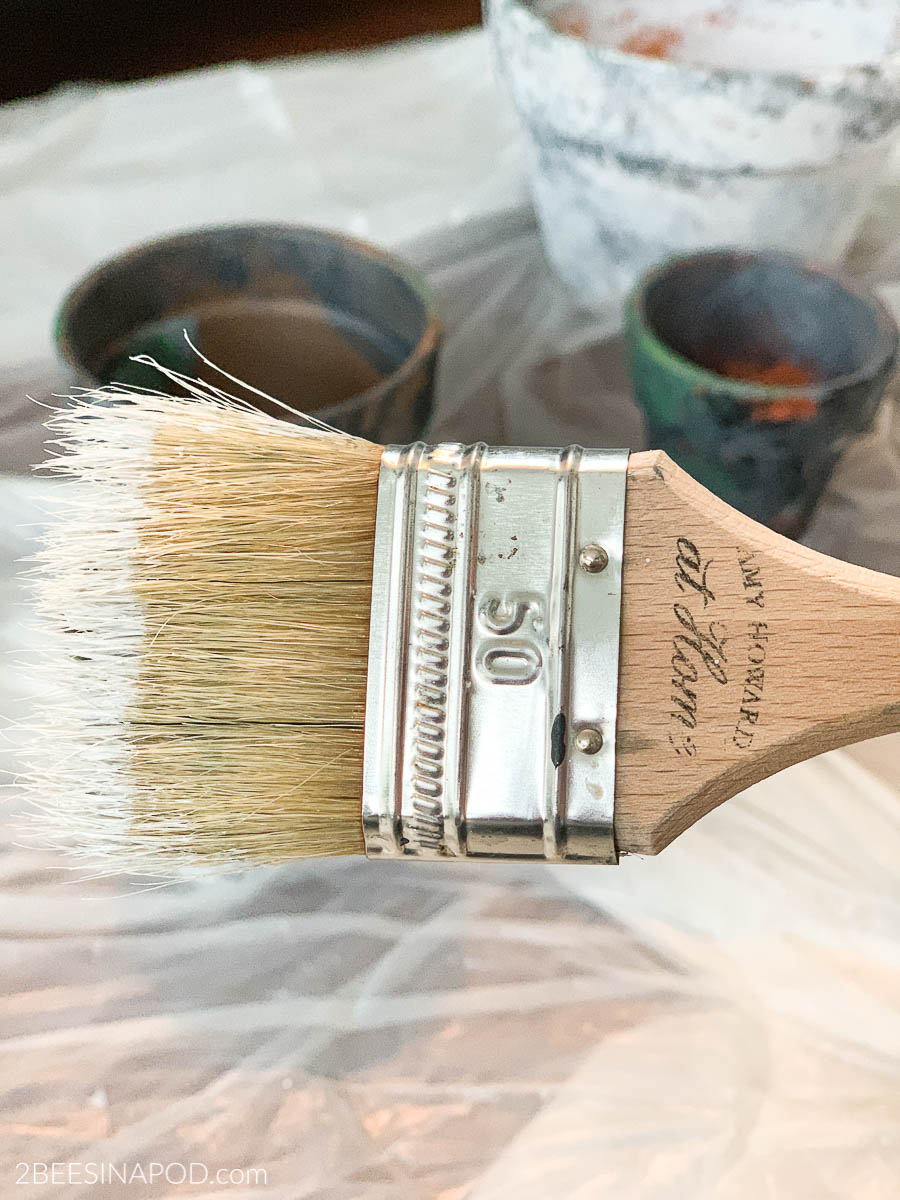 Begin stippling the white paint in some areas of the pot. Think of how an outdoor pot might lay on its side - and over time gets dirty and lime forms.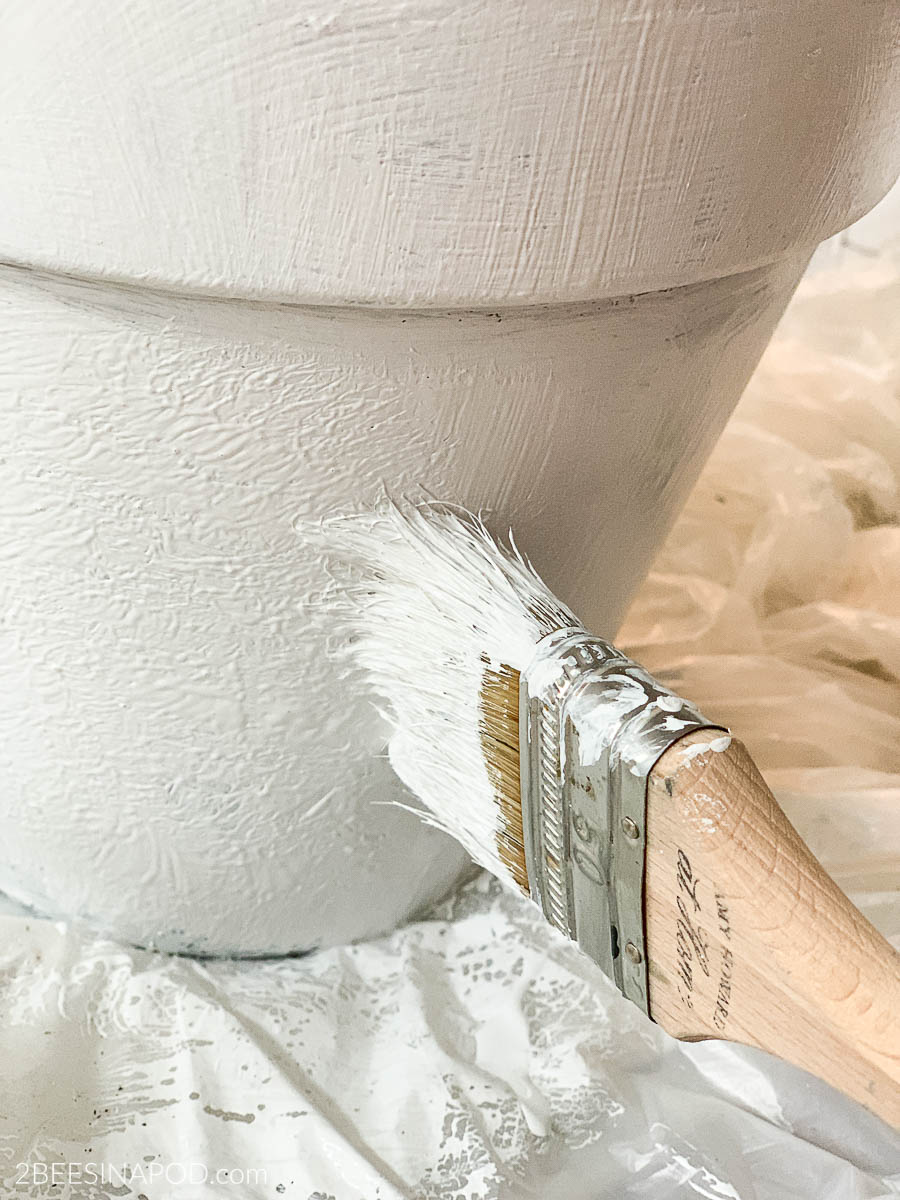 Let dry for approximately 10 minutes - depending on your brand of paint.
While the pot is drying, water-down the other three (3) paint colors in separate bowls or containers. 60/40 ratio - paint to water - Mix well.
Dip your paintbrush into the watered-down black paint (less is best) and stipple at an angle.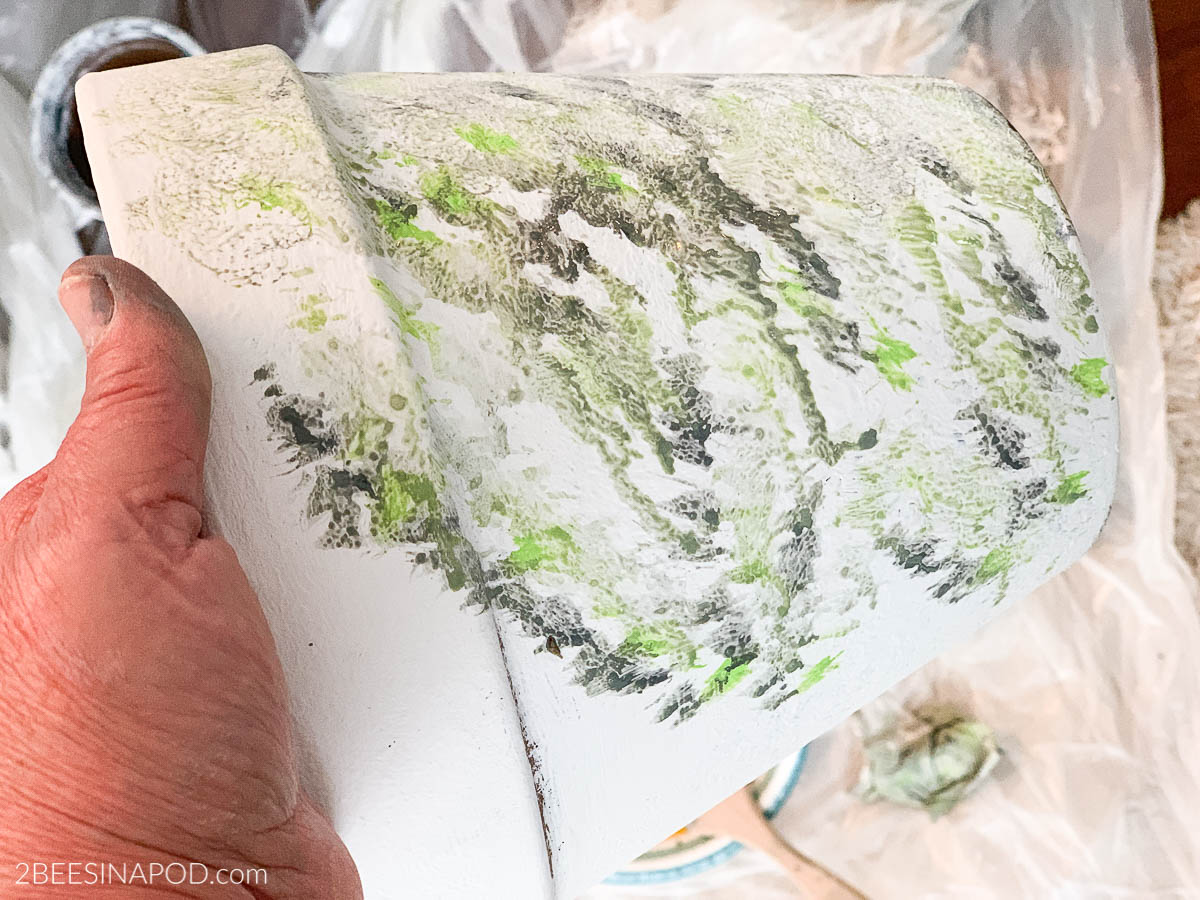 Do NOT wait for the black paint to dry.
Immediately repeat this same process with the green paint, over the black paint as well.
Immediately repeat with the gray paint.
While these paints are still wet, use a damp paper towel to blot and mottle the colors.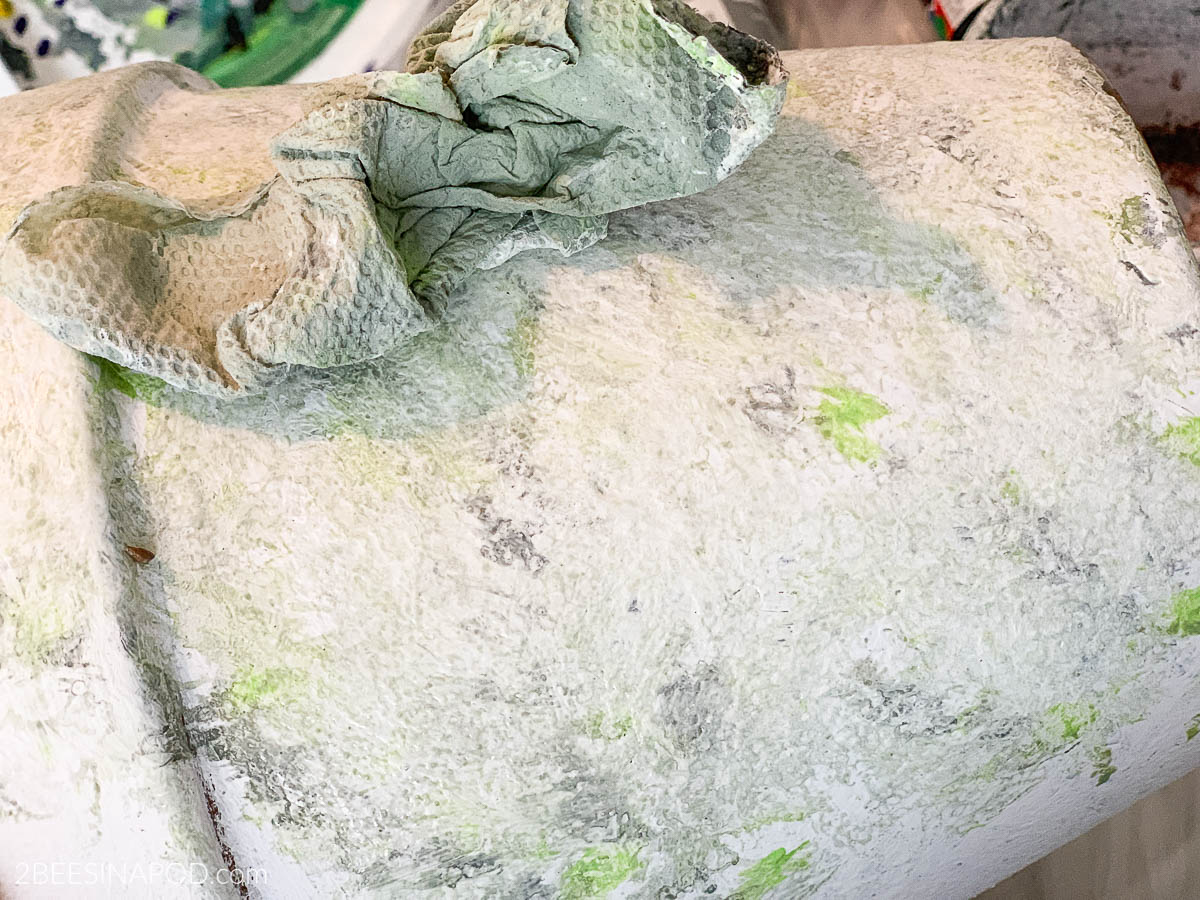 Let dry completely.
Notes
This seems like a lot of steps, but we like to give thorough tutorial. Don't be intimidated at all. Remember, this is just paint - so you can re-paint your pots if necessary 🙂
Isn't it beautiful?
Prettier still on the botanical mantel. The lavender plants add to the vintage feel of the pots.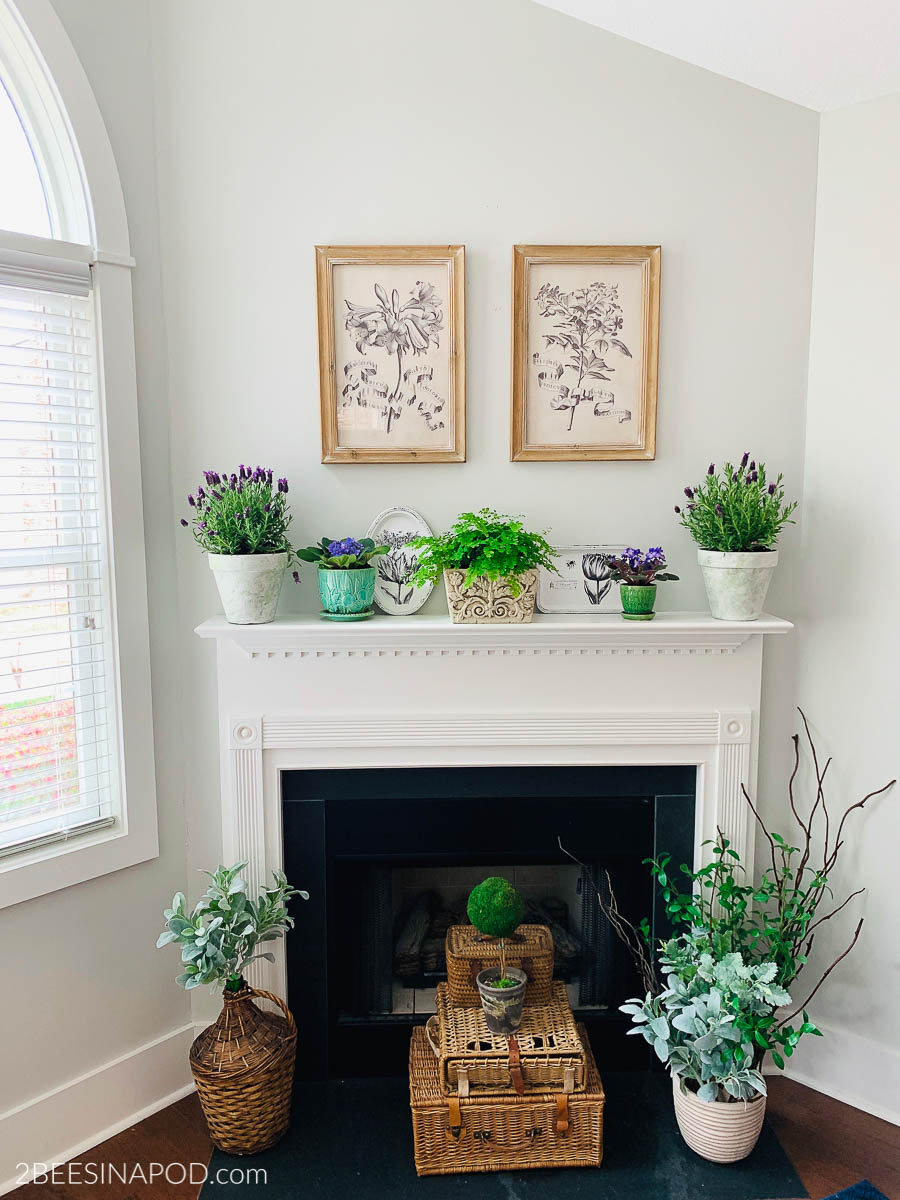 I've been adding more spring elements to the house. This small painted pot looks so cute with speckled bird eggs nestled inside.
Springing it Up
This clay pot grouping looks perfect with moss balls placed inside.
Mossy Green
The light tinge of green paint looks like moss. This painted finish looks like these pots have been sitting outside in the elements for a very long time.
What method have you used to age terracotta pots?
Don't forget to Pin this to your favorite Pinterest Board!