Please note that this post contains affiliate links. As an Amazon Associate, Rewards Style influencer and Jane Influencer, we earn from qualifying purchases and any sales made through such links will reward us a small commission – at no extra cost for you.
By now, you may have heard that Honey Bee and I just got back from Hawaii! I know most of us have been in lock-down mode due to ice, sleet and snow. We missed the first go around of bad weather here in Atlanta, because we luckily flew out the day before the snow hit and our town became the talk of the nation.
I feel so fortunate that we were able to make this trip. It was our first visit to Hawaii – and it was on my bucket list of places to visit. The first island that we experienced was Oahu.
When we walked out onto our balcony in the morning, this was our first glimpse of Waikiki Beach:
And later, when we were leaving our hotel room – this was our front door view…Diamond Head!
Amazing, right? Our hotel was conveniently located at the very end of Waikiki. This gorgeous beach was right across the street. A few steps outside of the hotel were a Starbucks and many restaurants for casual breakfast and lunch. Most of these establishments had amazing views.
I was fortunate to walk out onto our balcony to capture this double rainbow. It really looked like the rainbows end went right to the beach.
I couldn't get enough of the colors of the sky and ocean…
…or the tranquil beauty of the sunsets.
Before we left Atlanta, Honey Bee and I agreed to visit Pearl Harbor. I'm typically not up to visiting war memorials or historic sites (sorry) but Pearl Harbor is one place I wanted to pay my respect. I must say that I was very impressed with our visit here. The entire experience is free of any charges – parking, transportation, entry – all free!
This is the Navy boat transportation to the USS Arizona…
This memorial structure is built directly on top of the fallen ship…
It took my breath away to walk into this memorial and see all of the names on the wall of military men that lost their lives. Everyone was very respectful – you could hear a pin drop.
I was a little emotional when I noticed this interment area…Pearl Harbor survivors that chose to be interred with their fallen shipmates.
The weather had turned a bit cloudy after our Pearl Harbor visit, so we decided to continue our exploration and head for the North Shore.
I had done some research and discovered that food trucks are very popular in Haliwea. To my surprise we drove right through this cute, historic surfer town. We happened upon Giovanni's and discovered that they were the first food truck and longest running in Hawaii. Every visitor signs their name to the truck.
Honey Bee, placing our order…
We each chose the half order of shrimp scampi. All I can say is – YUM!! The shrimp are so fresh and covered in chunks of garlic and butter. The rice is also tasty with a special sauce poured on top.
We came to the determination that chickens are wild in Hawaii – we saw them everywhere. I was happy to capture this shot of a momma chicken…
Okay, get the Hawaii Five-O theme song in your head 🙂 When we got to the North Shore we discovered that the famous Volcom surf competition was being held at the Bonzai Pipeline. These waves may appear small, but I assure you – they are not…
These guys were busy this day…
On the way back to our hotel we saw real-live pineapple growing in very rich soil for the Dole Company.
Our first Hawaiian sunset…and this is a non-edited photo. Ahh…lets breathe in the warmth 🙂
Our first ever Mai Tai's at Hula Grill. They didn't disappoint 🙂 Another special bev to add to our repertoire ! Hula Grill is a great restaurant located right on Waikiki Beach, perfect for sun-setting views.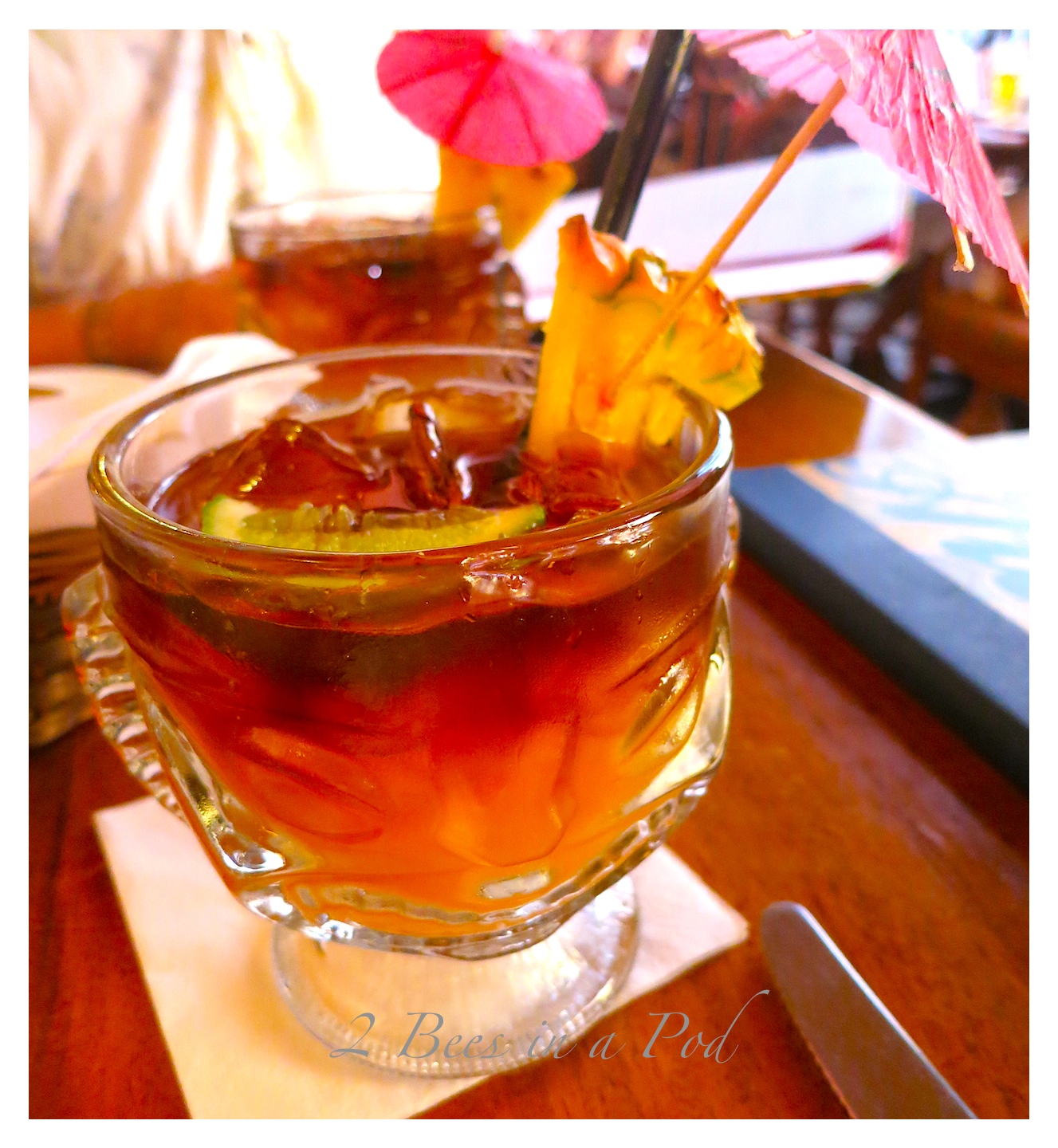 The food was delicious and all local. I typically do not like to eat fish…very picky about type, where it was caught, who caught it – I better be related to them. Not kidding! But take me on vacation to Hawaii and I throw caution to the wind.
This is Ahi Poke – raw tuna…I ate raw tuna many times on this trip. So fresh and good.
Unbelievably, I ordered fish for supper. Not just any fish…Basil and Macadamia Nut Encrusted Ono – otherwise known as "Oh My God" – I liked it that much 🙂
My dessert selection was Pineapple Creme Brûlée – YUM!
Honey Bee ordered a chocolate specialty…
We had another lovely evening out at Alan Wong's restaurant. The restaurant 's location is removed from the hustle and bustle of downtown. This was a splurge and special treat as it was Honey Bee's birthday!!
Alan Wong is one of Hawaii's great chefs. He takes traditional Hawaiian recipes and puts his own stamp on them. Being that this was a special occasion,  we chose a menu selection that had wine pairings. This was a definite treat and a wonderful evening that didn't disappoint! The food was not only delicious but very beautifully presented.
This is his version of "Soup and Sandwich" as an appetizer…Chilled vine-ripened Hamaku Springs tomato soup with a Kahuna Pig Foie Gras Sandwich Toast.
Chopped Ahi Sashimi and Avocado Salsa Stack…
"The Coconut"…Haupia sorbet in a chocolate shell with tropical fruit.
A special dessert for the birthday boy…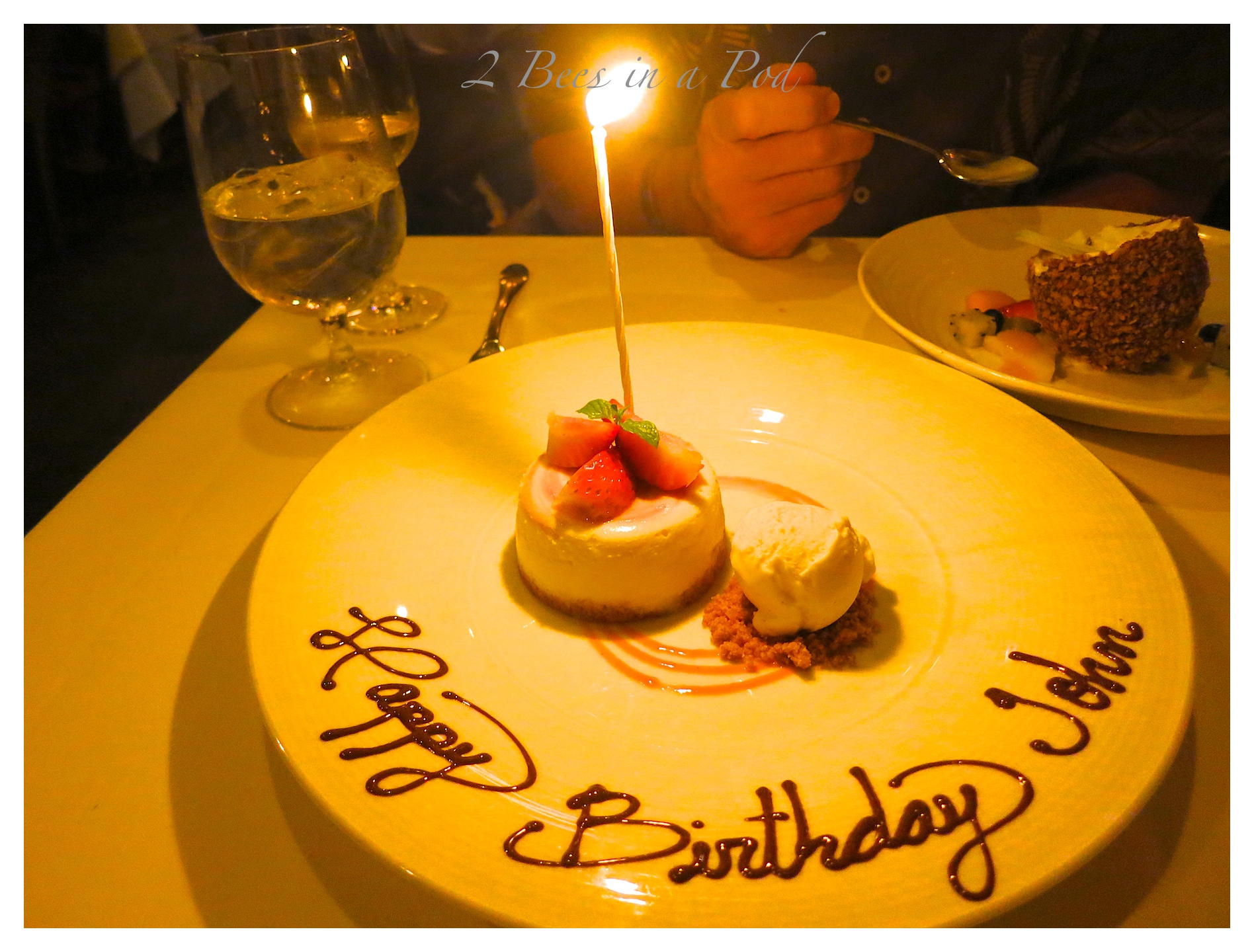 As sleet and snow are falling outside my window, I hold onto my Hawaiian memories of sun, sand and surf – and dream of my next visit.
Stayed tune next week when I share our stay on the Big Island…Aloha 🙂