DIY Chinoiserie Balls – Thrifty Style Team
Please note that this post contains affiliate links. As an Amazon Associate, Rewards Style influencer and Jane Influencer, we earn from qualifying purchases and any sales made through such links will reward us a small commission – at no extra cost for you.
DIY Chinoiserie Balls – Thrifty Style Team
Thank you so much for being here! Today I am sharing how to create DIY Chinoiserie Balls – Thrifty Style Team.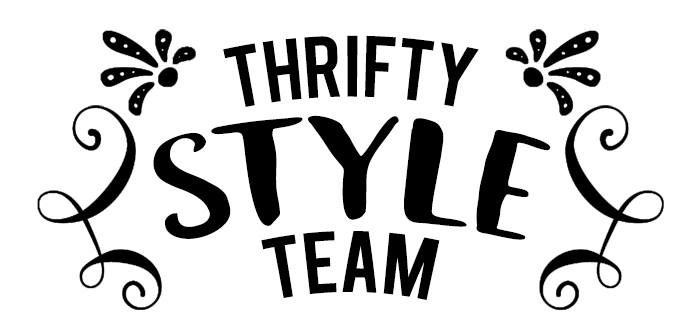 Welcome to this months installment from our Thrifty Style Team! This is the place where we get together with our talented and creative blogger friends the second Friday of every month. We each display, makeover, repurpose or transform something from our homes or thrift stores. A giant thank you to our friend Julie of Redhead Can Decorate for coordinating this wonderful group! I am sharing how to easily make DIY Chinoiserie Balls.
What is chinoiserie?
chinoiserie • \sheen-wah-zuh-REE\ • noun. : a style in art (as in decoration) reflecting Chinese qualities or motifs; also : an object or decoration in this style.
Blue and white decor is so classic and timeless. I love using these colors in my own home with a bit of chinoiserie flair thrown in. You know how much I love great decoupage projects. They are simple to create and make home decor affordable. Chinoiserie balls can be very pricey – starting at around $38 and then upwards to over $100. I knew that I could replicate the look for a fraction of the cost.
Supplies needed to create chinoiserie balls
styrofoam balls in varying sizes. I used one-inch and four-inch styrofoam balls
protective covering for workspace. I used a shower curtain liner from Dollar Tree
decorative napkins. I love THESE, THESE and THESE. I found the exact napkins that my friend gifted me HERE.
plastic plate to mix ModPodge
water
sponge brush
protective gloves. *optional*
Don't look a gift napkin in the mouth
As I have shared before, I have fabulous friends. They know my style, favorite colors and more. One friend gifted me these gorgeous napkins for Christmas. They are perfect for this project.
I ended up make 12 larger balls and eight of the smaller ones.
I displayed a few of them in a vintage urn in the dining room.
In the family room I created a vignette in an antique dough bowl. Tulips were placed at the bowl bottom and topped with chinoiserie balls.
How cute is this bird with the bee?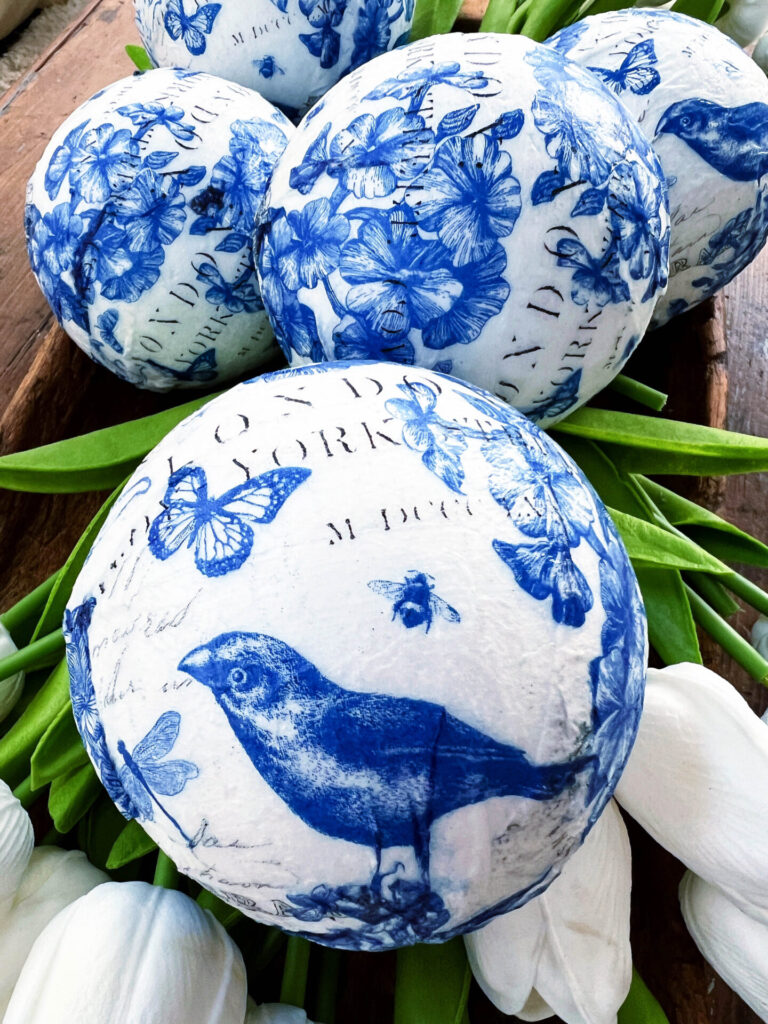 Miniature chinoiserie balls were added to an antique brass bowl with wicker orbs.
I hope that you have been inspired in some small way today! Now let's see what the talented Thrifty Style Team members have created. Don't forget to click each link below!
Redhead Can Decorate – How to Make a Fake Orchid Look Real
Our Crafty Mom – Simple Bench Makeover with a Boho Vibe
I Should Be Mopping the Floor – Using Wallpaper as Artwork
The How to Home – Turn a Plastic Container Into a Cute Planter Pot
DIY Beautify –How to Make Chenille Hearts
2 Bees in a Pod – DIY Chinoiserie Balls
Songbird – Best Flowers For Home Decor
My Family Thyme – Spring Dollar Tree Pizza Pan Wreath
Simple Nature Decor – How to Decoupage Easter Eggs
Zucchini Sisters – Dollar Tree Spring Wreath
Sonya Burgess – Budget Friendly Art
Exquisitely Unremarkable – Thrift Store Glass Vase Makeover
A Life Unfolding – Turning a Jar into a DIY Terrarium