Under the Kitchen Sink Organization
Please note that this post contains affiliate links. As an Amazon Associate, Rewards Style influencer and Jane Influencer, we earn from qualifying purchases and any sales made through such links will reward us a small commission – at no extra cost for you.
I'll admit it, I have a problem of cramming things into small spaces, whether it be drawers or cabinets or in this case, under the kitchen sink. Don't know where something goes? Just throw it into a drawer. Don't have a system for cleaning supplies? Just throw it under the sink. This is pretty much how it goes in my house. But as you may remember, getting the house organized was one my of New Year's resolutions and little by little, I am getting the house in order.
The first place I decided to tackle was under the kitchen sink because y'all, it was a hot mess. After putting away the groceries, I would just throw the plastic bags under the sink. The cleaning supplies were just placed in the cabinet haphazardly and there was no organization. It was slowly getting to me and I had to do something about it…especially before the avalanche of plastic bags crushed me. I'm embarrassed to show you the before picture, but here it is!
Chaotic, right? I cleaned out the entire cabinet and then laid down this contact paper I got from HomeGoods. (FYI, all of the items I used to help me get organized are from HomeGoods haha!)
We have these horrible pipes that are of course, up front, so they are a little difficult to hide. Plus, it makes it harder to fit baskets and things under the sink, but I made it work.
Ta-da…such a difference! Not only is it clean, but it is also cheerful. I love the use of turquoise for just a little pop of color.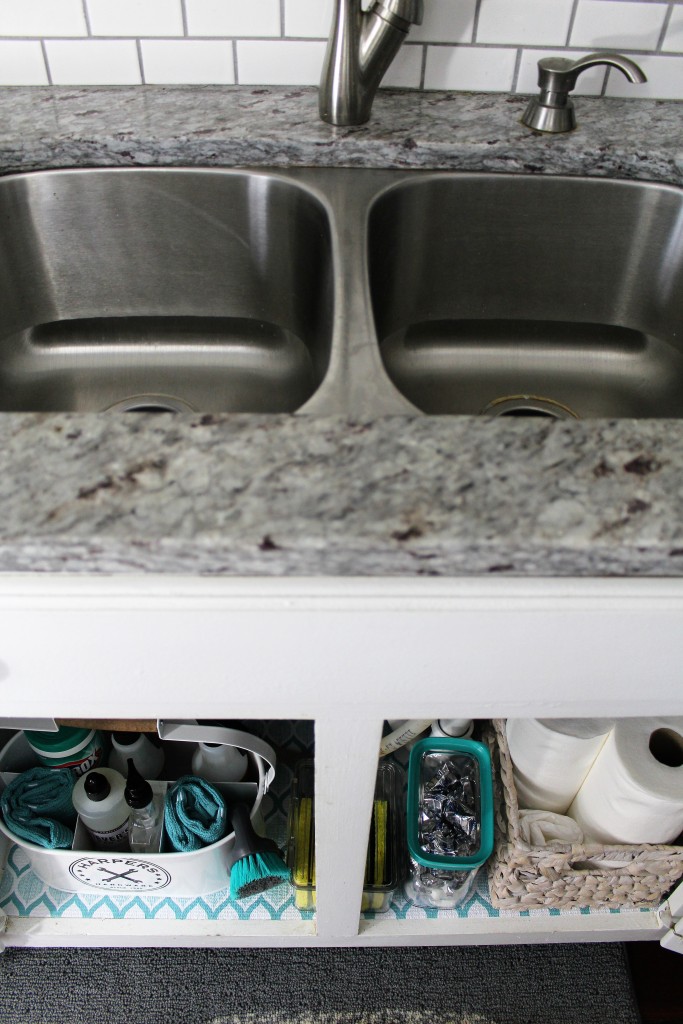 Now I know that this says hardware on the front, but I just thought it would be the perfect caddy for cleaning supplies.
HomeGoods always has great plastic bins, so I got a couple to use for under the sink for both the sponges and the dishwasher tablets.
You can never go wrong with using baskets for storage! This basket holds paper towels, trash bags, and if you're wondering where the plastic bags are, they are in this basket too!
I'm just so thrilled with how organized under the kitchen sink is now and I am happy to say I have kept it up.

Next up I will be tackling my pantry…eek! Wish me luck!
XO, Jenn