Growing Paperwhites for the Holidays
Please note that this post contains affiliate links. As an Amazon Associate, Rewards Style influencer and Jane Influencer, we earn from qualifying purchases and any sales made through such links will reward us a small commission – at no extra cost for you.
Hey y'all…Happy Friday!
Even though it's only the end of October, now is the time to start thinking about your Thanksgiving and Christmas decor. One of the very first things that I do to kickoff the season is to start growing, or forcing, Paperwhite bulbs. These bulbs are inexpensive, they are grown indoors, they take minimal care and they burst with delicate pretty white flowers. They are highly fragrant which can be a positive or negative – depending on you personal preference. I personally place them in rooms and areas of the house that aren't our family room or kitchen. The fragrance never bothers us.
Now, when I said that Paperwhites were easy to grow, I was not kidding. They can grow in plain water, watered down pebbles or in dirt. Dirt is messy so I never use this option. The best part is that you can get creative with your planting containers.
I found this very cute porcelain cow creamer, filled it with water and added the bulb. That's it! I mean…c'mon – it doesn't get any easier than that! The bulbs drink up the water so I periodically check and add more when needed.
This growth happened at day 3…
This is what the flower bud looks like just before blooming…
I was feeling creative and fancy when I put this container together. I found a large clear glass vase and added river rock and vines from my yard. I placed three bulbs inside, BUT here is my tip. I added the bulbs on three separate days. That way they are not all blooming at the same time. I prefer the staggered effect.
As the blooms fade out I add new bulbs. This way I have flowers Thanksgiving through New Years.
Again, I check the water level periodically. The water should just reach the bottom of the bulb. You don't want to immerse the bulb in water as it will more than likely rot and not grow. I know – TMI – but I want you to have blooming success.
Here is the reward for you efforts. These flowers are just so sweet and gentle looking.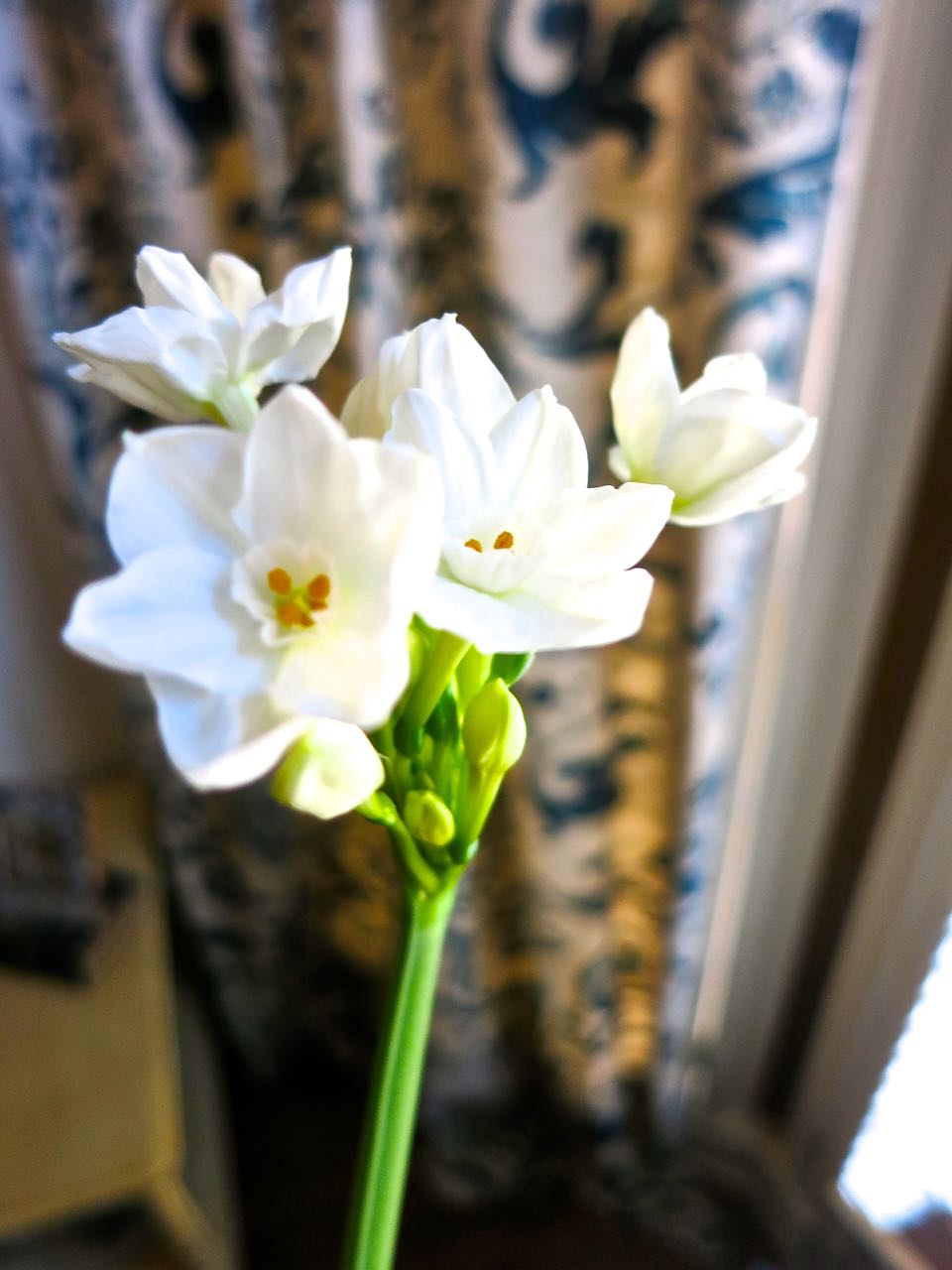 Do you grow Paperwhites for the holidays? For me personally, this carries on a tradition that my mother used to do every year in our home when I was growing up and throughout her life. I miss her terribly, especially at this time of year and yet I am grateful that she taught me so much about home, hearth, family and traditions. When I gaze upon my blooming Paperwhites I think of mom with a smile and I know she is proud that I carry on the tradition.
Until Monday…
XO~Vicki