Buffalo Chicken Wonton Cups
Please note that this post contains affiliate links. As an Amazon Associate, Rewards Style influencer and Jane Influencer, we earn from qualifying purchases and any sales made through such links will reward us a small commission – at no extra cost for you.
Buffalo Chicken Wonton Cups
Like most of us, I have been in the kitchen a lot lately. I wanted to create a delicious snack that could also be a meal in a pinch. Buffalo chicken wonton cups are a new favorite.
My family pretty much loves anything with buffalo chicken. What makes a recipe buffalo? It is the spicy, tangy Buffalo sauce – which is a mix of butter and cayenne hot sauce. We love Frank's Red Hot Buffalo Sace.
A few years ago, Honey Bee and I were fortunate enough to visit Buffalo, New York. We ate at Anchor Bar, the birthplace of Buffalo Chicken Wings. Needless to say, they were delicious!
In my haste to create this recipe, I almost forgot to snap a photo of the wonton package. During the holidays, I made a recipe that called for wontons. You can read that recipe here. I had a bunch leftover that I needed to use before the expiration date. You can typically find them at your local grocery store in the produce section or the freezer aisle.
Up until this purchase, I had never made anything with wontons. I guess I just felt like it would be too hard and complicated. Let me assure you, wontons are so easy and fun to make!
For the buffalo chicken wonton cups, I used my muffin pan. After spraying the pan with Pam, I simply pressed a single wonton into each muffin tin.
Yield: 12 WONTON CUPS
Buffalo Chicken Wonton Cups
Buffalo Chicken Wonton Cups make for a perfect appetizer, snack or meal. They are deliciously crunchy, spicy and filling. You can't eat just one!
Ingredients
12 wonton wrappers
4 ounces cream cheese, softened
1/4 cup sour cream
3 tablespoons buffalo sauce. We used Frank's.
1/4 teaspoon garlic powder
2 green onions, sliced thin - PLUS 1 more green onion for garnishing
1/4 cup shredded sharp cheddar cheese
1 large boneless skinless chicken breast, cooked and shredded
Blue cheese dressing - we used Marie's - feel free to use Ranch dressing
**You can easily double this recipe for a larger gathering**
Instructions
Preheat oven to 350° F. and spray a muffin pan with cooking spray. Place one wonton wrapper in each muffin cup and bake for 6-8 minutes or until lightly browned.

Remove from oven and cool while you make the filling. In a mixing bowl, whisk together cream cheese, sour cream, buffalo sauce and granulated garlic. Add in the 2 sliced green onions, cheddar cheese and shredded chicken and stir everything together until well combined.

Spoon the filling evenly into the wonton cups. You may to gently press in more filling.

Return to oven and bake for an additional 8-10 minutes or until the wontons are golden brown and the filling is warmed through.

Top with blue cheese dressing, sliced green onions and additional buffalo sauce as desired.

Serve immediately.
Notes
These buffalo chicken wonton cups are best served immediately after baking. This way they are still hot and crispy.
After baking for 6 to 8 minutes, they looked like this.
Next, I added the filling to each cup and baked for another 8 to 10 minutes.
Once out of the oven, they were garnished with blue cheese dressing (I love Marie's), sliced green onions and more buffalo sauce. Feel free to use ranch dressing if you don't care flor blue cheese.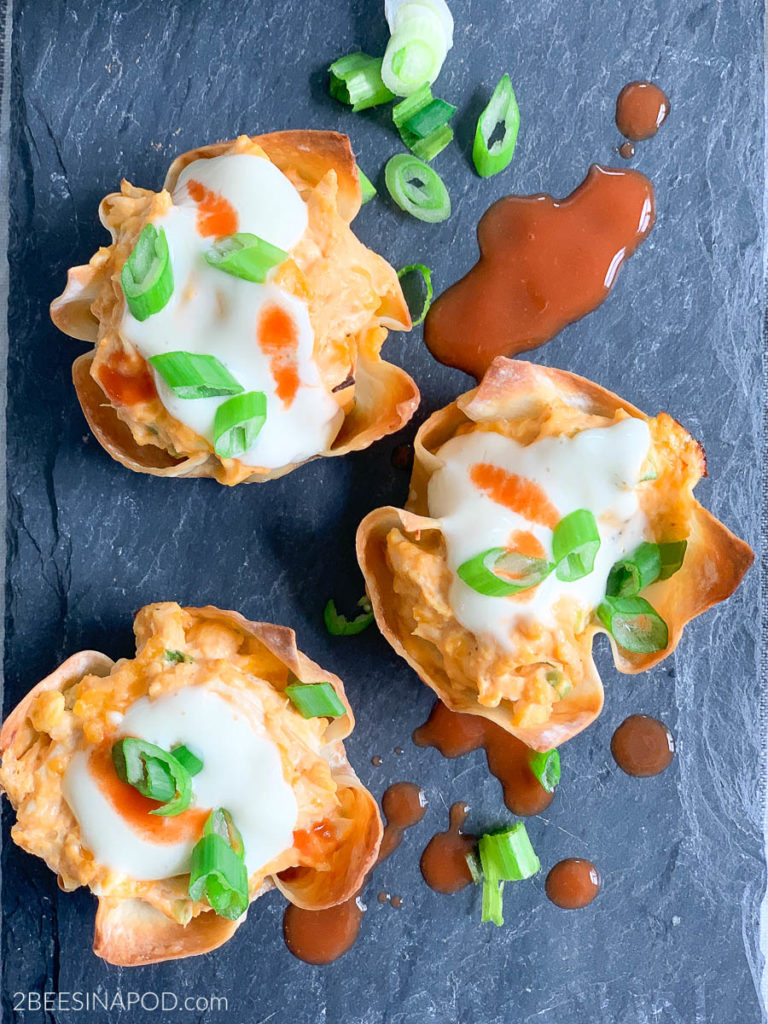 Wontons are best served right out of the oven.
They are so crispy and delicious. Personally, I find two of these to be perfectly filling.
They are great as a snack or even as a fun meal paired with a garden salad.
I plan to make them again for Super Bowl Sunday.
I can't believe that I had been intimated all of these years by a simple wonton. LOL Now, I'm thinking of other ways to use them! Let me know what you think!
Don't forget to Pin this to Your favorite Pinterest Board!